Bagan, in central Myanmar, is famous for its thousands of temples scattered across the dry plains alongside the Ayeyarwady river but early in the recent Zootherabirding tour of Myanmar 2018 we found ourselves in this unusual environment looking for five of Myanmar's endemic bird species. Birding around this largely open habitat was a very pleasant experience and over the course of two days we found all of our targets, Burmese Collared Dove, White-throated Babbler, Burmese Bushlark, Hooded Treepie and the wonderful Jerdon's Minivet as well as many other interesting birds including close-up encounters with White-tailed Stonechat and Sand Lark, Striated Babbler, Long-billed Pipit, Tickell's Leaf Warbler, River Lapwing, Ruddy Shelduck, Yellow-streaked Warbler and an amazing first for Myanmar! Of course, when we went through the inevitable slow patches we had the surrounding temples of Bagan to enjoy too.
One of the first birds we saw on arrival was Ayeyarwady Bulbul, a recent split from Streak-eared Bulbul. They are very common in open country in the Bagan area as well as in other parts of the country and differ from Streak-eared in their red eyes, less yellow vents and a less complex song.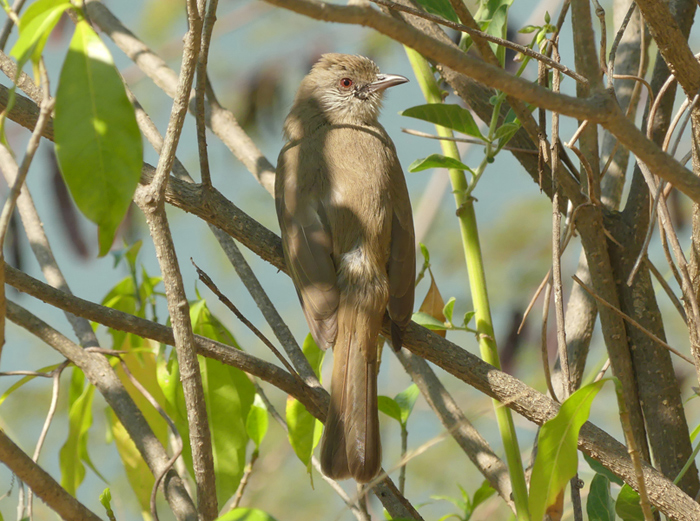 Ayeyarwady Bulbul
We had already seen this endemic species at Hlawga Park, near Yangon, but it was nice to be able to get a photo which showed its reddish eye.
Three more endemic species were seen very quickly too – Burmese Collared Dove, Jerdon's Babbler and Burmese Bushlark with the latter two in particular being extremely common in the area. Some years ago Rufous-winged Bushlark was split to form Indochinese Bushlark, Burmese Bushlark and Bengal Bushlark. I am very familiar with Indochinese Bushlark and the song of Burmese Bushlark was very different from this species as well as there being small plumage differences; on song alone these two species are certainly very distinctive.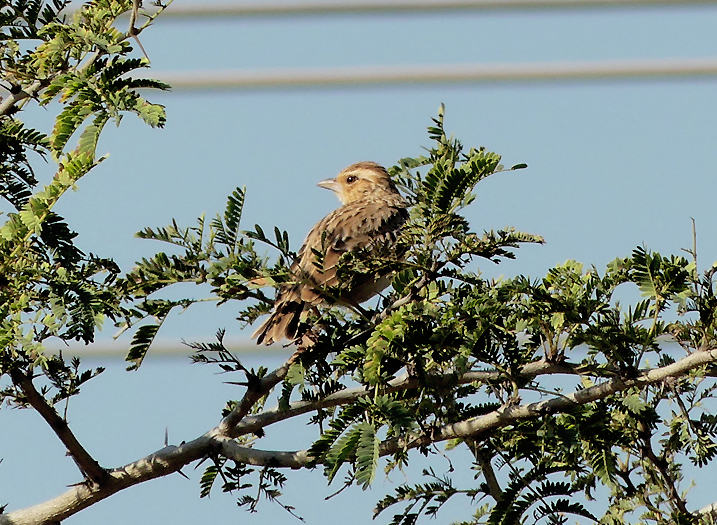 Burmese Bushlark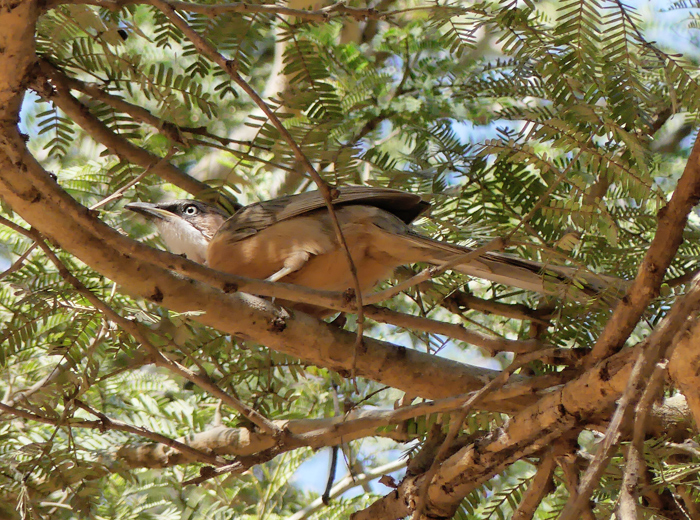 White-throated Babbler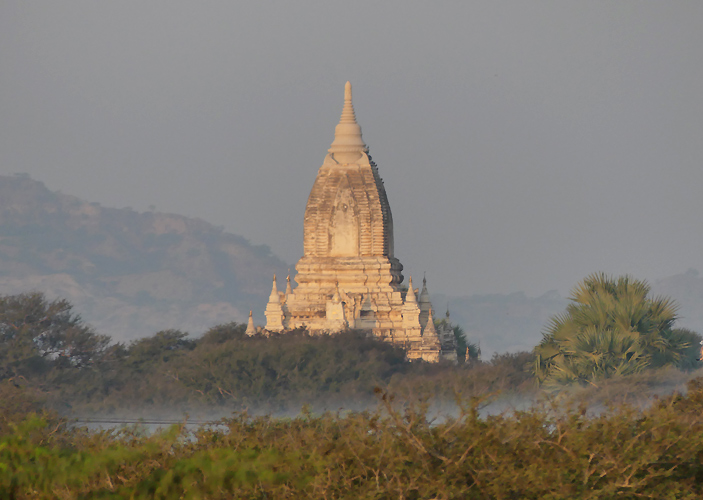 Much of our time was spent searching for two much harder to find species in Jerdon's Minivet and Hooded Treepie but along the way we saw lots of commoner birds including the endemic race of Vinous-breasted Starling which must be a candidate for a future split, lots of Yellow-streaked Warblers, Green Bee-eater, several Oriental Honey-buzzards, a female Siberian Rubythroat, numerous Grey-breasted Prinias and a few Tickell's Leaf Warblers.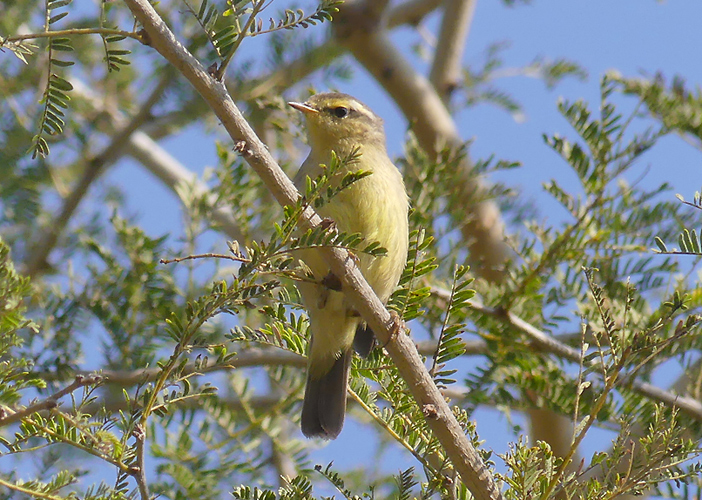 Tickell's Leaf Warbler
An afternoon boat trip was very relaxing. Cruising along the Ayeyarwady river we added many species to our list including Common Greenshank, Pied Kingfisher, Temminck's Stint, River Lapwing, Ruddy Shelduck, Common Kingfisher, Black Kite & Black-eared Kite, Kentish Plover and Little Ringed Plover but it was at our stop on the river bank that the key birds were to be found with a lovely pair of White-tailed Stonechats waiting for us.

Male White-tailed Stonechat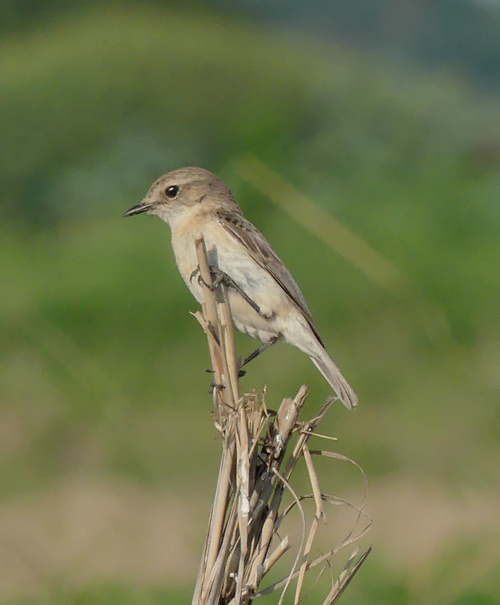 Female White-tailed Stonechat
We were also able to enjoy some lovely Red Avadavats here too as well as Zitting Cisticola, Oriental Skylark, Eastern Marsh Harrier and flocks of Baya Weaver but with time running out we found that most of the Striated Babbler habitat was gone. With the only plan being to walk up to the only patch of long grasses around we headed off and very quickly heard the Babbler call. A bit of a panic ensued as we scrambled up the river bank to get a view but soon enough we were enjoying prolonged 'scope views of two Striated Babblers. I love it when a plan comes together! With these in the bag we could enjoy Sand Larks on the beach.

Sand Lark
It took a second morning to locate the harder to locate species but eventually we got great views of 3 Jerdon's Minivets busy in the undergrowth and low trees. It is quite strange to find a Minivet in the undergrowth but this is typical behaviour for this bird. I got a few reasonable shots of the female but the spectacular male was much more camera shy.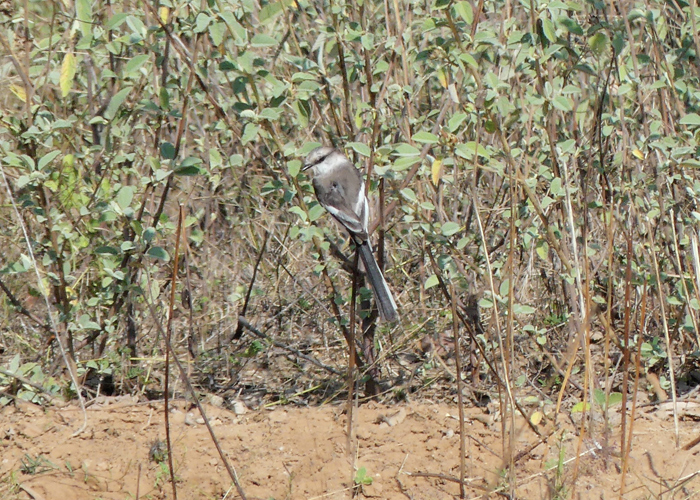 Female Jerdon's Minivet
We saw Hooded Treepie twice on our second morning, once in the early morning and again later in the day when two birds were in a flock of small birds mobbing a couple of Spotted Owlets.

Hooded Treepie
With all of our target birds located we were able to enjoy the rest of the day without any pressure. Long-billed Pipit was a nice and much hoped-for bird and as we were walking around a large temple we noticed an unusual warbler feeding alongside a couple of Yellow-streaked Warblers. At a glance it looked like either Booted Warbler or the very similar Syke's Warbler both of which would be a new record for Myanmar! The verdict is still out on the identification so please feel free to contribute your opinion to the debate.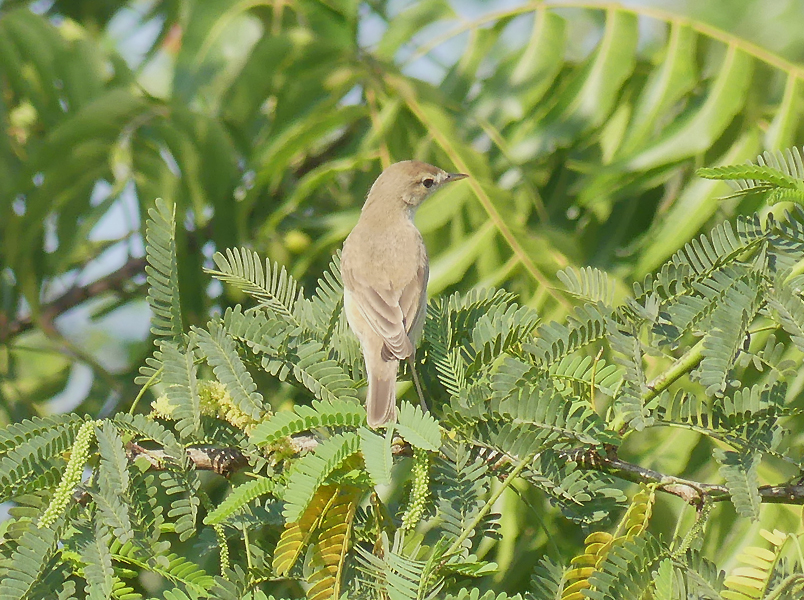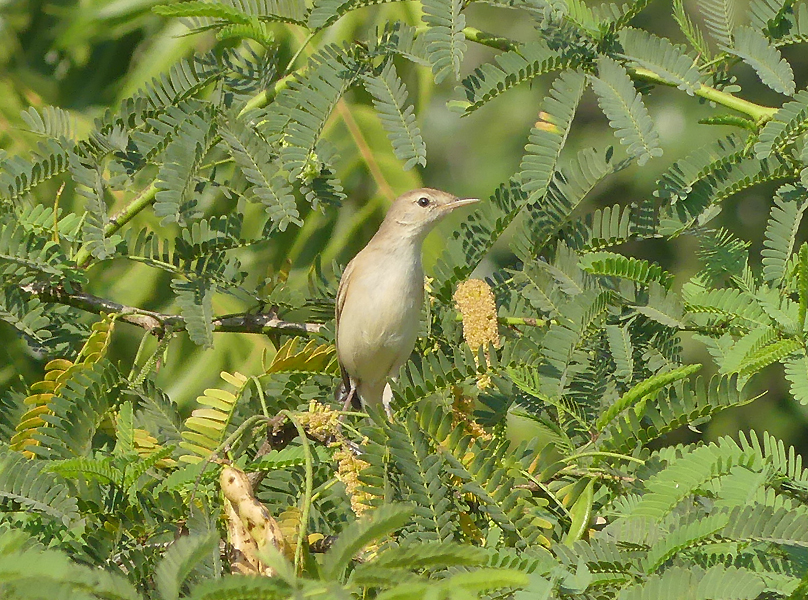 Two days of birding around Bagan was very profitable and enjoyable with some great endemic birds and a plentiful supporting cast. Add to this pleasant accommodation, good food and some interesting culture and it is easy to see what a nice birding location this is. I will definitely be arranging to lead another tour here in the future.