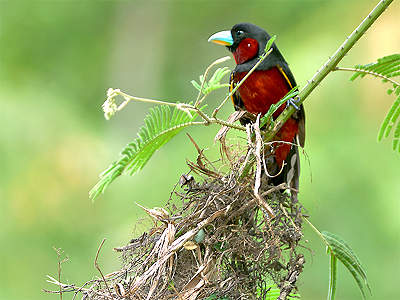 The large majority of birders visit Thailand in the dry season (November to April). Why is this?
Well, firstly, there is a far higher number of species present in the country during the dry season due to the visiting migrants from China and Siberia and the largely dry and sunny weather is an attraction for many people. However, it may also be because many books and websites have always labelled the dry season as the "best" time to be birdwatching in Thailand. But best for what?
The dry season is most certainly the time to visit Thailand for migrant species, particularly shorebirds and specifically Spoon-billed Sandpiper. However, for many of the resident species that live in forests, the dry season most certainly is not the best time for birding in Thailand.
Species such as broadbills, pittas, woodpeckers, forest kingfishers and others, are all far easier to find in the beginning and mid wet season, when they are breeding, than in the dry season.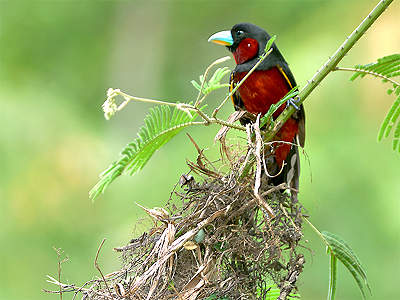 Black-and-red Broadbill on a nest by Alex Vargas
On a recent 3 days trip to Kaeng Krachan we saw 6 species of broadbill, 12 species of woodpecker, 3 species of pitta, 2 species of trogons, Grey Peacock Pheasant, Kalij Pheasant, Banded Kingfisher, Oriental Dwarf Kingfisher, Ratchet-tailed Treepie and many other tough species – this collection of birds could not be expected during a dry season visit to Kaeng Krachan.
Very few birders head to northern Thailand outside of the dry season but a recent wet season visit I made turned up Giant Nuthatch, Spot-winged Grosbeak, Pygmy Wren Babbler, Eyebrowed Wren Babbler, Spot-breasted Parrotbill, Lesser Rufous-headed Parrotbill, Grey-headed Parrotbill, Lesser Cuckoo, Lesser Shortwing in abundance and many other hard-to-find birds.
It has to be admitted that the dry season is the best time for general bird abundance, migrants and certain target birds, but birdwatchers who have been to the region several times and are still looking for many of those tough forest species should consider making their trip in the period May-July when a lot of great birds can be found.
If you are a birder who is looking for difficult resident species contact me and I can let you know whether the wet season might be a better time to look for them than the dry – nickupton@thaibirding.com