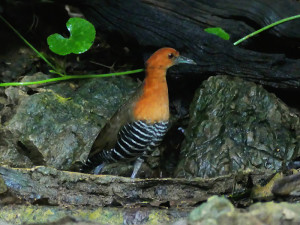 Getting really close to birds and watching them go about their business is just about the best way to really appreciate them; even some of the apparently dull and very common birds can suddenly reveal themselves to be very interesting. There is probably no better place to be able to do this than some of the hides close to Kaeng Krachan National Park and on the afternoons of 18th and 22nd November I made a couple of visits to Ban Song Nok to sit in the hide and watch birds coming to feed, drink and bathe. Auntie Ek, the owner of Ban Song Nok, keeps a log of which highlight species arrive each day, so we had a good idea of what we might see but as always there were a few interesting surprises.
On both occasions I arrived at Ban Song Nok in the early afternoon, starting at around 1pm and staying to around 5.30pm. Arriving early there were a lot of Bulbuls bathing in the heat of the day, with large numbers of Black-headed and Black-crested along with smaller numbers of Streak-eared Bulbuls. This latter is possibly one of Thailand's dullest birds, not even blessed with a musical call, but at least at this close range one can see the streaks in the ear coverts that give the bird its name.
Black-headed Bulbul by Nick Upton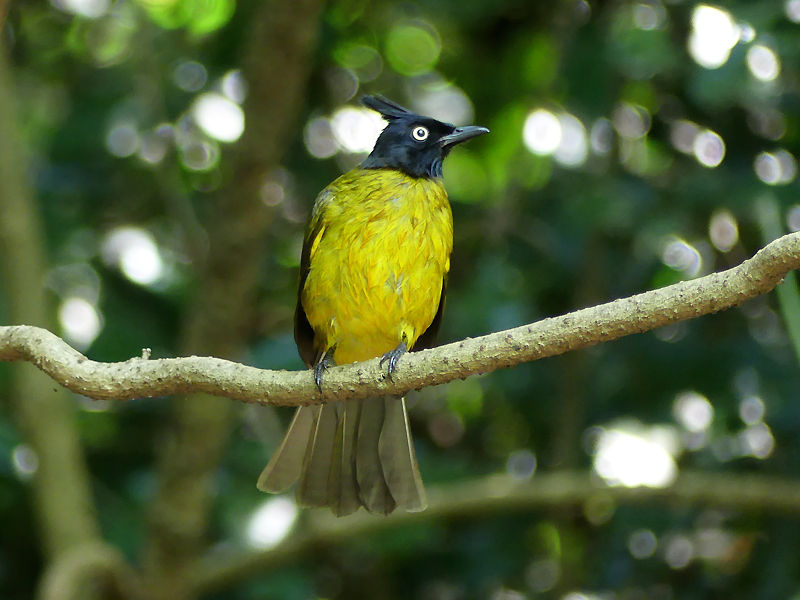 Black-crested Bulbul by Nick Upton
On 18th November a couple of early arrivals included a White-bellied Erpornis and a Pale-legged Leaf Warbler which I identified on call and the low number of primary feathers protruding beyond the tertials.
Pale-legged Leaf Warbler by Nick Upton
On both of my visits other species that arrived fairly early and visited the water repeatedly included Black-naped Monarch, White-rumped Shama, Taiga Flycatcher and Tickell's Blue Flycatcher.
Black-naped Monarch by Nick Upton
Tickell's Blue Flycatcher was represented by both a male and female bird. The female is the only one of the female Cyornis flycatchers in Thailand that has an orange breast and bluish hue to its back. The male can be identified by its fairly light blue plumage and the fact that the divide between the orange breast and white belly is a straight line rather than a diffuse grading from one colour to another.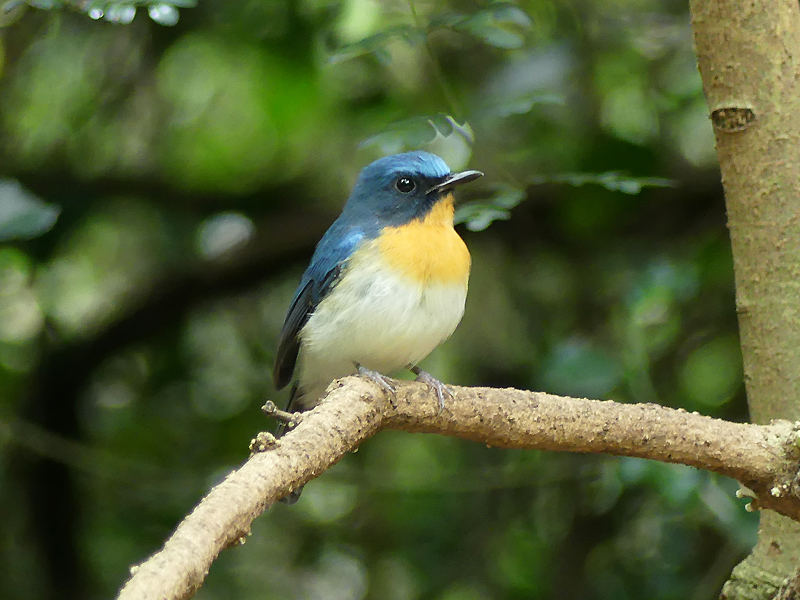 Male Tickell's Blue Flycatcher by Nick Upton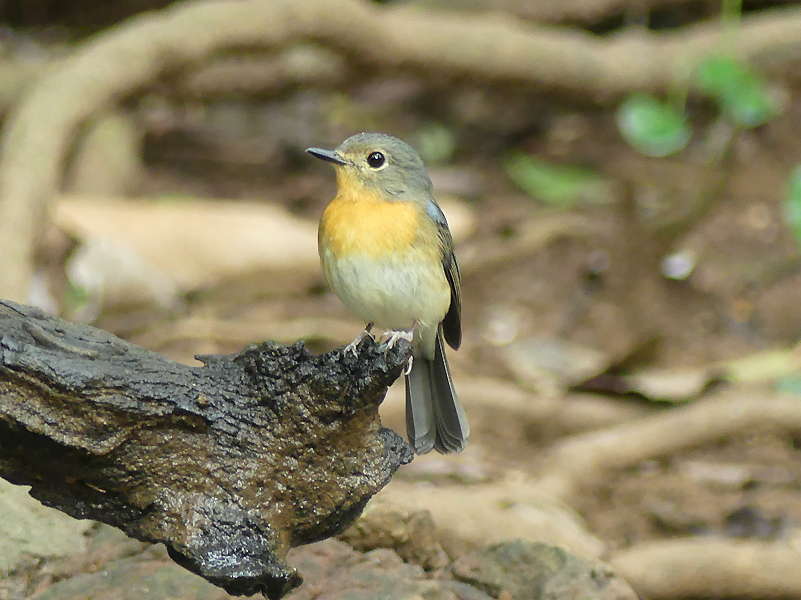 Female Tickell's Blue Flycatcher by Nick Upton
 Several other Cyornis flycatchers can turn up at hides such as Ban Song Nok so observers should take care to look closely at all birds. On my second recent visit on 22nd male and female Chinese Blue Flycatchers also arrived to bathe several times from about 4pm onwards. The male is identified by its larger size than Tickell's Blue and deeper blue colour as well as its deep orange breast which extends down to its belly. The key feature is the very narrow notch of orange on the throat which is surrounded by blue which is more extensive than any other of Thailand's Cyornis flycatchers. The key feature on the female is the contrasting pale throat in relation to the orange breast.
Male Chinese Blue Flycatcher by Nick Upton
I often visit nearby Lung Sin Waterhole where photographers can get slightly closer to birds than at Ban Song Nok (only a matter of a few feet) and the afternoon light is a little better, but it November and into early December Ban Song Nok is a better option as it remains dry whereas Lung Sin waterhole can be very wet meaning birds do not need to bathe in the waterhole.
There are always quite times when watching birds at hides and at Ban Song Nok this was between 2-3pm. Somehow in this quiet period a couple of Spotted Doves turn up and their clattering wing beats often scare away any small birds that might be thinking of emerging from the shadows. Although Spotted Dove is extremely common in Thailand it is only when you see it at close range that it reveals itself as a very attractive bird.
Spotted Dove by Nick Upton
Another very common bird that I saw at Ban Song Nok on both visits was Taiga Flycatcher. Somehow, despite it being hugely abundant in Thailand in the dry season, I can never get close enough for a photo so it was great that this adult in breeding plumage posed nicely for me.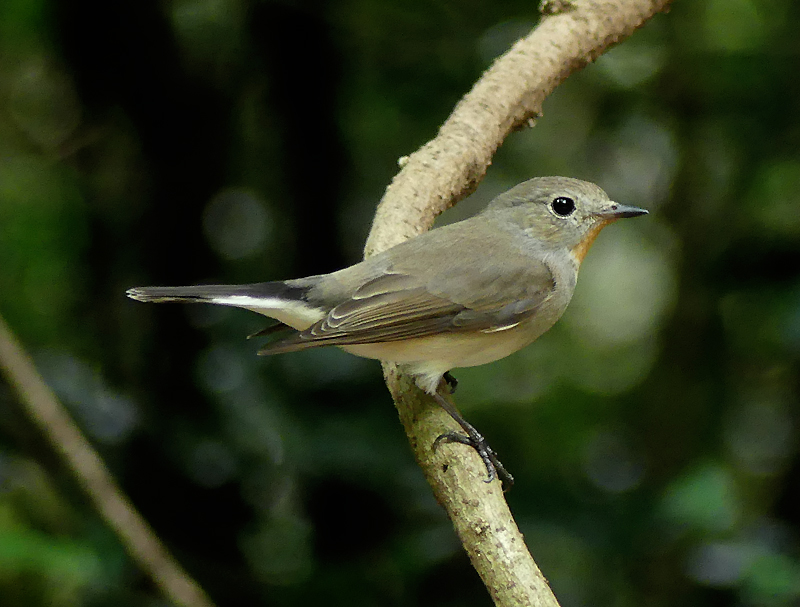 Taiga Flycatcher by Nick Upton
I often see Taiga Flycatchers coming into breeding plumage towards the breeding season, before they depart for their breeding grounds, but seeing one like this in November is extremely strange.
A few Red Junglefowl always perform well here and sometimes Partridges come out to feed too. On 22nd we were lucky enough to see both Scaly-breasted Partridge and Bar-backed Partridge. These shy birds emerged in two groups of four birds; Scaly-breasted at around 3.30pm and Bar-backed at around 4.15pm. Observing these birds at close range is a wonderful treat.
Scaly-breasted Partridge by Nick Upton
Bar-backed Partridge by Nick Upton
As the light begins to fade a large number of small birds come to bathe including all of the before-mentioned flycatchers, Black-naped Monarch, Puff-throated Babbler, Abbott's Babbler and around a dozen Siberian Blue Robins in various states of plumage.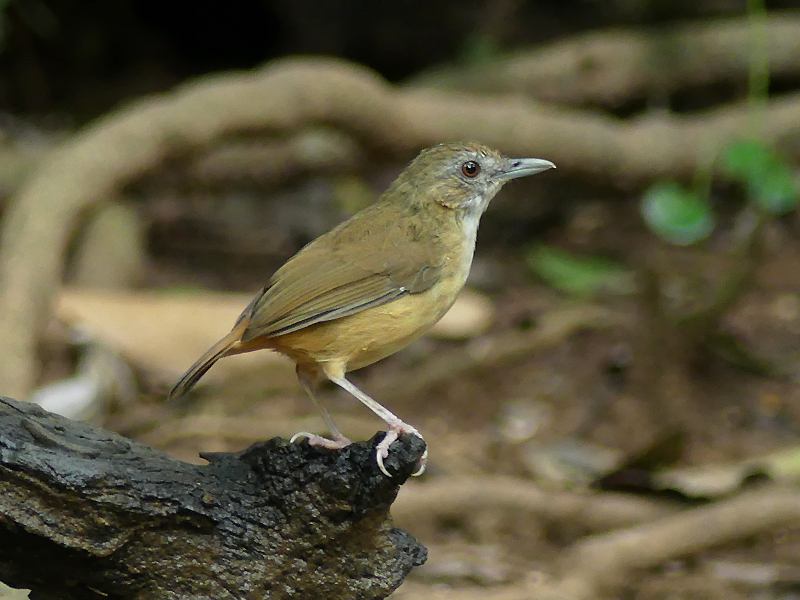 Abbott's Babbler by Nick Upton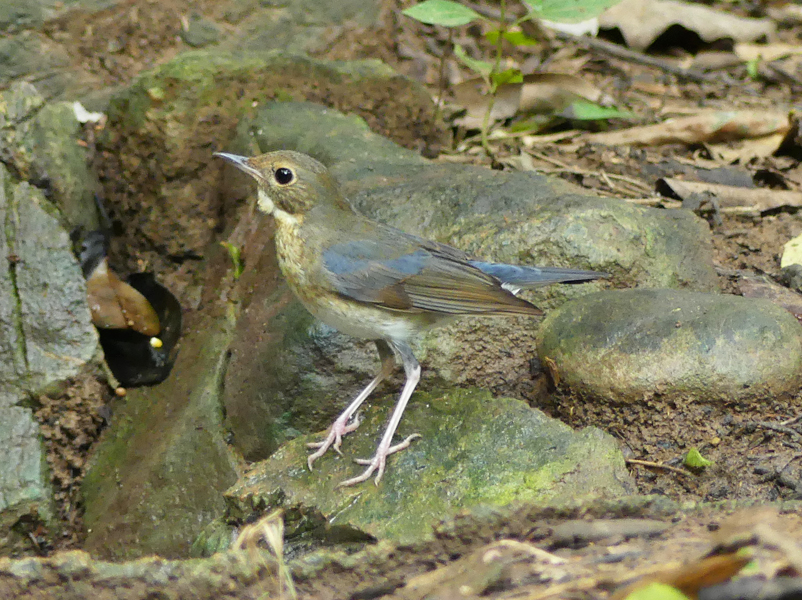 Siberian Blue Robin by Nick Upton
The main event that we had been waiting for was Slaty-legged Crake. Auntie Ek had told me that one had visited for the last 3 days in a row at around 5-5.30pm and we got lucky shortly after 5 with one bird creeping in from behind a log to spend 5 minutes or so bathing in one of the pools. This forest crake is exceptionally hard to see under normal circumstances, in fact I have only ever had a glimpse of one once away from the hides around Kaeng Krachan.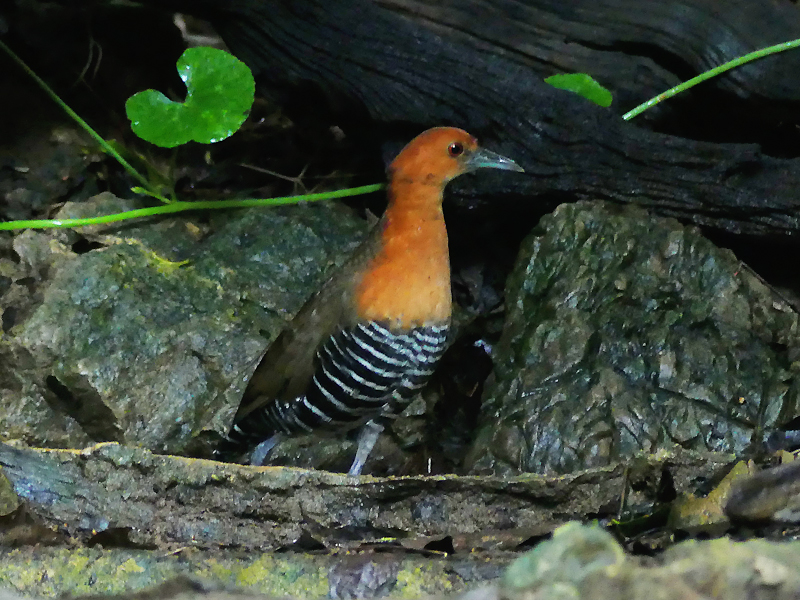 Slaty-legged Crake by Nick Upton