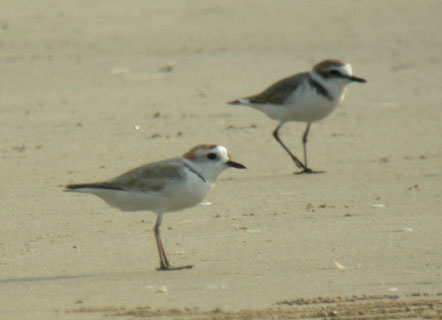 On the 21st and 22nd January I made day trips to Laem Pak Bia/Pak Thale for shorebirds. Spoon-billed Sandpiper is still one of the main attractions at this area and the signposts which are on the road help people the find the right vicinity for this species.  The birds are usually within a few hundred metres of the same place and on 21st I had the luxury of finding one very quickly indeed. In fact as I was showing Doug Kirwin a Red-necked Stint, a Spoon-billed Sandpiper walked into the field of view – perfect!
Unfortunately, Spoon-billed Sandpiper has recently been reclassified as critically endangered and one wonders how much longer they will be showing up at this spot. On the 22nd January, however, at least 4 birds were present at Pak Thale and I was able to show Brian and Claire Cox these birds.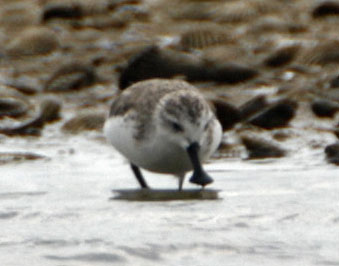 Spoon-billed Sandpiper by Johan Svensson
Out on the sand spit at Laem Pak Bia on the 21st, we had the amazing sight of a Spoon-billed Sandpiper sitting right next to a White-faced Plover – they were just about 6 inches apart and both facing us – a superb sight.
White-faced Plover is now one of the stars of any trip to the Laem Pak Bia/Pak Thale area and it can usually be found on the sand spit. In fact I know that some others have had trouble finding this bird, but in around 30 visits in the last 12 months I have found White-faced Plover on the sand spit every time. It can be an elusive bird but by persisting and searching the whole beach I think the bird can almost always be found. In my experience it favours a small bay on the part of the spit which is connected to the mainland until it is disturbed by visiting fishermen and then it usually moves onto the island part of the spit or sometimes onto the rocks. I found a single White-faced Plover on the sand spit after much searching on both the 21st and 22nd January – at one point on 22nd I really thought that we were going to miss it, but persistence and patience got us great views.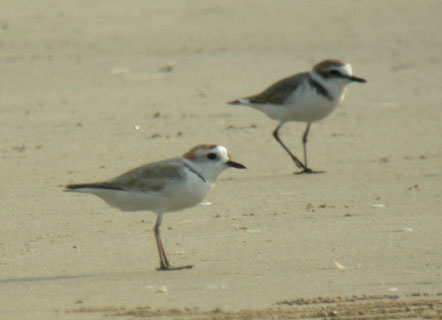 White-faced Plover by Mike Buckland
A recent paper on White-faced Plover has proposed the scientific name Charadrius dealbatus if it turns out to be a distinct species. The paper also explains that this bird has been documented in the past by Swinhoe but inexplicably ignored since his time. The paper can be read here: Rediscovery of a lost Charadrius plover from South-east Asia.
birds, birding, thailand, nature, national parks