On the 19th and 20th February 2008, Michael and Mandy Buckland joined me for a 2 day trip to take in the shorebirds at Laem Pak Bia/Pak Thale and to sample the forest species of Kaeng Krachan. The trip was a remarkable success with the highlights at Laem Pak Bia including 7 Spoon-billed Sandpipers, 12 Nordmann's Greenshank, 4 Malaysian Plovers, 100s of Great Knot, 5 Red-necked Pharalopes, 2 Black-faced Spoonbills, 4 Pallas's Gulls, 1 Heuglin's Gull and 2 Chinese Egrets. The best birds at Kaeng Krachan were Silver-breasted Broadbill, Black-and-yellow Broadbill, Banded Broadbill, Orange-breasted Trogon, Tickell's Brown Hornbill, Large Scimitar Babbler, Black-thighed Falconet and Greater Necklaced Laughingthrush.
We also saw this big spider hanging from a thread – I almost ended up with it on my face!
I have written a trip report on this excellent 2 days: Laem Pak Bia/Pak Thale & Kaeng Krachan, 19-20th February 2008.
Michael took some excellent photographs during the two days and was kind enough to e-mail some of them to me. Here are just a few:

Nordmann's Greenshank by Michael Buckland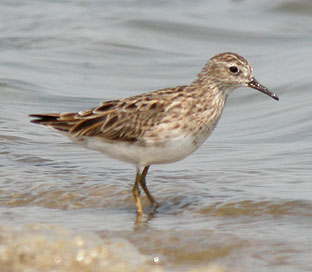 Long-toed Stint by Michael Buckland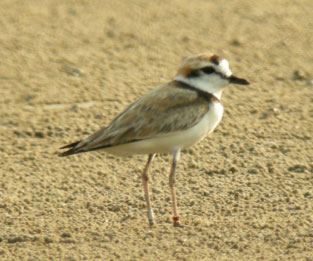 Malaysian Plover by Michael Buckland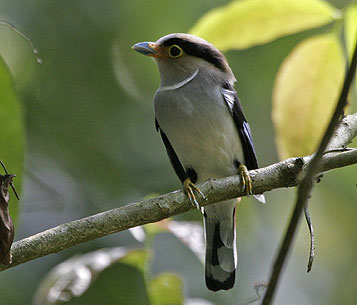 Silver-breasted Broadbill by Michael Buckland
More photos can be seen on the trip report on thaibirding.com: LPB/Pak Thale & Kaeng Krachan, 19-20th February 2008.
birds, birding, thailand, nature, national parks