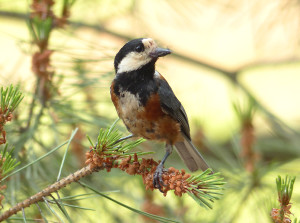 In June I made a very enjoyable trip to South Korea. This was not a birding trip as we spent most of our time doing typically touristy things but before my visit I emailed Nial Moores of BirdsKorea to ask him whether there were any locations close to the capital city, Seoul, where I could spend a morning or afternoon seeing some of South Korea's typical woodland species. He suggested visiting Namhansanseong Provincial Park which is a UNESCO World Heritage site with lots of good quality forest. The site was easily accessible by underground and then bus from central Seoul and with beautiful weather, an abundance of birds, some nice historic ruins and good food available we ended up staying the whole day.
Moments after getting off the bus there were bird sounds coming from all around and while I was trying to track down a singing Thrush a bright male Siberian Blue Robin perched in front of me with his quivering tail a characteristic feature. Singing Yellow-rumped Flycatchers were seen quickly and a party of small birds included Eurasian Nuthatch, Marsh Tit, Japanese Tit and a very obliging Japanese Pygmy Woodpecker which I was able to photograph at close range. In fact this was to be the first of many sightings of this regional endemic, a species which seemed to be more or less tame everywhere I encountered it.
Eurasian Nuthatch by Nick Upton
I also enjoy historic buildings so the gate in the walled fortress that we soon came across was a distraction from birding for a few moments. Still, in a weedy garden area a small group of Vinous-throated Parrotbills soon got my attention and several Yellow-throated Buntings were also new birds for me. Numerous singing Thrushes were being a little frustrating but after a short wait I managed good views of Grey-backed Thrush taking some food to some youngsters. The weather was hot but we continued to enjoy the forest and the fortress walls with great views back towards Seoul.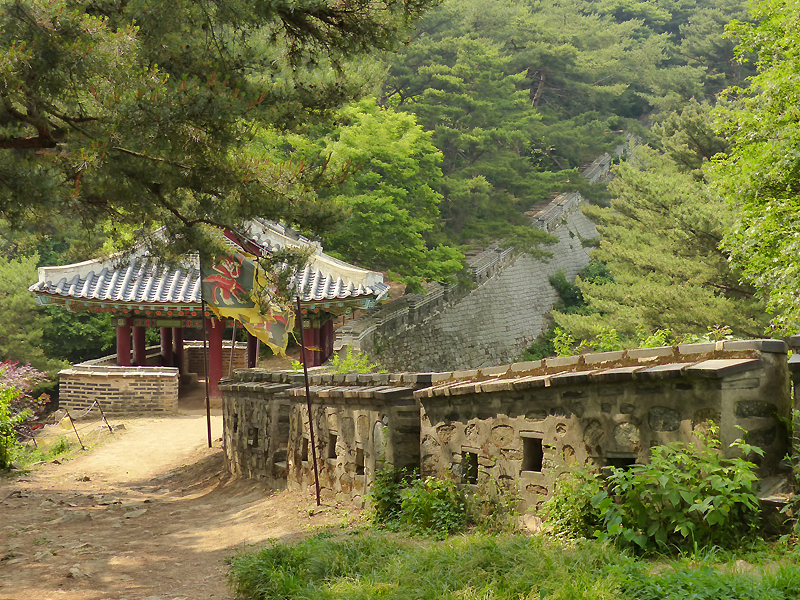 Throughout the day I was struck at the impressive abundance of birds, continually coming across parties of small birds which always included Eurasian Nuthatch, Japanese Tit and Marsh Tit and often one of the birds I was most hoping to see; Varied Tit. I was lucky enough to find one of these feeding right in front of me and despite my best attempts not to, I got some nice photos of this attractive regional endemic.
Daurian Redstart was another nice bird which proved common in the right habitat and I was treated to repeated views of Vinous-throated Parrotbills and Yellow-throated Buntings. Other species I saw were Eurasian Jay, Eastern Jungle Crow, Dollarbird, Northern Hobby, Long-tailed Tit, Coal Tit and prolonged views of a few White-backed Woodpeckers as well as the abundant Brown-cheeked Bulbuls with their noisy calls.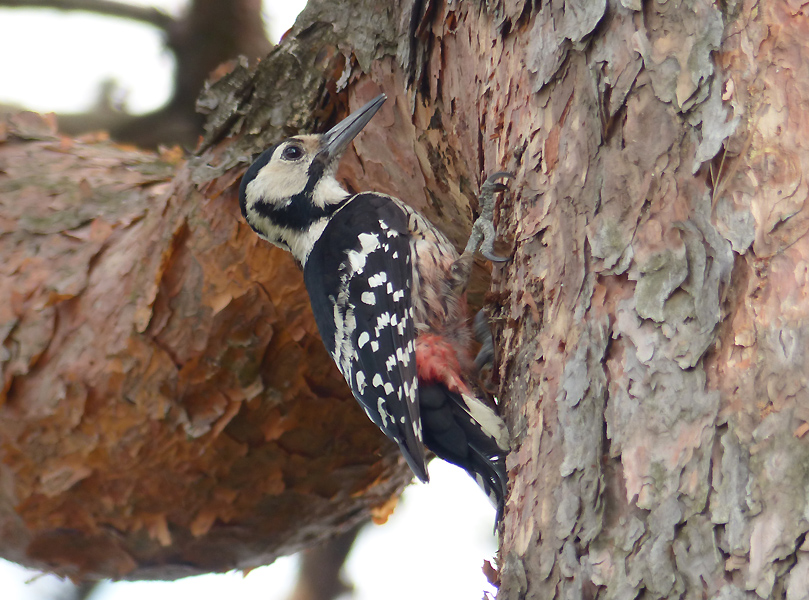 White-backed Woodpecker by Nick Upton
While watching White-backed Woodpecker feed we followed it as it swooped down onto a rotten log and attacked a Pale Thrush. A battle ensued over the rights to dig grubs from the rotting log and predictably, with its dagger-like bill, the Woodpecker won. A lunch stop gave me a Grey Wagtail for the day list and we enjoyed some tasty Korean food with loads of side dishes. We had little idea what we were ordering as the whole menu was in Korean only and had no photos but what we ended up with was delicious. After a short rest I followed another section of the fortress walls and once again constant bird activity was very impressive; species diversity was not huge but the abundance of birds was such that I managed good photos of almost all the birds I saw, with Eurasian Cuckoo the most obvious exception.
Pale Thrush by Nick Upton
As the late afternoon sun lit up the beautiful forest it was hard to drag myself away as the bird activity continued to be at a high level with more views of most of the birds which were new to me plus a few more for the day including Blue-and-white Flycatcher, Great Spotted Woodpecker and of course, the abundant oriental Turtle Dove and Black-billed Magpie.
Namhansanseong was an excellent location for a day's birding from Seoul and a location which we will visit on the South Korea – Hidden Winter Classic birding tour that I will lead in January. As well as many of the birds I saw on my June visit we will hope to get good views of Hazel Grouse on our day here but the whole itinerary should provide views of many superb birds including Steller's Sea Eagle, Relict Gull, Scaly-sided Merganser, White-naped Crane and many more. Check out the full itinerary for details – South Korea Birding Itinerary.