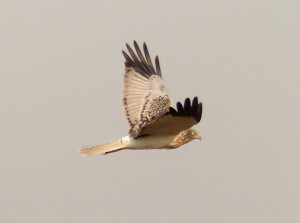 I sometimes wonder where the best place to live in Thailand is in terms of the potential for the best birding. Chiang Mai is an obvious candidate with a wide variety of forest types and wetlands but my recent 6 day trip in Petchaburi with a group of birders from South Wales produced a wide variety of great birds, raising the possibility that this could be the Thai province with the widest variety of bird species. Some of our highlights included 5 species of Broadbill, 44 species of shorebird including 3 Spoon-billed Sandpipers & 450+ Asian Dowitchers, 21 species of raptor including 2 male Pied Harriers, Great Hornbill, 2 species of Trogon, Blue Pitta, amazing views of Pallas's Grasshopper Warbler, Siberian Rubythroat, 4 Baillon's Crakes, Red-bearded Bee-eater and many more.
Pak Thale/Laem Pak Bia
This wetland site always delivers the goods and has to be a candidate for the best shorebird site in the world. We started our trip with wonderful views of 3 Spoon-billed Sandpipers, one of the main targets for the group, and picked out 4 Far Eastern Curlews from a vast flock of Eurasian Curlews and we saw the 2 Common Shelducks currently residing at Pak Thale. We also found at least 77 Nordmann's Greenshank and a single Long-billed Dowitcher adding Pied Avocet, Terek Sandpiper, Greater Sand Plover and Dunlin (rare in Thailand) to our growing wader list. Out on the sand spit we enjoyed the beautiful Malaysian Plover before debating whether White-faced Plover should be treated as a full species – we saw a pair of these attractive waders. Also present were Pallas's Gull, Heuglin's Gull and a mystery gull which may be heuglini or barabensis pending further debate, either way it is a very interesting record for Thailand. A total of 5 Chinese Egrets were also seen.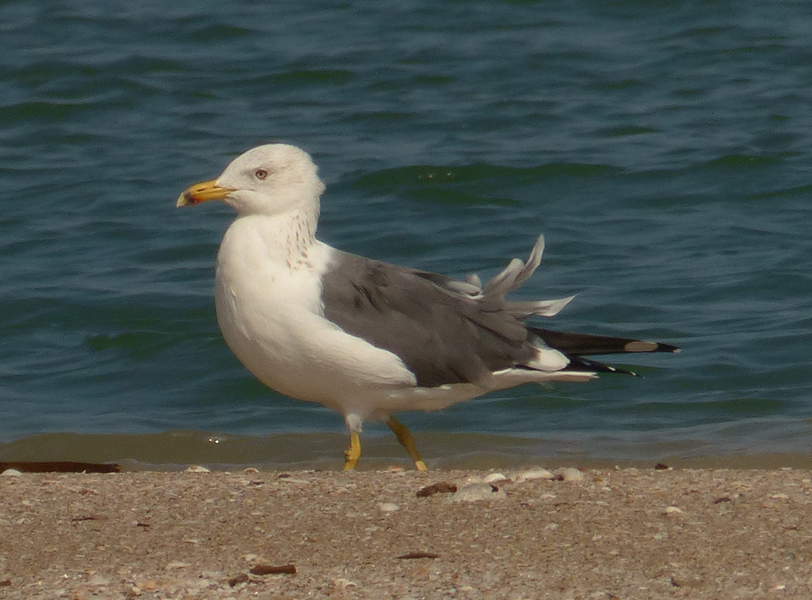 heuglini or barabensis? it certainly looked different from the regular taimyrensis on the sand spit – photo by Nick Upton
Very close views of Indian Nightjar at the King's Project was a real highlight too and more than 200 White-shouldered Starlings flew past on their way to roost in the mangroves while some nearby freshwater pools gave us a prolonged sighting of 2 young Baillon's Crakes and a male Spot-breasted Woodpecker in some nearby trees.
Kaeng Krachan National Park
We had some truly spectacular birding here with most people in the group saying that one morning in particular was perhaps the best morning of birding they had ever experienced. Certainly I had trouble remembering a more amazing morning at Kaeng Krachan starting with Great Slaty Woodpecker, Heart Spotted Woodpecker, Great Hornbill and Black-thighed Falconet before encountering a flock containing Orange-breasted Trogon, Silver-breasted Broadbill, Banded Broadbill, Buff-rumped Woodpecker and even a Tickell's Brown Hornbill. We even found Red-bearded and Blue-bearded Bee-eaters in the same tree near stream 2 which was very unusual with Red-bearded usually being confined to the higher ground at KK. We managed to use call playback to lure in a pair of fabulous Black-and-yellow Broadbills and a male Streak-breasted Woodpecker before finishing the morning with everyone obtaining great views of a stunning male Blue Pitta.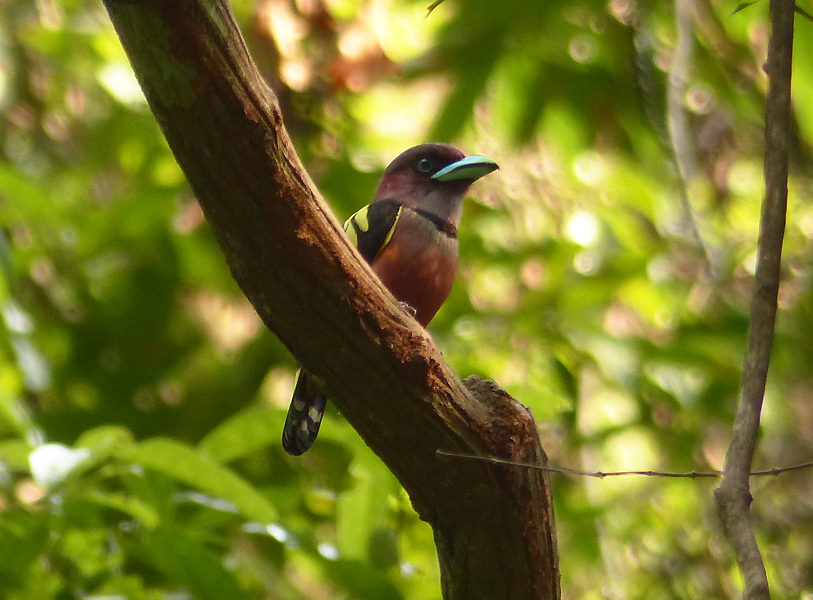 Banded Broadbill – photo by Nick Upton
Over the next couple of days we found a pair of Black-and-red Broadbills, Violet Cuckoo, Sultan Tit, Asian Drongo Cuckoo, Grey-headed Woodpecker as well as many commoner species.
On the higher altitudes of the park birding was a bit slower but we still saw a lot of great species including a close-up Bay Woodpecker and foraging Speckled Piculet. Black-throated Laughingthrush and Collared Babbler were very obliging and a female Banded Kingfisher showed briefly. A pair of Red-headed Trogons stayed longer, allowing us to 'scope the male in his hiding place and on our last morning we were excited by a couple of wonderful Long-tailed Broadbills before finally catching up with a pair of Ratchet-tailed Treepies!
On one of our trips back down the mountain we also had an unbelievable sighting of a Leopard just a few feet away from us – it felt like it was about to leap into the vehicle it was so close.
Lung Sin Waterhole
A session at this location is always enjoyable. Cool and overcast weather made things a little slower than usual but with Bar-backed Partridge, Kalij Pheasant, Scaly-breasted Partridge, Lesser & Greater Necklaced Laughingthrushes, male Siberian Blue Robin and many other species, nobody was complaining.
Khao Look Chang
The main target at this fragment of dry dipterocarp woodland was Black-headed Woodpecker, which we found without much trouble, but some members of the group had asked me about the chances of seeing Black Baza and Forest Wagtail. Well, we found both of these here with fine views of two Black Bazas perched in bare trees and a Forest Wagtail strutting around in the leaf litter.
Petchaburi Rice Fields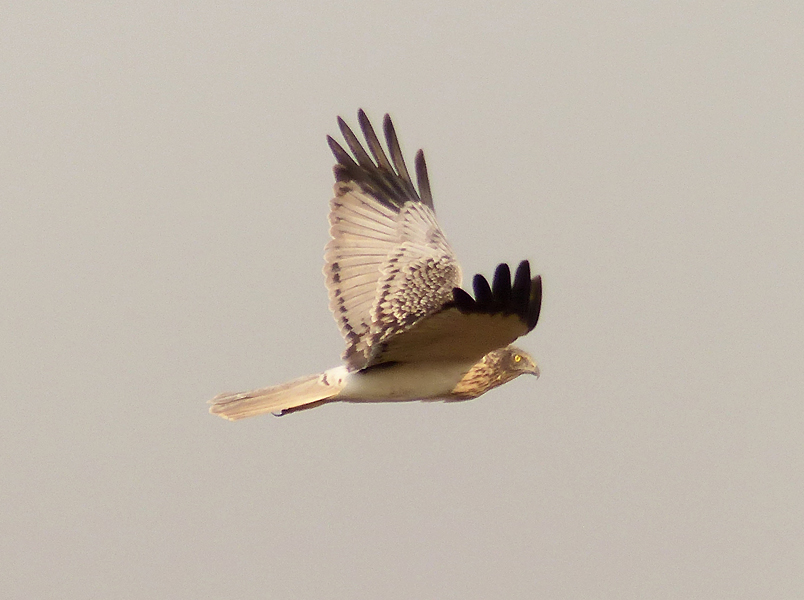 Eastern Marsh Harrier (male) – photo by Nick Upton
We spent a fair amount of time in this large agricultural area targeting a few species that were very high on the  wish list of many members of our group. Spending the late afternoon out here resulted in watching around 20 harriers come to roost in a rice fields with most of them being female Eastern Marsh Harriers but including 2 male Pied Harriers which was our main target. We also got great views of a juvenile Steppe Eagle, several Greater Spotted Eagles as well as a young Eastern Imperial Eagle.
Waterbirds in this area included a single Black-headed Ibis, 2 Baillon's Crakes, several White-browed Crakes, a Cinnamon Bittern in amazing afternoon sunlight, 2 Stork-billed Kingfishers, both Pheasant-tailed and Bronze-winged Jacanas, Cotton Pygmy Goose and 3 Common Coot – scarce in this area.
Two very skulking species that the group were keen to see were Pallas's Grasshopper Warbler and Siberian Rubythroat. Neither is as common in this area as in Northern Thailand but as we were watching some waterbirds I heard a Rubythroat call. Some call playback as well as selecting the only spot where we could see into the undergrowth resulted in everyone getting clear views of a stunning male with much excitement among the viewers! Pallas's Grasshopper Warbler is even more skulking but on our last morning we found an area of semi-burnt vegetation and managed to get really clear views of one of these birds much to everyone's joy.
Wat Khao Takrao
Having failed to find Asian Dowitcher at Laem Pak Bia & Pak Thale we went to Wat Khao Takrao in hope. Large numbers of waders gave us hope as we arrived but we were shocked to find that nearly all of them were Dowitchers. I counted an amazing 453 birds but this was a very conservative count with many birds packed together and some distant birds not counted as identification could not be certain. This was truly an amazing spectacle and by far the highest number that I had ever seen. Our luck continued as 2 Spot-billed Pelicans flew in to feed and we obtained better views of Black-headed Ibis as well as adding Garganey and Northern Pintail to our trip list.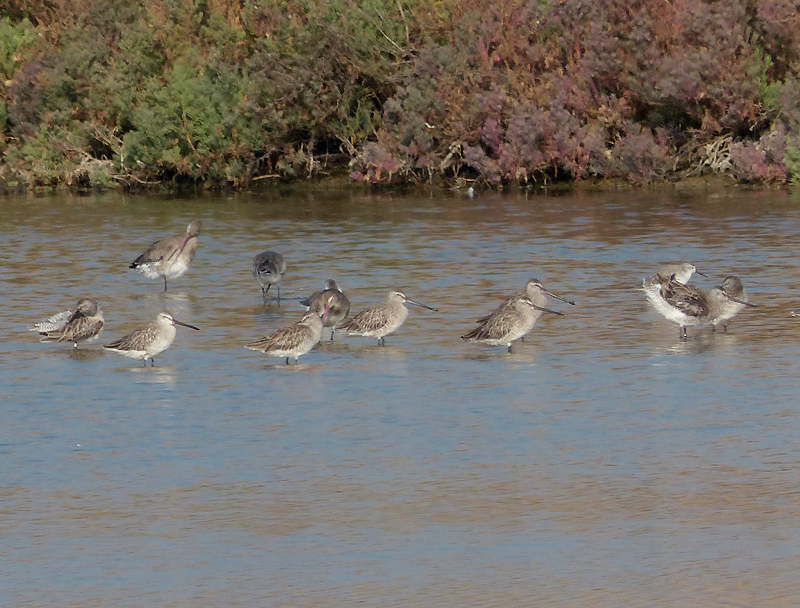 Asian Dowitchers – photo by Nick Upton
This turned into a really successful and enjoyable short trip with a lot of very memorable moments and birds. We finished with almost 300 species including many that were on the "most-wanted" list of the group, a few of which are usually thought of as birds of other parts of the country which made finding them here even more satisfying.