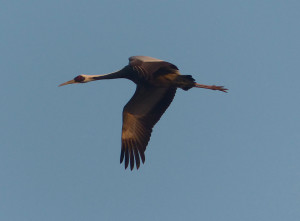 I am back in Thailand enjoying the warmth after leading a cold but successful birding tour of South Korea on behalf of Zootherabirding alongside Nial Moores of BirdsKorea. Despite the unusually severe temperatures we found a high proportion of our target species including a magnificent Steller's Sea Eagle, Relict Gull, 25+ Scaly-sided Mergansers, 3 Solitary Snipe, Red-crowned Crane, Hooded Crane, White-naped Crane, Long-billed Plover, Pallas's Reed Bunting, Oriental Stork, Glaucous-winged Gull, Saunders Gull, Varied Tit, Swan Goose, Baikal Teal, 200+ Asian Rosy Finches, Siberian Accentor and many others.
A full trip report will follow but for now I will just post some photos from the trip with some notes about them;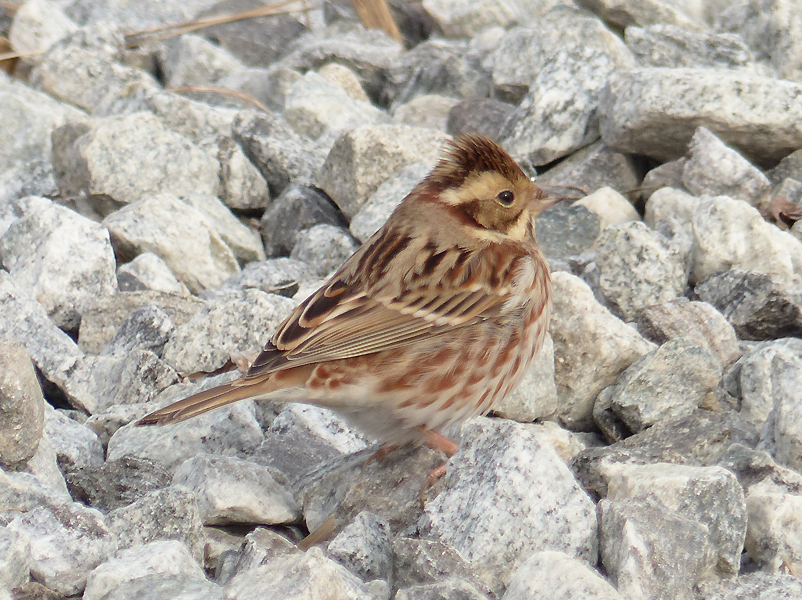 Rustic Bunting – photo by Nick Upton
It was really nice to see lots of Buntings in Korea. This is a group of birds which are doing poorly in most parts of the world so it gave me some hope for these lovely birds to see so many. We saw many flocks of Rustic Buntings, the largest being about 200 birds, and there were yellow-throated Buntings everywhere we went. We also saw several Pallas's Reed Buntings as well as recording Meadow Bunting, Chestnut-eared Bunting and Black-faced Bunting.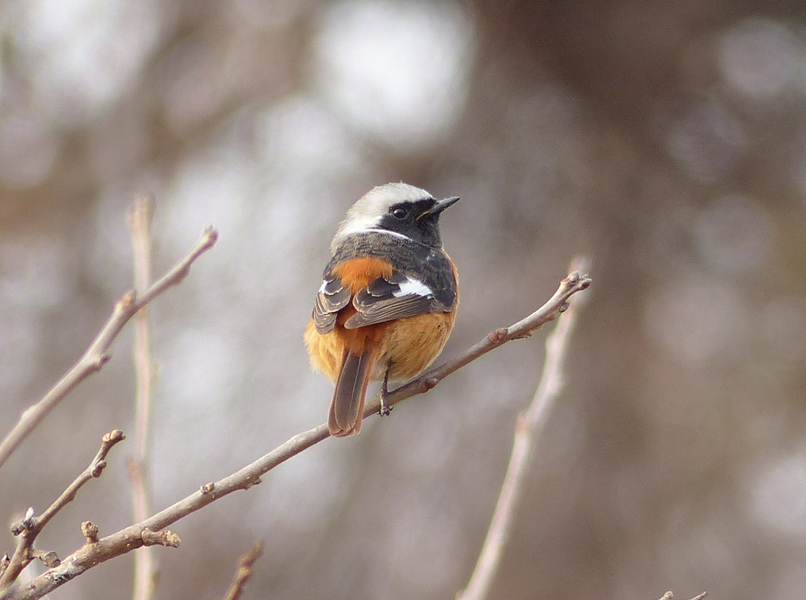 Daurian Redstart – photo by Nick Upton
 Daurian Redstart was a species that we saw on every day of the trip in habitats as diverse as forest, reed beds and snow-covered rice fields! This one posed for me while we were searching for an elusive Pale Thrush.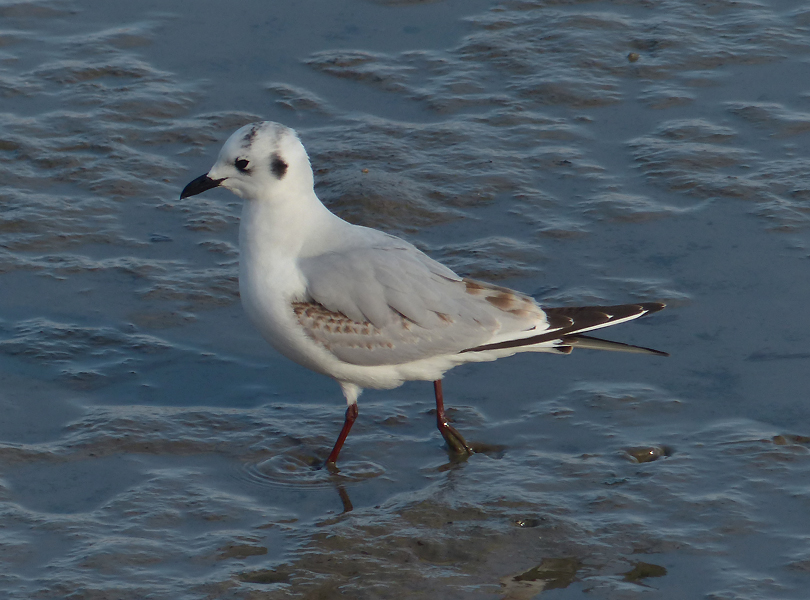 Saunders Gull – photo by Nick Upton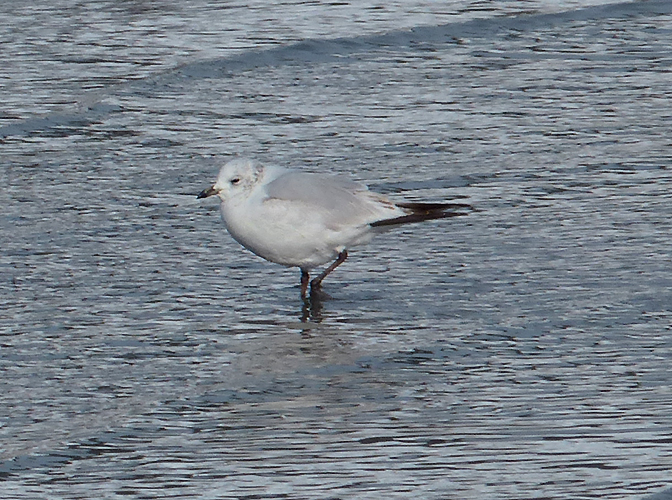 Relict Gull – photo by Nick Upton
Glaucous-winged Gull – photo by Nick Upton
Although they are not everyone's favourite group of birds, there were a lot of Gulls to look at in South Korea. The pick of the bunch were elegant Saunders Gulls, the mysterious Relict Gull and a couple of nice Glaucous-winged Gulls. There were also Common Gull (kamschatschensis & heinei), Black-headed Gull, Heuglin's Gull (taimyrensis), Vega Gull, Slaty-backed Gull, Black-tailed Gull, Steppe Gull (barabensis), Mongolian Gull & Glaucous Gull (pallidissimus & barrovianus); a gull-lovers paradise but another step towards madness for others.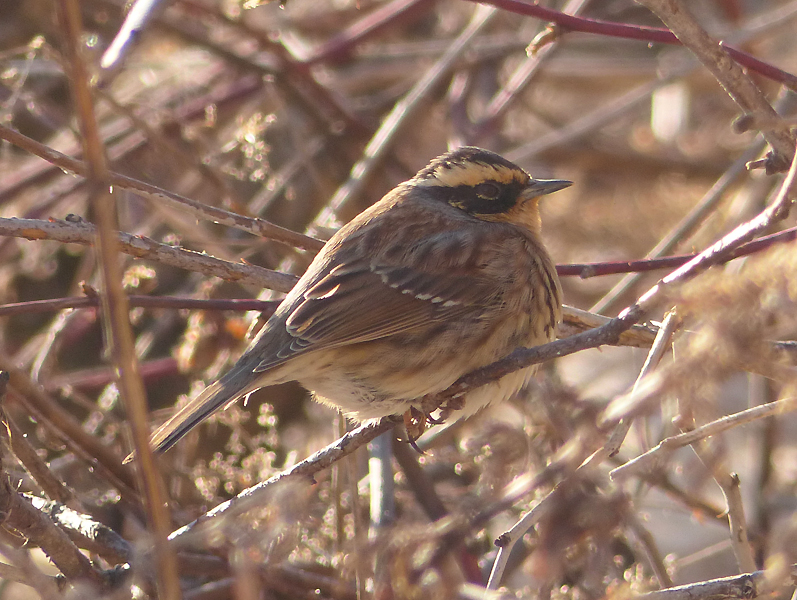 Siberian Accentor – photo by Nick Upton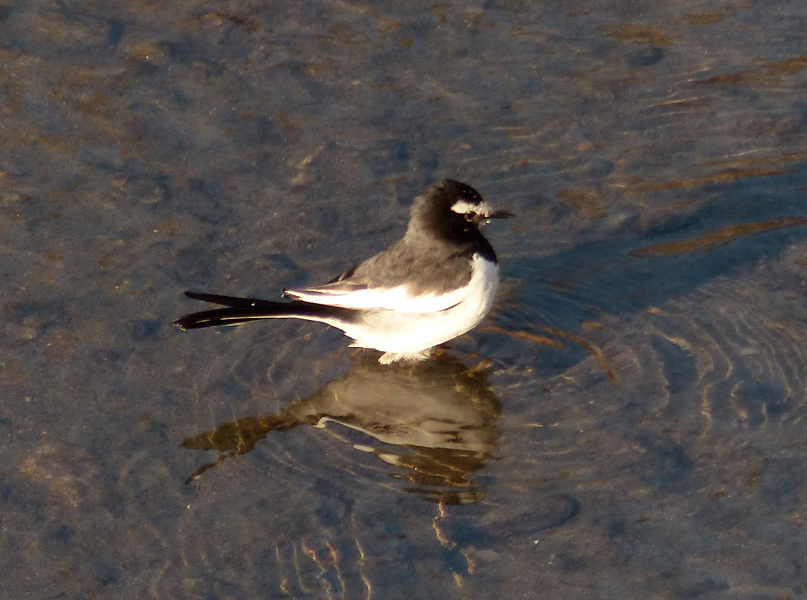 Japanese Wagtail – photo by Nick Upton
The unusually cold weather made several birds very memorable because of the conditions we saw them in. The above beautiful Siberian Accentor was very confiding and a trip favourite but the -17C temperature made it perhaps the coldest "tick" any of us had. Although the air temperature was a balmy -10C when we found our first Japanese Wagtail the strong wind that came with it was unbearable. In fact every time we saw Japanese Wagtail the temperature plummeted; still, it was a lovely bird.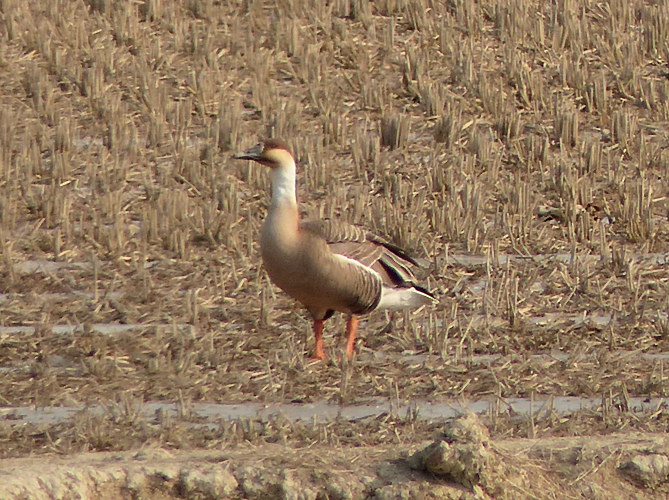 Swan Goose – photo by Nick Upton
This Swan Goose was perhaps our hardest earned bird. After looking for it in many places, with no luck, we had more or less given up on it, only for this lone bird to be seen at Junam reservoir. This was one of the rarest of an impressive list of wildfowl for the trip including Scaly-sided Merganser, Baikal Teal, Falcated Duck, Smew, Harlequin Duck, Tundra & Taiga Bean Goose, White-winged Scoter, Black Scoter, Mandarin Duck and many more.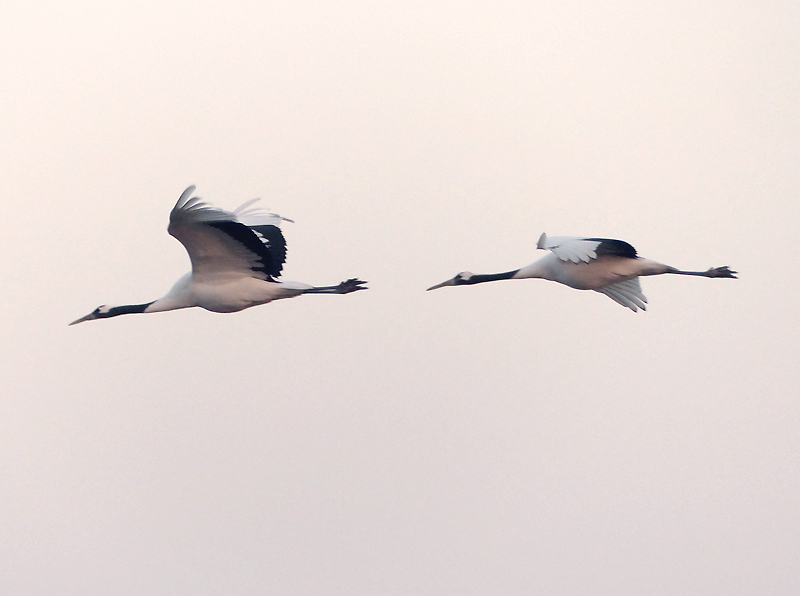 Red-crowned Cranes – photo by Nick Upton
White-naped Crane – photo by Nick Upton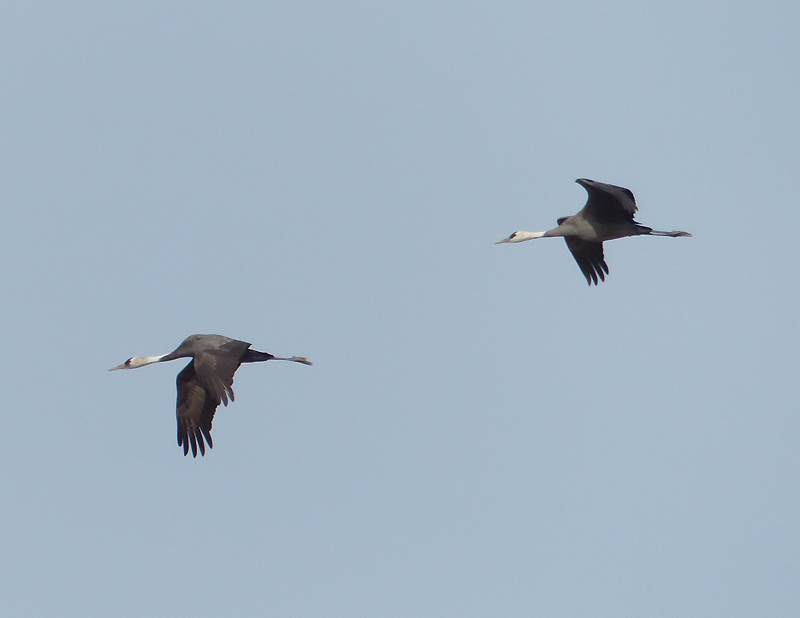 Hooded Cranes – photo by Nick Upton
One of the star attractions for birders visiting South Korea are the Cranes which regularly winter there. We had fantastic views of large numbers of the three main species that we had anticipated on our trip – Hooded, Red-crowned & White-naped Cranes. We had great views of all these species feeding on the ground but we all agreed that it was in flight that they were at their most majestic, that is why I have chosen these three photos.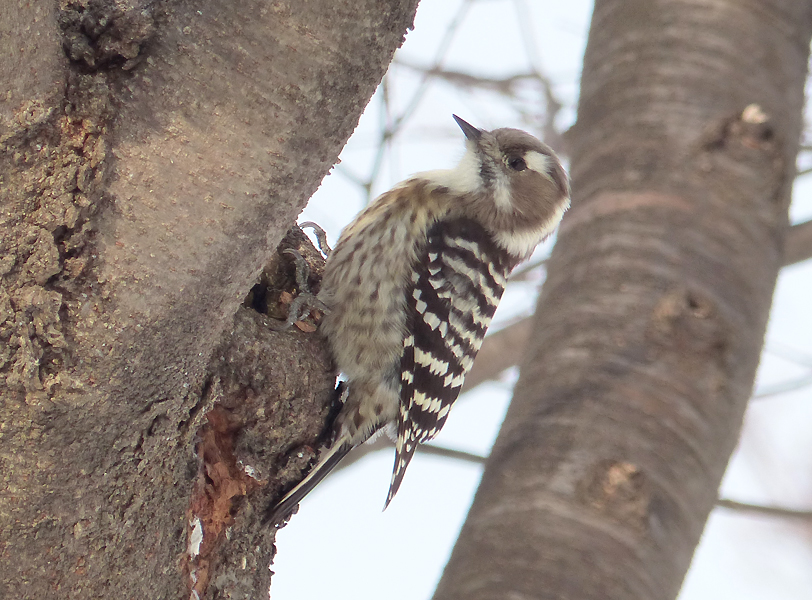 Japanese Pygmy Woodpecker – photo by Nick Upton
Japanese Pygmy Woodpecker is one of my personal favourites from Korea. This is a common bird, found anywhere there is some wooded cover, but it is one of the most confiding species I have ever encountered, allowing birders to approach it with a few feet. This species is often accompanied by flocks of Tits, including Eastern Great Tit, the wonderful Varied Tit, Marsh Tit, Coal Tit and Long-tailed Tit.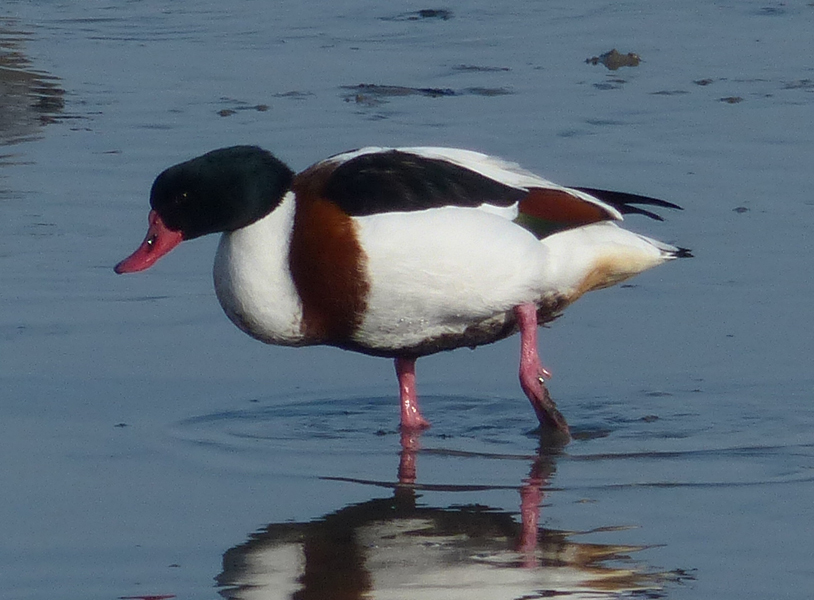 Common Shelduck – photo by Nick Upton
 Common Shelduck was one of the more familiar birds for our group and a surprising number of species from Europe were seen on this trip to South Korea. As well as species previously mentioned there was Eurasian Treecreeper, Eurasian Nuthatch, Wren, Magpie, Eurasian Wigeon, Goldeneye, Black-necked Grebe, Red-throated Diver, Red-breasted Merganser, Northern Goshawk, Hawfinch, Brambling plus the impressive sight of 50000+ Rooks.
In total we saw 154 species including a few scarce species for Korea in winter – Water Pipit, Chinese Pond Heron, Black-faced Spoonbill & Pied Avocet. Meadow Bunting, Chinese Grosbeak, Buff-bellied Pipit, Long-tailed Rosefinch, Dusky Thrush, Naumann's Thrush, White-cheeked Starling, Vinous-throated Parrotbill, Rhinoceros Auklet, Long-billed Murrelet were all also seen, although not photographed, and these plus many others mean that this trip will be running again in January of 2017 when I would expect it to be at least as successful. If you are interested in joining me for South Korea 2017 please contact me for more information – nickupton@thaibirding.com
The full trip report is now available here – South Korea Tour Report