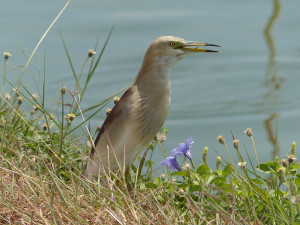 On 20th May myself and Tom Wilson spent a day visiting various birding sites in Petchaburi province, leaving Bangkok at 5am and returning at around 6pm. It turned out to be a really good day with a large number of species and a wide variety of birds including Black-headed Woodpecker, Milky Stork, Indian Thick-knee, Slaty-breasted Rail, Grey-tailed Tattler, Blue-throated Bee-eater, Indian Pond Heron, Black Bittern, Freckle-breasted Woodpecker and thousands of nesting weavers. We started the day at Wat Khao Luk Chang, moved on to Laem Pak Bia, then Pak Thale and after lunch checked out the fish ponds at Wat Khao Takrao before finishing the day in the rice fields near Petchaburi town; our favourite sightings and some photos follow.
Khao Luk Chang
Getting out of Bangkok at 5am allowed us to miss the traffic and we made excellent time, getting to Khao Luk Chang at around 7am where we were greeted by a lot of activity by noisy Rufous Treepies and a Green-billed Malkoha that sat very close to us. In the woodland we also saw a few Asian Barred Owlets, which seem to be unusually common at this site, and a family of Spotted Owlets as well as Greater Necklaced Laughingthrush, Red-breasted Parakeet, Purple Sunbird and our main target, Black-headed Woodpecker, which seemed to be attending a nest.
Spotted Owlet by Nick Upton
We also had a walk in the open country to the immediate north of the woodland where we found some interesting birds including 1 Vinous-breasted Starling, 3 Indian Thick-knees and a single Blue-throated Bee-eater alongside about 20 Blue-tailed Bee-eaters; there was also Indochinese Bushlark and Grey-breasted Prinia.
Laem Pak Bia & Pak Thale
Here we visited the shore front viewpoint where a couple of pairs of Malaysian Plovers are nesting, making them easy to see. There were about 30 Little Terns loafing around on the beach too with one recently fledged chick, a couple of Lesser Sand Plovers and a Pacific Reef Egret.
Malaysian Plover by Nick Upton
Moving on to the King's Project area we got really lucky with a Milky Stork, alongside some Painted Storks, which was, unfortunately, flushed by a group of Chinese photographers; it was very disappointing to see their guide sitting in the van rather than telling them that scaring an endangered species from its feeding area is not acceptable. As always large numbers of birds were to be seen around the settling pools, although hundreds of dead fish were smelly. Lots of handsome Javan Pond Herons in breeding plumage were to be seen and a nice Indian Pond Heron was a bonus too.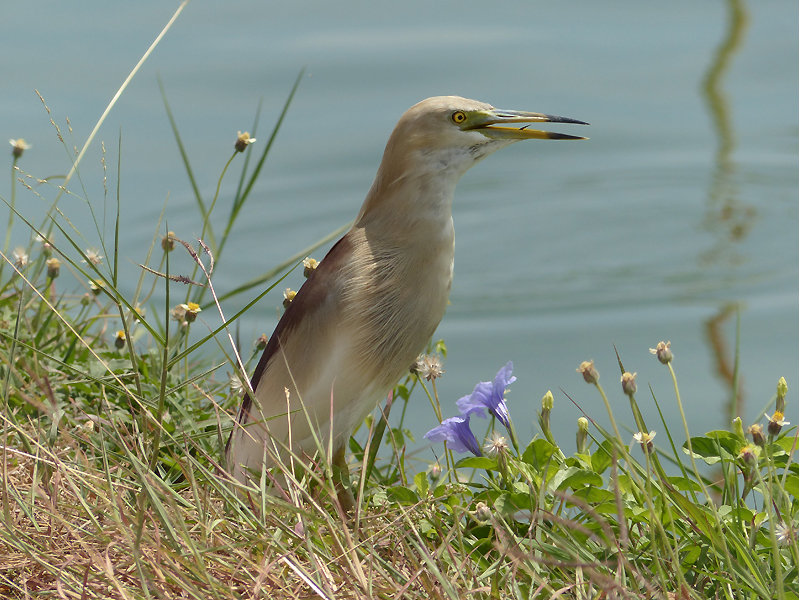 Indian Pond Heron by Nick Upton
 Although most shorebirds have departed by now we did see a few Lesser Sand Plovers in the salt pans and I decided to check out the ditches around the artemia pools where I have seen Slaty-breasted Rail in the past. We got lucky with 3 individuals of this shy species foraging for tiny crabs in muddy ditches.
Further up the road we enjoyed watching Oriental Pratincoles on their nesting ground but it was worrying to notice that numbers are dramatically lower than in most years.
Visiting the shore at Pak Thale provided some variety to the day with a few shorebirds including 2 Grey-tailed Tattlers. Others included 2 Bar-tailed Godwits, 1 Common Redshank, 2 Marsh Sandpipers, 3 Kentish Plovers and several Lesser Sand Plovers. A Golden-bellied Gerygone performed rather nicely. for us too.
Wat Kha Takrao
Here we saw an amazing number of Spot-billed Pelicans with at least 250 present. There were also a small number of Painted Storks but, unusually, no Black-headed Ibis. Large numbers of Javan Pond Herons, Egrets ans a few Whiskered Terns were also seen and a single Black-tailed Godwit looked a bit lonely.
Spot-billed Pelican by Nick Upton
Petchaburi Rice Fields & Fish Ponds
Our last birding site of the day was the extensive area of rice fields and fish ponds close to the town of Petchaburi. We saw some great birds here including nesting colonies of Asian Golden Weaver, Baya Weaver and Streaked Weaver, although one colony had fallen foul of a mist net – Bird Persecution Using Mist Nets.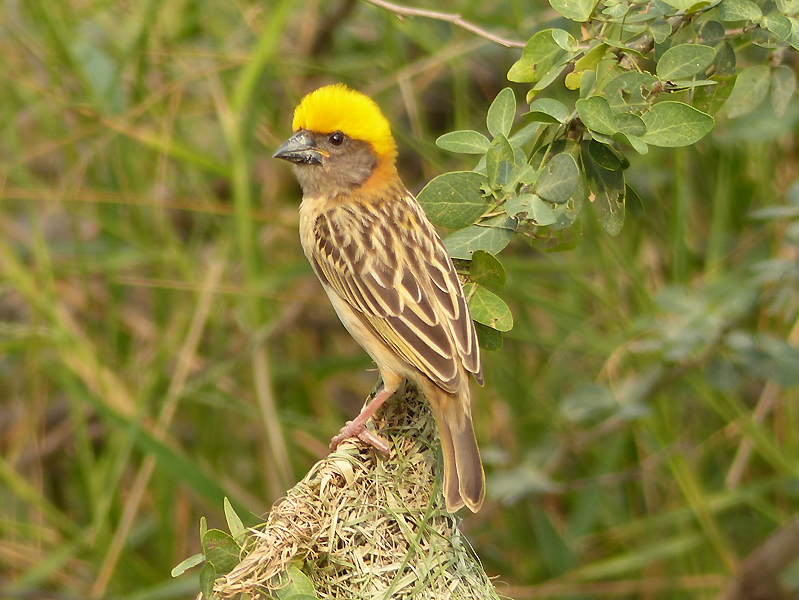 Baya Weaver by Nick Upton
Waterbirds in the rice fields included around 20 Cotton Pygmy Geese, a Black Bittern, 2 Pheasant-tailed Jacanas, Bronze-winged Jacana, 2 Common Moorhen (uncommon in the wet season), several White-browed Crakes and a pair of Watercock attempting to mate (the young lady seemed to have a headache). We also added Plain-backed Sparrow, a very friendly Yellow-bellied Prinia and a couple of Brahminy Kites to our day list before finishing with a female Freckle-breasted Woodpecker, a great bird to give us a send us off back to Bangkok.