I recently spent 4 nights at the Bala sector of Hala-Bala Wildlife Sanctuary in Narathiwat province on the Thai-Malaysia border. This is probably the best birding site in Southern Thailand but I have made very few visits due to the long distance from Bangkok, where I live, and the ongoing violence in the area that makes one think before going there.
In truth there has never been any violence in the immediate area of the wildlife sanctuary and although one has to travel through area where shootings and bombings do occur, the chances of being caught up in them are very slim, although it remains that there is some element of risk and on my recent visit there was a motorcycle bomb on the main highway just a few hours after I had passed through.
This wet season visit proved not to be too wet, with thunderstorms confined to the late afternoon and evenings, allowing myself and Jan Hillman to enjoy many excellent species with highlights including Rhinoceros Hornbill, Malaysian Honeyguide, Green Broadbill, Scarlet-rumped Trogon, Red-throated Sunbird, Buffy Fish Owl, Oriental Dwarf Kingfisher (Rufous morph), Helmeted Hornbill, Finsch's Bulbul, Checker-throated Woodpecker and Rufous-chested Flycatcher.
We stayed at the ranger station with simple accommodation; sleeping on the floor was made more tolerable with some roll-up mattresses purchased in a supermarket and food was found in a small restaurant in the nearby village of Ban Buketa. We were told that it was essential to be accompanied at all times by a ranger and although he knew where to find a few key species his bird knowledge was not very good, although he was adept at spotting birds. However, our guide was essential in locating the singing tree of Malaysian Honeyguide along the very overgrown section of the 1500m trail across the river.
Birding around the ranger station and along the road from this spot turned up some nice birds including Black-and-yellow Broadbill, Common Hill Myna (rare in the south), a pair of Orange-backed Woodpeckers, Red-bearded Bee-eater, Black-thighed Falconet, several Crimson-winged Woodpeckers and Bushy-crested Hornbill. At night we got very close to Reddish Scops Owl, Blyth's Frogmouth and White-fronted Scops Owl although frustratingly we did not manage to see any of them; a couple of Oriental Bay Owl were calling in the area too.
Venturing along the 1500m trail which is reached by wading through a stream at the Wildlife Research Centre was, as always, a tiring trip with lots of mosquitoes and leeches. Birds were few and far between but with patience we found several rare lowland species including Scarlet-rumped Trogon, Chestnut-rumped Babbler, Green Broadbill, Rufous-crowned Babbler and Malaysian Honeyguide. We also heard Malaysian Rail Babbler calling repeatedly very close by but we were not allowed to use call playback making seeing the bird more or less impossible.
We spent a morning along the trail through To Mo Community Forest and although things were very quiet we did see Buffy Fish Owl, Red-throated Sunbird, Olive-backed Woodpecker, Rufous Woodpecker, Black-and-red Broadbill, Finsch's Bulbul, Blue-banded Kingfisher, Rufous-collared Kingfisher and Crimson-winged Woodpecker.
A number of short session of birding along the road near the Wildlife Watchpoint sign produced a number of good birds including a wonderful sighting of Helemeted Hornbill after much searching as well as a bird I was very keen to see – Checker-throated Woodpecker. This area was one of the few that we found a good abundance of birds with Scaly-breasted Bulbul, Grey-bellied Bulbul, Finch's Bulbul, Cinereous Bulbul, Rufous Piculet, Maroon Woodpecker, Grey-and-buff Woodpecker, Rhinoceros Hornbill and many other commoner species being seen.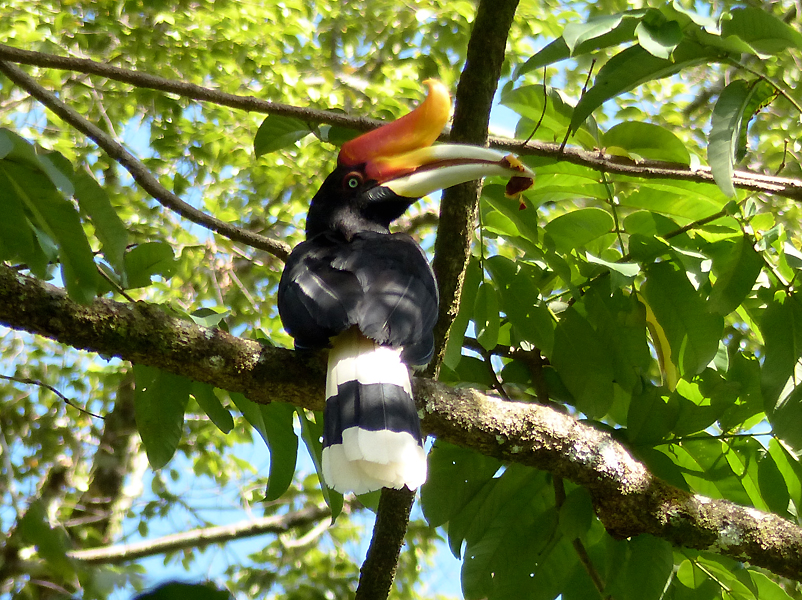 We were after good quality photographs of birds which led us to spend time sitting around at likely spots as well as seeding and fruiting trees and this method turned up Chestnut-naped Forktail, Rufous-chested Flycatcher, Oriental Dwarf Kingfisher, Silver-breasted Broadbill, Buff-vented Bulbul and a female Pale-blue Flycatcher. In fact due to the very slow birding at this time, photography, was probably the best method of birding with species arriving while we were photographing various birds at length.
Another popular spot is the Wildlife Research Centre and flowering bushes here were excellent for photographing Yellow-breasted, Crimson-breasted, Yellow-vented and Orange-bellied Flowerpeckers as well as the resident, tame Rhinoceros Hornbill. Birding this area also turned up Black-and-red Broadbill, Yellow-crowned Barbet, Blue-crowned Hanging Parrot, Maroon Woodpecker, Rufous Woodpecker and Blue-throated Bee-eater as well as the ubiquitous Whiskered Treeswift.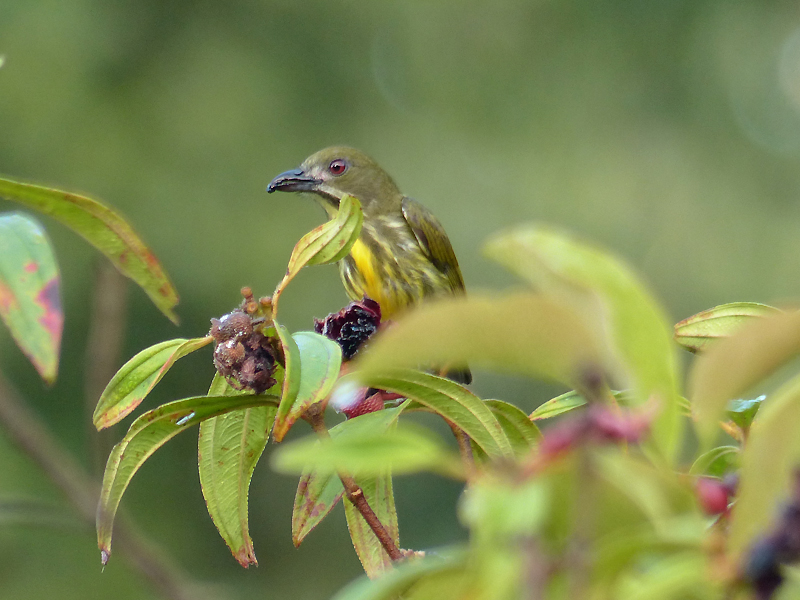 Our three days at Bala were very enjoyable but also confirmed that this short period of time is nowhere near long enough to enjoy the massive number of great birds that can be found here. At other times bird abundance can be higher but even at this time of year we were able to keep adding exciting new species to our list right up to the time we left.
Hopefully I will be able to get back in the not too distant future to find those lats few species that I have not yet seen that keep eluding me.