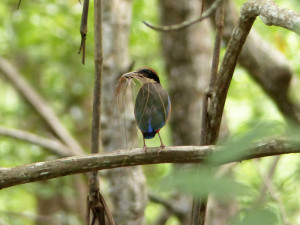 Over the last few months I have made several visits to two mangrove sites in Phang Nga province; Ao Phang Nga National Park HQ and Ban Bang Phut.  On both occasions the birding has been very rewarding and I have been able to find most of the species that occur in this habitat quite quickly, getting good views of them all. The unusual thing about these visits is that I have been able to find birds at any time of day, on my most recent visit on 2nd July I was able to find Mangrove Pitta a little after having lunch at around 1.45pm in extremely hot and humid conditions. Mangrove Pitta was followed by several other target birds including White-chested Babbler, Chestnut-bellied Malkoha, Ruddy Kingfisher, Black-and-red Broadbill and Streak-breasted Woodpecker, all between 1pm and 4pm.
I have found the birding and photographic opportunities at these sites between April and July to be very good, some of my photos, some more comments and checklists follow for these two mangrove birding locations.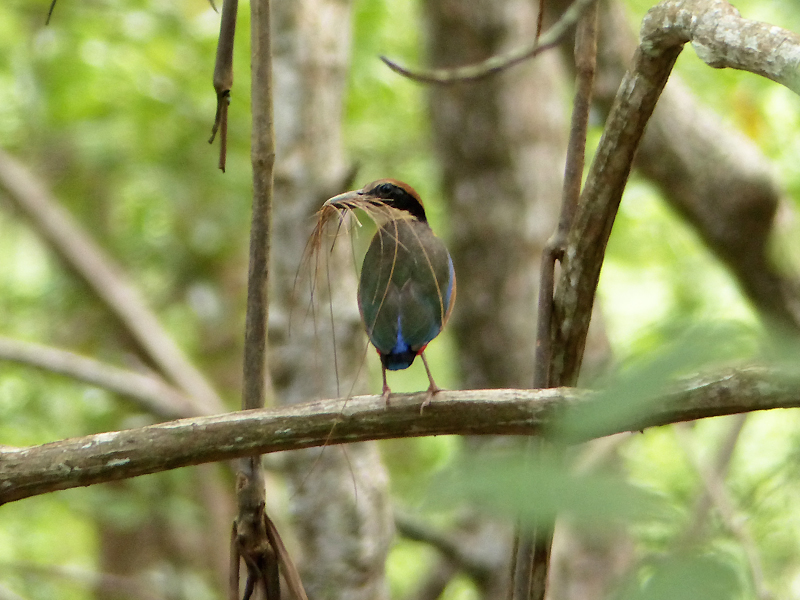 Mangrove Pitta by
Nick Upton
Mangrove Pitta is one of the most desired birds of the mangroves and it is easily seen at Ao Phang Nga during the breeding season. This one, with nesting material, sat on a nearby branch for several minutes on 1st July for us to enjoy. However, I have not found it so easy to see at Ban Bang Phut, although it does occur there it does not seem quite so common and the nature of the habitat makes it harder to view.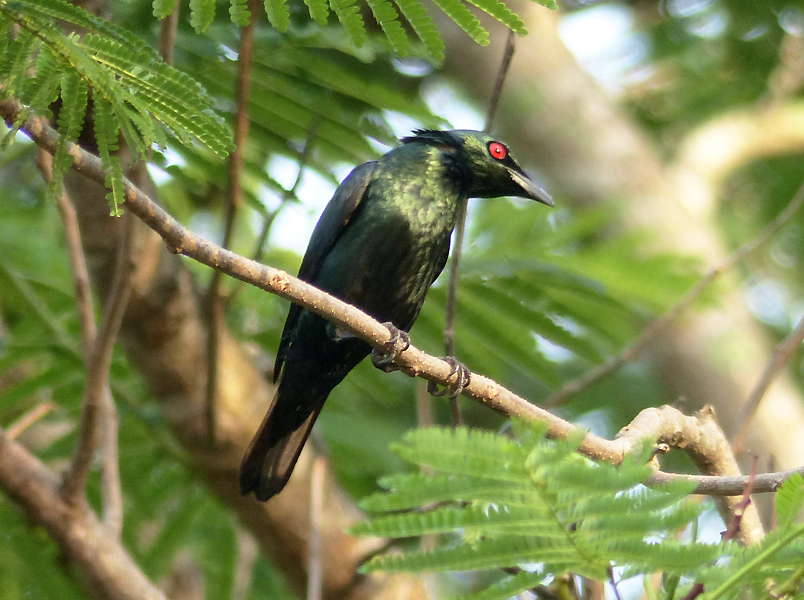 Asin Glossy Starling by Nick Upton
On my visits to Ao Phang Nga in June and early July there was a tree in fruit on the edge of the mangroves which was attracting large numbers of birds to feed in it. Although Asian Glossy Starling is common in the area, watching them feeding in this tree was a lot nicer than the usual sighting of them on an overhead wire or traffic lights. The fruiting tree also attracted Coppersmith Barbet, Blue-eared Barbet, Olive-winged Bulbul, Black-hooded Oriole, Vernal Hanging Parrot, Pink-necked Green Pigeon and Oriental Pied Hornbill among other species.
Pink-necked Green Pigeon by Nick Upton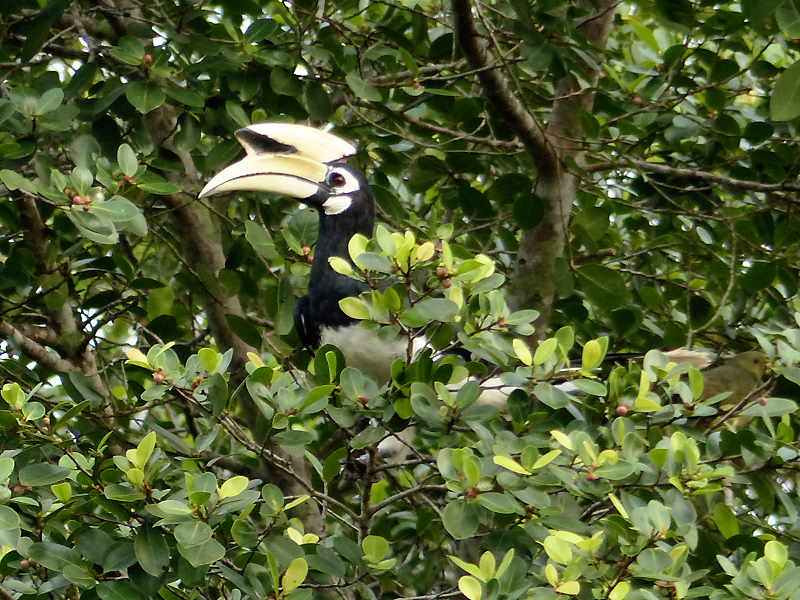 Oriental Pied Hornbill by Nick Upton
Kingfishers are another set of birds in the mangroves that birders are keen to see. Brown-winged Kingfisher's world range is confined to mangroves along the Andaman coast of Malaysia, Thailand, Myanmar, Bangladesh and India and it is fairly easy to see at both Ao Phang Nga and Ban Bang Phut – listening for its call is the best way to track it down. Similarly, listening for the call of Ruddy Kingfisher is the best way to get a view of this secretive bird. This is a shy species and not particularly common but both of these mangrove sites are a good place to find it; be prepared to be frustrated, this can be a difficult bird to get a good view of.
Brown-winged Kingfisher by Nick Upton
Although I have both seen and heard Mangrove Whistler and Golden-bellied Gerygone at Ao Phang Nga, these two vocal species seem to be far more common at Ban Bang Phut as do Copper-throated Sunbird, Oriental White-eye, Collared Kingfisher and Grey-capped Pygmy Woodpecker. Woodpeckers can be found at both sites with Streak-breasted Woodpecker being the commonest but I have also seen Common Flameback at Ao Phang Nga and Greater Flameback at Ban Bang Phut.
Grey-capped Pygmy Woodpecker by Nick Upton
During migration it is likely that a good number of passage migrants use the mangroves as stopover feeding locations so birding these sites in October and April could be rewarding in this way. Regardless of the time of the year I have found the mangroves at Phang Nga far better birding than at nearby Krabi.
The following are some links to eBird checklists that I have created for my recent visits to the mangroves in Phang Nga province;