After the successful completion of the Zootherabirding tour to West Java & Sumatra last month I spent a few days in Jakarta, mainly to rest, but also to do a little birding in the city as I was interested in seeing the Javan form of Coppersmith Barbet which is so different from the subspecies I am used to seeing in Thailand.
I spent two mornings birding in Jakarta; one morning at the well-known Muara Angke marsh in the north of the city and another morning in the park surrounding the National Monument in the centre of Jakarta. Considering that Jakarta is a huge, sprawling and polluted city it is quite a surprise how many species of bird I found in these two small green areas in a short space of time. Read the following account for lots of photos and a map locating both sites.
My first morning was spent at Muara Angke marsh and mangroves in the north of Jakarta. I stayed at a hotel that was close enough to walk to the site and on arrival some staff asked me for the entry fee. I was rather surprised to be told it was 250000  (£15) Rupiah for foreigners. For this price one would expect and top quality visitor facilities and interpretation along with the highest levels of habitat management. What you actually get is dilapidated boardwalks, polluted water and piles of rubbish. Still with very basic Indonesian language skills I was able to get the price quickly down to 150000 Rupiah at which point I could not be bothered to argue any more.
Still, I was greeted by plenty of bird activity with Sunda Pygmy Woodpecker, Common Iora, Small Minivet, Malasian Pied Fantail, Sooty-headed Bulbul and Collared Kingfisher all very obvious. A little more vigilance revealed Black-crowned Night Heron and a couple of White-eyes which on closer inspection turned out to be Lemon-bellied White-eyes.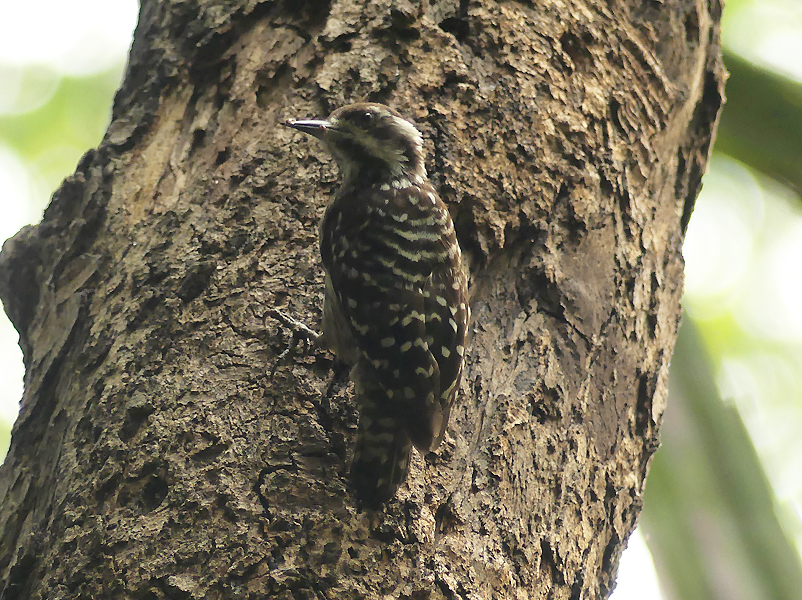 Sunda Pygmy Woodpecker by Nick Upton
Moving out of the mangroves I spent most of my time in the open areas where the sun was becoming quite hot. It did not stop me from finding new species with Ashy Tailorbird, Oriental Darter and a female Pied Triller to be seen. I had been told of observations of White-shouldered Triller here but range maps would indicate that it is not found in this area, my bird was certainly a female Pied Triller. The call of Clamourous Reed Warbler came from the base of a some mangrove trees and it was lured into view quite quickly with a little "pishing".
Further along the boardwalk was in complete disrepair and I just spent time looking out over the marsh area hoping that a Javan Coucal might appear – it did not!
Broken Boardwalk at Muara Angke by Nick Upton
However there were some nice birds to be seen with plenty of Pink-necked Green Pigeons, a couple of Black Bitterns, Black-backed Swamphen, Island Collared Dove, Small Blue Kingfisher, Javan Pond Heron, Purple Heron, Javan Myna and three species of Prinia – Plain, Bar-winged and this very curious Yellow-bellied Prinia.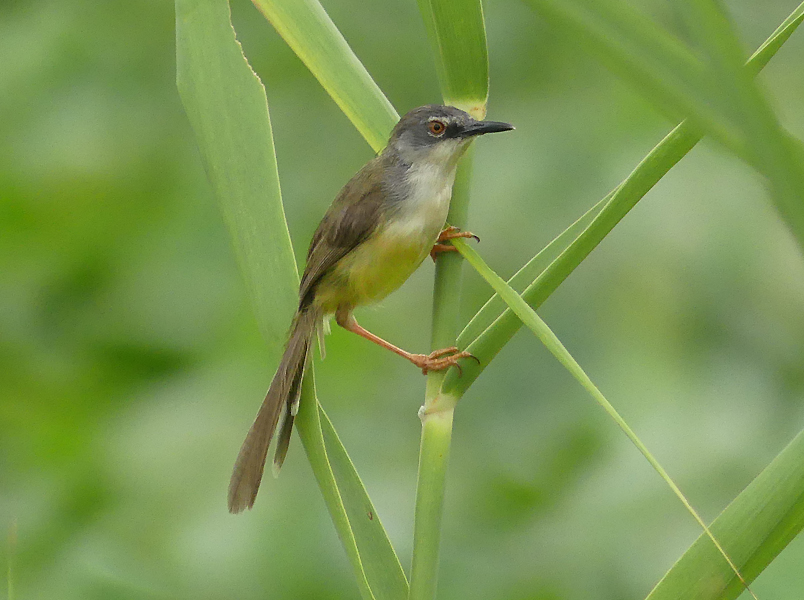 Yellow-bellied Prinia by Nick Upton
As the day became hotter bird activity, predictably, became lower so I decided to walk a short distance to a shopping mall for some air conditioning and lunch. Outside the mall was a wide ditch filled with water and on a small piece of wasteland there were 3 Little Black Cormorants drying their wings.
Little Black Cormorant by Nick Upton
My second morning was spent birding in the parkland at the National Monument. I took a taxi from my hotel to the monument and had an interesting conversation with my driver about the "Hobbit" relics that have been found in Flores. In the park I had two main target species – Coppersmith Barbet and Scarlet-headed Flowerpecker and it did not take me long to find both of them. Both species were found in the same tree very shortly after I entered the park although it took me much longer to locate birds that were good enough to pose for me to photograph them.
Scarlet-headed Flowerpecker by Nick Upton
Scarlet-headed Flowerpecker was a new bird for me but I have seen very many Coppersmith Barbets in Thailand where it is a common parkland bird. It turned out to be fairly common at National Monument too, but I was fascinated to see this bird here as the Javan subspecies is extremely different from all other races of this bird. So far as I understand it is not yet split but considering how different it is and that it is confined to Javan, splitting can surely only be a question of time?
Coppersmith Barbet by Nick Upton
This bird pictured above was one of about 8 that were feeding in a fruiting tree along with large numbers of Sooty-headed Bulbuls, 2 Pink-necked Green Pigeons and a single Purple-backed Starling. Scarlet-headed Flowerpecker proved to be a common bird in the park as did Brown-throated Sunbird, Linchi Swiftlet, Oriental White-eye and Spotted Dove.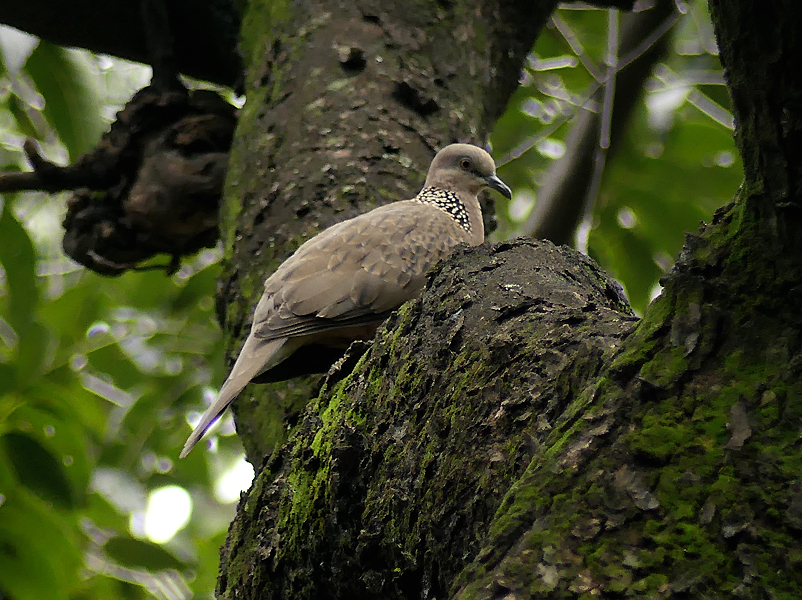 Spotted Dove by Nick Upton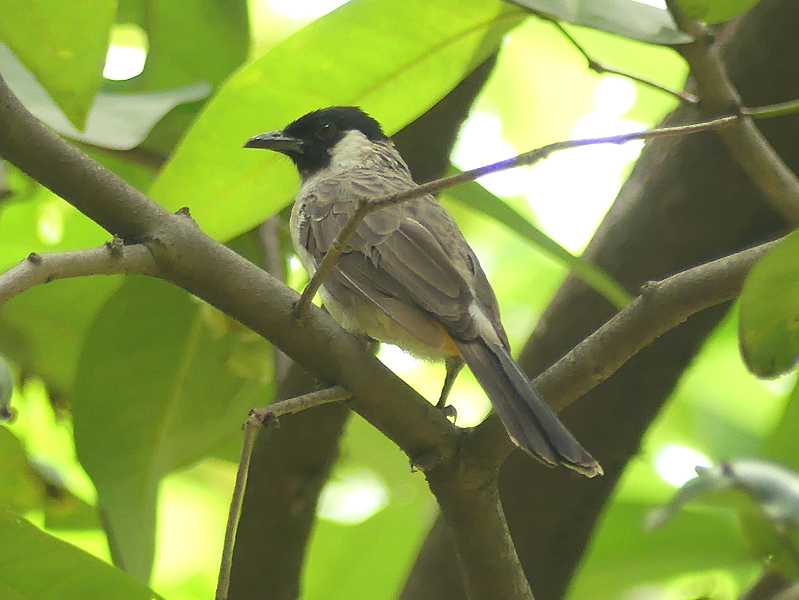 Sooty-headed Bulbul by Nick Upton
Given that the National Monument is a well-tended area it was a nice surprise how many birds could be found in there. White-breasted Woodswallow, 2 Lemon-bellied White-eyes, Common Iora, 2 Javan Mynas, 1 Large-billed Crow, Olive-backed Tailorbird, 3 Cinereous Tits were all also seen here in the wooded areas surrounding the ornamental gardens.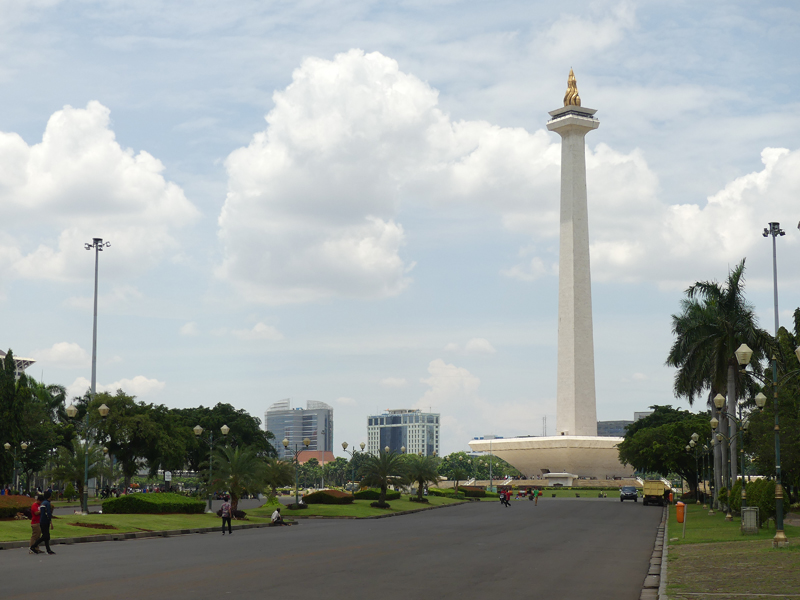 National Monument, Jakarta by Nick Upton
Although the park is quite big, all the decent habitat is around the edges and adjacent to large roads with very noisy traffic so it is not exactly a peaceful place but it does make for a pleasant morning's birding. A couple more species I added to my list as I was leaving were Small Minivet and Freckle-breasted Woodpecker.
Freckle-breasted Woodpecker by Nick Upton
For those people on short business trips or just passing through Jakarta both Muara Angke (Red Pin) and National Monument (Blue Pin) are great places for a morning of birding.
Both locations are also good places to start a birding trip in Java, providing a nice introduction to the birds of Indonesia after a good night's rest after a long flight to reach Jakarta. These sites also provided me with a nice way to wind down after a long tour.