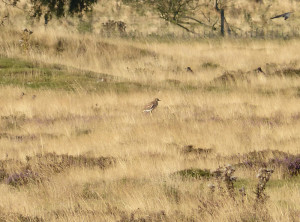 On my way back from the British Birdwatching Fair I made a little detour to Cavenham Heath National Nature Reserve in Suffolk to search for Stone Curlews. Last year I was told about this area by another birder as a location where Stone Curlews gather before migrating and I saw quite some number of them in late September 2014 so I was interested to see if they were easily seen at this time of year. The site is part of "Breckland", the dry stony heaths and grasslands that are unique to the Thetford area on the Suffolk/Norfolk border and when one approaches the site from the village of Tuddenham there is some woodland before the area opens up into rough grassland with patches of heather. A little scanning quickly revealed a Stone Curlew's head above the grass but I spent more time to see how many birds I could count.
It was quite hot when I was at Cavenham Heath, the sort of weather that makes Stone Curlews hide in the vegetation but scanning with my 'scope revealed at least 19 Stone Curlews, including a few which were standing out in the open. A few grazing sheep and flocks of corvids periodically disturbed the Stone Curlews so at most times a few birds could be clearly viewed through a telescope but were too far away for decent photographs. However, as the day drew on many of the birds began to move around and fly across the heath with some of them getting closer to the road, which is where birders can observe the Stone Curlews from, so that photographers who are patient and wait could be lucky enough to get a closer encounter with the birds if they are lucky. I did not have time wait for ages so I had to make do with this record shot from distance.
One of the nice things about Cavenham Heath is that it is well off of any main roads and is a peaceful spot where birders can enjoy viewing the Stone Curlews along the dirt road, from the car. The birds breed on the heath in small numbers and their numbers increase as the young fledge and other birds arrive to gather before migration which seems to occur surprisingly late, as I saw them previously in late September/early October previously.