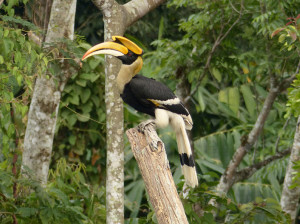 A few days ago I spent three days birding at Kaeng Krachan with a group of visiting birders from UK and it turned out to be one of the most enjoyable and productive visits to this national park that I have had in a very long time. In contrast to a visit last week, when some strange weather made birding quite difficult, there were lots of flocks of birds with quite a few surprises, and at the same time we were able to find almost all of our target species, obtaining great views and photos of many of them. A high abundance of birds and lots of really spectacular species made for really enjoyable birding which was enhanced by being with an enthusiastic and patient group.
Birding the lowlands of Kaeng Krachan in both the morning and afternoon proved fruitful, our first stop providing us with great observations of an Oriental Pied Hornbill bringing food to the nest. This consisted mostly of fruit from nearby trees and we watched the male regurgitating many small figs to feed the female but it was when he brought a lizard to feed her with that most of the group were amazed; of course most species of Hornbill will take large insects, lizards, eggs and even small chicks as food.
Oriental Pied Hornbill by Nick Upton
Sultan Tit, Greater Flameback, Green-eared Barbet, Greater Yellownape, Black-naped Oriole, Thick-billed Green Pigeon, Asian Fairy Bluebird and a number of others supplied a lot of colour to our birding and in the excellent light we enjoyed these species looked very special.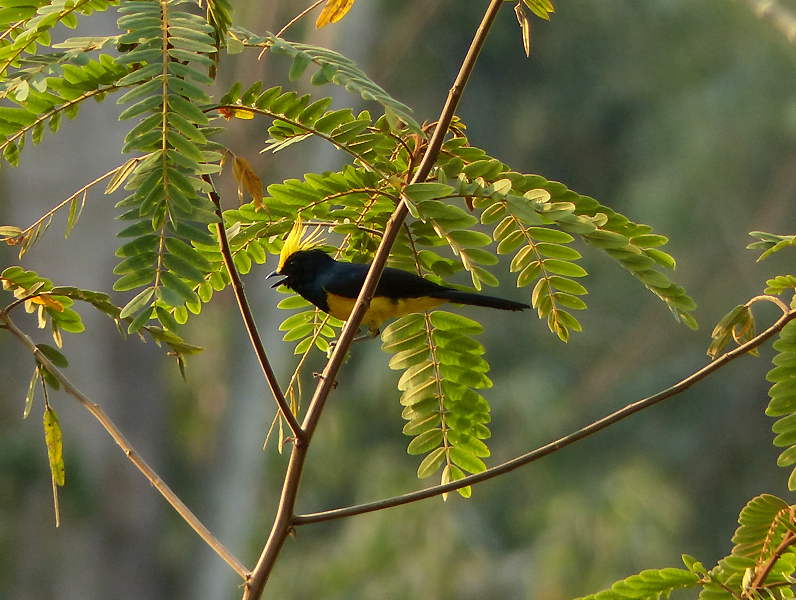 Sultan Tit by Nick Upton
A number of migrants were evident in the lowlands too with two Large Hawk Cuckoos active at Km 9, along with a male Himalayan Cuckoo in the same area. At a variety of locations between Km 9 and 18 we saw around six Asian Drongo Cuckoos as well as an Indian Cuckoo at Ban Krang campsite. Another interesting passage migrant was a Crow-billed Drongo in a feeding flock near stream 2 and we did well with Cuckoo sightings with Asian Emerald Cuckoo, Banded Bay Cuckoo and Violet Cuckoo all seen well by all members of our group.
Large Hawk Cuckoo by Nick Upton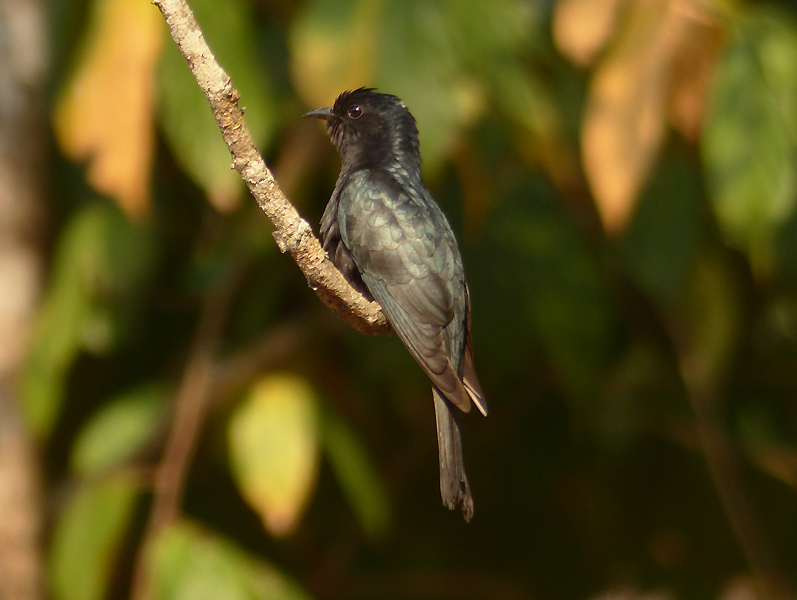 Asian Drongo Cuckoo by Nick Upton
Broadbills are always an exciting group of species to see and we did really well on this trip with several sightings of Silver-breasted Broadbill, including a very close-up bird on our last morning, a pair of Black-and-yellow Broadbills, a pair of Black-and-red Broadbills plus both Banded Broadbill and Dusky Broadbill at Ban Krang campsite.
Dusky Broadbill by Nick Upton
Woodpeckers are another group of birds that I really like so it was really great to see plenty of these entertaining birds in the lowlands too with several sightings of Great Slaty Woodpecker, Greater Flameback, Greater Yellownape, Rufous Woodpecker, Streak-breasted Woodpecker, Heart-spotted Woodpecker, Buff-rumped Woodpecker and a superb Crimson-winged Woodpecker at stream 2. Other species we enjoyed in the lowlands included Black-thighed Falconet, Eastern Crowned Warbler, Blyth's Paradise-flycatcher, White-browed Piculet, Claudia's Leaf Warbler, Orange-breasted Trogon, a pair of roosting Brown Boobooks and  a perched Crested Goshawk. Between streams 2 and 3 I also detected some ground-foraging birds by hearing their scratching and some peering into the undergrowth revealed a female Grey Peacock Pheasant and a Ferruginous Partridge; a really amazing set of species ot forgetting this extremely confiding Red-bearded Bee-eater.
Red-bearded Bee-eater by Nick Upton
If the lowlands were good to us then the highland areas of Kaeng Krachan were not to disappoint either. In recent times I have found birding in the Km 26-30 area really slow and very frustrating at times with many birds heard but few seen. On this visit things were different with a many flocks of birds to search through as well as target birds revealing themselves and several fruiting trees providing nice sightings. On arrival at Km 27.5 we were greeted by a pair of Long-tailed Broadbills, always a welcome sight and these Disney-like birds gave us a many opportunities to get excellent views.
Long-tailed Broadbill by Nick Upton
The main target species at this altitude was Ratchet-tailed Treepie and although it was not easy to locate eventually we got superb views of this weird species after a lot of perseverance. Unfortunately my photographic skills abandoned me at this point.
Ratchet-tailed Treepie by Nick Upton
Large numbers of Sulphur-breasted Warblers were in every flock and we also saw Lesser Racket-tailed Drongo, Rufous-fronted Babbler, Golden Babbler, White-browed Piculet, Mountain Bulbul and several others alongside them. A female Red-headed Trogon, 4 Black-throated Laughingthrushes, 2 Collared Babblers and Speckled Piculet were other special sightings.
Speckled Piculet by Nick Upton
A fruiting strangler fig was nice to find as it gave us a number of close-up sightings of colourful birds including Blue-throated Barbet, Yellow-vented Flowerpecker, Vernal Hanging Parrot, Yellow-vented Green Pigeon as well as a variety of Bulbuls and a group of 4 Tickell's Brown Hornbills nearby. While watching this our driver alerted us to a fantastic Black-and-buff Woodpecker feeding behind us much to everyone's delight.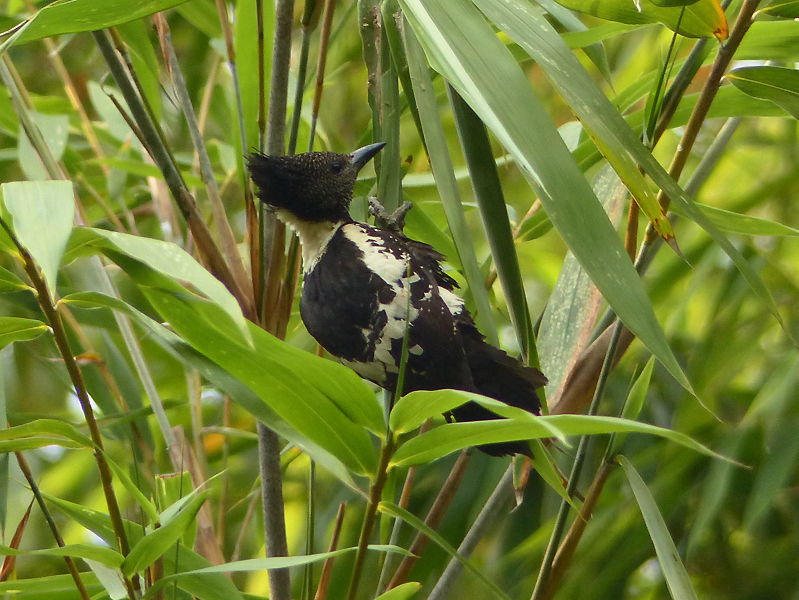 Black-and-buff Woodpecker by Nick Upton
Such exciting birding was very welcome up here after a number of trips when very few birds could be located in this area; birding in this altitude is particularly disturbed by windy conditions, which I had encountered on my last visit, but calm, sunny weather was ideal this time and at Panoen Tung campsite a wonderful Great Hornbill performed for us, jumping around on low trees, seemingly searching for something, more or less ignoring us.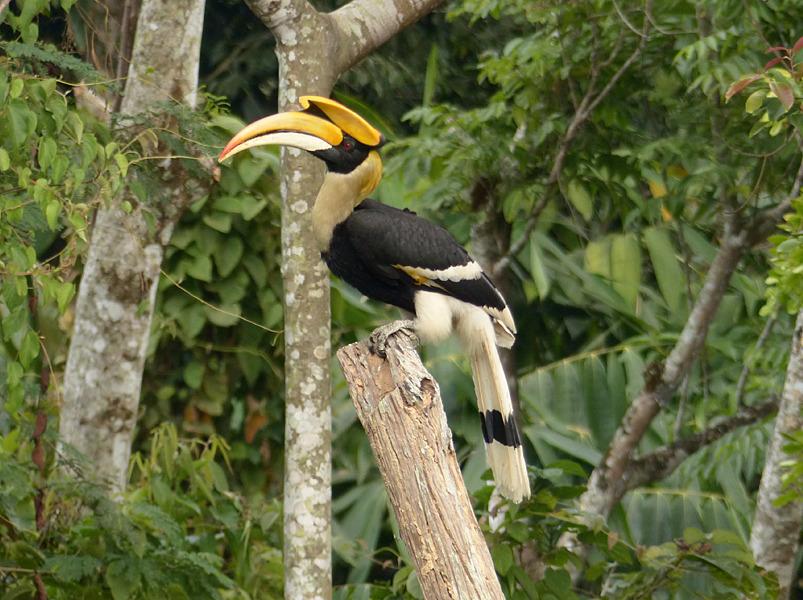 Great Hornbill by Nick Upton
This amazing sighting of this truly great bird, sitting on a post in a campsite was worth making the drive up to Panoen Tung worth it alone but Great Barbet, Chestnut-flanked White-eye, Spectacled Spiderhunter, Little Spiderhunter, Blyth's Shrike-babbler, Dark-sided Flycatcher and Flavescent Bulbul provided a support crew.
Kaeng Krachan always supplies sightings of some really good birds but it is when it is like this that it is at its best and birding here becomes nothing but a constant pleasure full of great moments and some surprises.