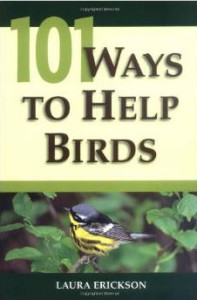 Most birdwatchers would like to help birds, but many people don't go beyond feeding them in their back garden. Garden bird feeding is great, but for serious bird lovers there are lots of things that can be done to help birds.People who have gardens have a great resource that they can manage for birds and simple things like not using weed killers, slug pellets or any other chemicals will ensure that there is greater biodiversity in the garden and consequently more food, particularly when adults are feeding chicks.
Less obvious things we can do for birds are things which benefit the environment in general, like use the car less – do you really need to drive hundreds of miles to go twitching? A friend of mine said that when he does occasionally go twitching he tries to ensure that he gives other s a lift so at least one car is used rather than two (or three or four).
With bird conservation in mind I recently bought a copy of Laura Ericsson's 101 Ways to Help Birds
There are lots of nice ways that bird lovers can help birds here (101 ways in fact!), and although this is aimed at an American market, virtually everything is true for anywhere in the world. Sometimes specific American organisations are referred to, but these can be replaced by your national or local equivalent. There are a wide variety of ways to help birds talked about in this book including how to photograph birds responsibly, helping nesting birds, how to manage your backyard for birds, how to minimize your impact upon the environment and, of course, feeding birds.
This book encourages birdwatchers to do more than just watch birds, and the section on becoming an ambassador for birds gives an idea of the philosophy behind the book. This is an interesting book with lots of novel ideas on how people can benefit birds as well as containing many tried and tested concepts.