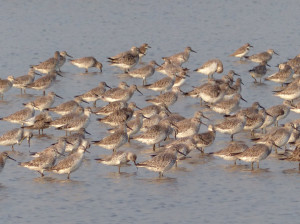 Recently, Phil Round alerted me to a short paper "Steep Upward Trajectory of Great Knot Numbers at sites in Southeast Asia" published in "Tattler, Newsletter for the Asia Pacific Flyways & Australian Shorebirds 2020 Project, No 35" by the Australian Wader Studies Group.
This article documents and attempts to explain the ever-increasing numbers of Great Knot that are seen in the Gulf of Thailand and other sites in Southeast Asia. I can remember submitting a sighting of a group of 5 Great Knot at Krabi back in the late 1990s which was reported in a "Latest sightings" round up, which seems ridiculous now when flocks of thousands can be seen at sites such as Laem Pak Bia and Pak Thale.
The change in wintering habits of Great Knot and other migratory shorebirds is probably as a response to changes along their migratory flyway in countries in East Asia where development is taking place on a large scale and the article in Tattler talks about this at greater length.
Phil also pointed out to me that 2 publications by the Australian Wader Studies Group, "Tattler" and "Stilt", are available for free download on their website, including all their back issues, so this is a huge source of information for those interested in shorebirds. There is also a section where birders can report their sightings of leg-flagged birds.