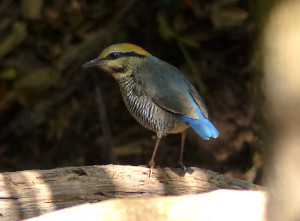 The rainy season this year should perhaps be renamed the "grey skies & windy season" after the experience of the last few days birding at Khao Yai. However, there were some sunny spells and the weather certainly did not stop us from finding some great birds, although it took a fair amount of patience from the group.
Top of everyone's expectations were Pittas; so hard to find outside of the breeding season and still not an easy proposition when the birds are breeding. So, finding two species – Blue Pitta & Hooded Pitta – in two days was very pleasing. The Hooded Pitta showed itself with the minimum of fuss at a regular site for the bird. On the other hand finding Blue Pitta required a large effort and lots of searching before finding one just an hour before dusk on our last day. Our forest birding resulted in quite a few other good sightings too.
Near the top of the list were two sightings of Silver Pheasant. A lone male on the first day followed by a family group on the second day. A male Siamese Fireback Pheasant was also a great sighting with it frozen in mid step in the middle of the road.
I am a big fan of Woodpeckers so multiple sightings of Laced Woodpecker at close range were really good as were a pair of highly agitated Heart-spotted Woodpeckers and the more common Greater Flamebacks that were frequently seen.
Broadbills were also high on our list of birds that we wanted to see and not seeing any on day 1 was a little disappointing. However, very close views of a calling Silver-breasted Broadbill on our second day was followed by a stunning Banded Broadbill on our second day. Moving on to Kaeng Krachan NP in the next few days our hopes are high of seeing more species in this fantastic group of birds.
For anyone who wants to see Blue-eared Kingfisher there is one performing very well at he moment on the stream next to the restaurant at HQ and we were able to watch this little gem hunting from perches that overhang the stream.
Some great birds, proving that persistence is rewarded.