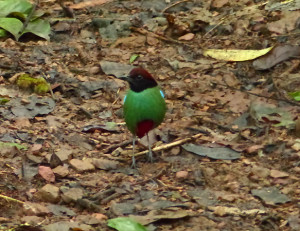 Pittas are perhaps the most sought-after group of birds in Thailand by visiting and resident birders alike. Their combination of intricate plumage and difficulty to see make them very desirable but they are at their easiest to see in the wet season, when they are breeding, and at a time when few birders visit Thailand. However, I recently escorted three visiting bird watchers on a tour put together in order to find Pittas and other breeding birds and at Kaeng Krachan we were successful in getting multiple sightings of three species – Blue-winged, Blue and Hooded Pittas.
Although heavy rain and winds a few days before our arrival had destroyed many known nests of Broadbills we were still successful in finding 6 species of these fantastic birds; Dusky, Long-tailed, Silver-breasted, Black-and-red, Black-and-yellow and Banded Broadbills. Broadbills are a favourite of mine so I was very pleased to be able to share these birds with those accompanying me. While unusual weather conditions made birding hard at times we were lucky enough to see some really good birds, something which tends to be always true at this time of year at Kaeng Krachan.
Another of my favourite species is Oriental Dwarf Kingfisher and we had great views of this jewel of the forest after some searching, tracking it down by its high-pitched call. The colours of this bird are amazing, particularly as its bright plumage contrasts against the dark forest that it always seems to perch in.
Hornbills are another group of birds that are really amazing and Great Hornbill is great indeed, so seeing two of them in flight being mobbed by Greater Racket-tailed Drongos was a magnificent sight. This was a few moments after observing Black-thighed Falconet visiting its nest hole to fed chicks – truly a magic five minutes.
While birding the lowlands was fairly slow, at Km 27.5 we had two very good sessions of birding, disrupted a little by rain but there were plenty of birds between showers and we found most of the birds I was targeting rather quickly. Of course Racket-tailed Treepie was the main prize but a family of Red-headed Trogons were really confiding and sightings of White-browed Piculet, Buff-rumped Woodpecker, Black-throated Laughingthrush, Spot-necked Babbler, Rufous-browed Flycatcher, Red-bearded Bee-eater, Black-and-buff Woodpecker and Northern White-crowned Forktail were all excellent.
Our trip was also good for mammals seeing Crab-eating Mongoose, Lesser Gymnure, Yellow-throated Marten, Stump-tailed Macaque, Dusky & Banded Langurs as well as White-Handed Gibbons although it was quite nice to get home just to escape the annoying leeches.