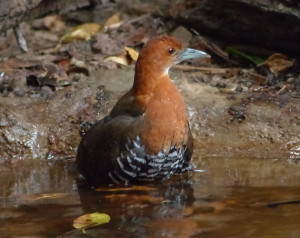 Last week I made a visit to Lung Sin waterhole at Kaeng Krachan national park. As ever it was a popular place with birders and photographers and it was essential to book a place in the hide; the staff at Ban Maka did this for me.
There has been no rain for many weeks in the area and the forest in which the waterhole is sited was very dry, meaning that birds and mammals have few other options for water in the area. Although many birds came to drink and bathe at the waterhole, the level of activity was not as high as I have seen at other times; I think that this was mainly due to the cool weather and breezes.
We saw many species of birds in our afternoon at Lung Sin waterhole, with the most exciting bird being this Slaty-legged Crake.
Over the course of the afternoon we saw a large number of species, with activity almost all the time from the commoner birds, while there was a flurry of activity in the last hour before darkness.
Some of the highlights, other than the crake, were groups of Black-crested Bulbuls lining up at the water, a pair of noisy White-browed Scimitar Babblers, 3 Scaly-breasted Partridges, an Orange-headed Thrush, at least 6 Siberian Blue Robins including 1 adult male and a whole host of Blue Flycatchers – Tickell's Blue, Chinese Blue & Blue-throated with another bird photographed which requires a closer look which may be something rarer (this turned out to be a female Chinese Blue Flycatcher).
The regularly occurring Lesser Mouse Deer also put in several appearances; it is always nice to see this little mammal at such close range.