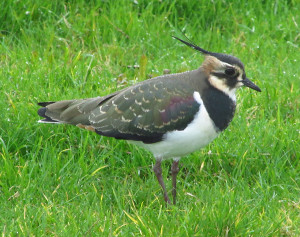 Having arrived back in Beverley at 6pm the good weather drew me towards Swinemoor for a quick look for spring migrants. A quick look turned into a long look as there were plenty of birds to see.
On the wet grass 20-30 Lapwings were still hanging around as well as about 100 Golden Plovers and I very quickly located the Ruff that has been in residence for a while now – it has now begun to get some ruff feathers, nothing spectacular, presumably it is a first summer bird. Also very quickly spotted was a Little Ringed Plover which turned into two which multiplied further into three when I looked more thoroughly! All three birds were quite active, moving around a lot and at times they were making dipping courtship movements to each other. Another very welcome migrant was a beautiful male Yellow Wagtail. Also of interest were a number of Snipe, some of which were nesting and at least two of which were drumming males. 
In the air at least 12 Barn Swallows were catching midges along with at least 8 Sand Martins. A tip off about a Ring Ouzel led to me examining about 30 Blackbirds in detail, but whilst doing that a flock of 45 Fieldfares flew into a tree and a single Whimbrel landed on the wet grass.
In the scrub Willow Warblers seemed to have turned up in large numbers from the amount of singing I heard, although I only saw 2. Other birds seen in the scrub were Robin, Tree Sparrow, Mistle Thrush, Starling, Blue Tit, Greenfinch and Goldfinch.
Rather foolishly I walked back to the car looking into the sun which made birding over the wet areas difficult, but I was able to pick out 4 Common Redshank, 7 Mallard and a pair of Gadwall. In the river Hull there were Moorhen, Reed Buntings and a rat.
As I was leaving the sound of Skylarks, Meadow Pipits and cooing Collared Doves along with a rather nice sunset might make it difficult not to come back again tomorrow.