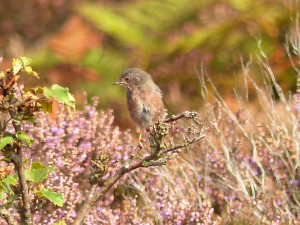 I have mentioned before that Dartford Warbler was the bird that got me into birding when I was 7 years old and whenever I am back in UK I always make a visit to a location where I can see this species. With fine weather today it was a good opportunity to find these birds which can be quite skulking, particularly in bad weather, so I made a trip to Suffolk to visit RSPB Minsmere and adjacent Dunwich Heath, owned by the National Trust. Before stopping at Minsmere I made a short stop at Sizewell Nuclear Power Plant where I found 24 Little Gulls and a Black Tern a little offshore, feeding with some Herring and Great Black-backed Gulls. A good start to a day which turned out to be full of good birds.
I made a circuit of the reserve at Minsmere running into a nice flock in the woodlands which contained Marsh Tit, Coal Tit and Treecreeper and then spotting a Red-necked Phalarope from the first hide, its distinctive feeding behaviour alerting me to its presence. A Cetti's Warbler was singing virtually at my feet but it took some patience to get a view of it. As I approached the coast I noticed a group of birders staring into a bush; as I joined them I was told that a Barred Warbler was performing well in a bramble bush and it soon appeared. Although this is a rarity and only the second time I have seen this species, this juvenile was not exactly a stunning bird but 'scope views revealed fine barring on the lower flanks and distinctive wing markings.
On the scrape plenty of birds were present for scrutiny by the large numbers of birders present; Lapwing, Dunlin, Avocet, Common Sandpiper, Black-tailed Godwit, Common Snipe, Ruff, Ringed Plover and several Spotted Redshank were nice in the afternoon light and better views of the Phalarope were possible but I was keen to get onto the heath to look for Dartford Warblers.
Dunwich Heath looks very nice at this time of year in the sunshine with lots of heather and gorse flowering and it did not take long to find my first Dartford Warbler perched on top of some gorse twigs after hearing its harsh call. Walking around the heath I found at least 6 birds, but only one was an adult – it appeared to be a good year for breeding Dartford Warblers! Several Stonechats and a Whinchat were also on the heath and as I left a Buzzard flew over.
On my back back to the car park a couple of Bearded Tits showed themselves and in the bushes a small flock of migrants included 2 bright Lesser Whitethroats and a juvenile Pied Flycatcher as well as commoner birds like Chiffchaff and Blackcap. This provided a nice end to a good day.