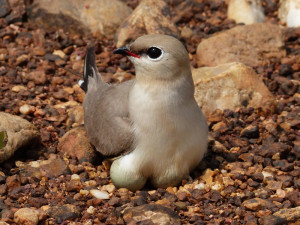 A few weeks ago I found myself in the town of Chachoengsao with time to kill, so I drove out to Klong Si Yat Reservoir, a location I had passed in 2013 on my way to somewhere else, in order to see what I could find there.
Most of the species I found were the typical birds of open-country and water's edge but a few interesting birds included Vinous-breasted Myna, Oriental Darter and 2 pairs of nesting Small Pratincoles.  Numerous oriental Pratincoles were also nesting at the reservoir, but they had chosen mud and grassland to nest on, whereas the Small Pratincoles were nesting on an area of rocks and stones. It was unbearably hot on the day I visited Klong Si Yat and the Small Pratincoles looked like they were suffering as they protected their eggs. Several times the male and female changed over, with the incoming bird having waterlogged breast and belly feathers. Presumably this behaviour is to provide some cooling to overheating eggs.
Some of the photos I took of the Small Pratincoles on their nest follow;
In the following two photographs the wet breast feathers of the parent bird can easily be seen. I know that Sandgrouse carry drinking water back to their young laden in their feathers, but I have not been able to find any information on egg wetting in Small Pratincoles using this method [Since writing this I have found this behaviour documented in Handbook of the Birds of the World], although I noticed that this behaviour has been seen and noted in India -Little Pratincole – Small mercies in a long dry Summer..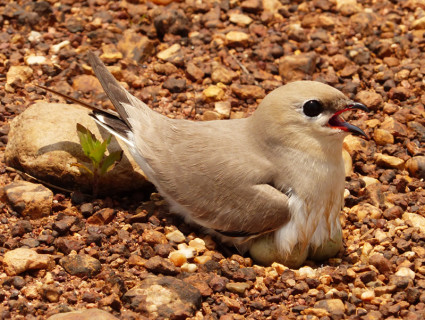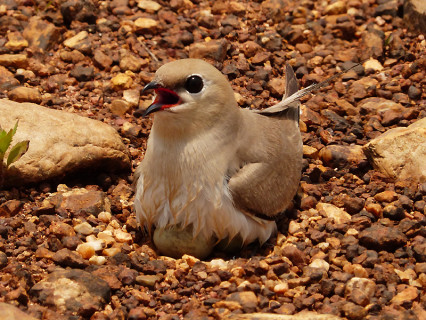 Anyone wishing to visit Klong Si Yat Reservoir can find out more on this page – Klong Si Yat Reservoir, and a checklist of the birds I have seen there is here – Klong Si Yat Bird Checklist.