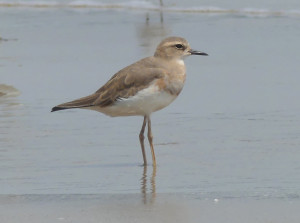 Last night I was driving home from Southern Thailand and as it got dark I decided to spend the night somewhere before continuing the journey the next day. As I was close to Hua Hin I thought I would find somewhere to stay near Pranburi Forest park and check the location for passage migrants the next morning. The idea was just to have something to do in the morning, I had no real expectations beyond some of the commoner passage migrants. As it happened the decision turned out to be a moment of inspiration as when I checked out the waders on the beach at around 10am this morning (29th March) alongside a group of Sand Plovers there was an Oriental Plover; a very scarce passage migrant in Thailand and the first time I had seen this species.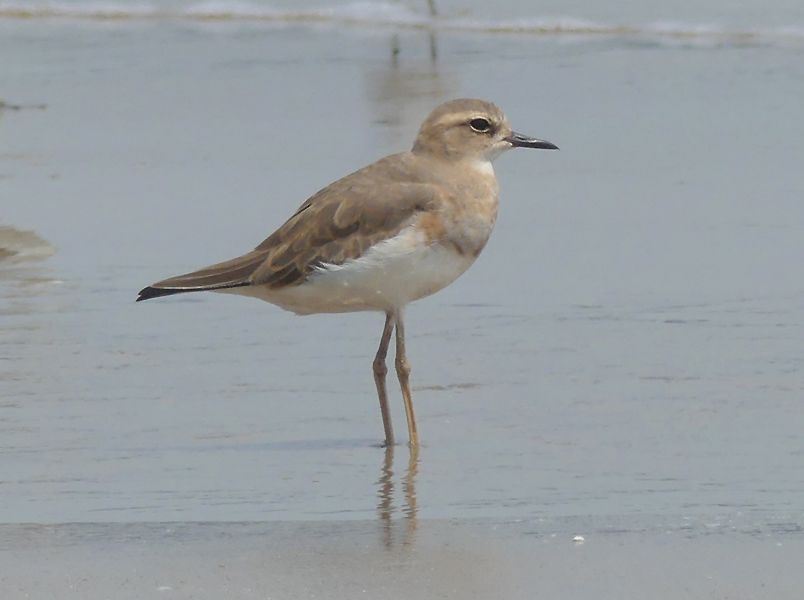 Oriental Plover by Nick Upton
The above is just about the best photo I obtained after the sun came out, giving me better light, and a couple of fishermen scared the flock of waders closer to me. It seems like it is probably an adult male coming into breeding plumage with the black band on the lower breast beginning to show. The long, slender bill and yellowish legs are obviously different from both Lesser and Greater Sand Plovers in this photo too.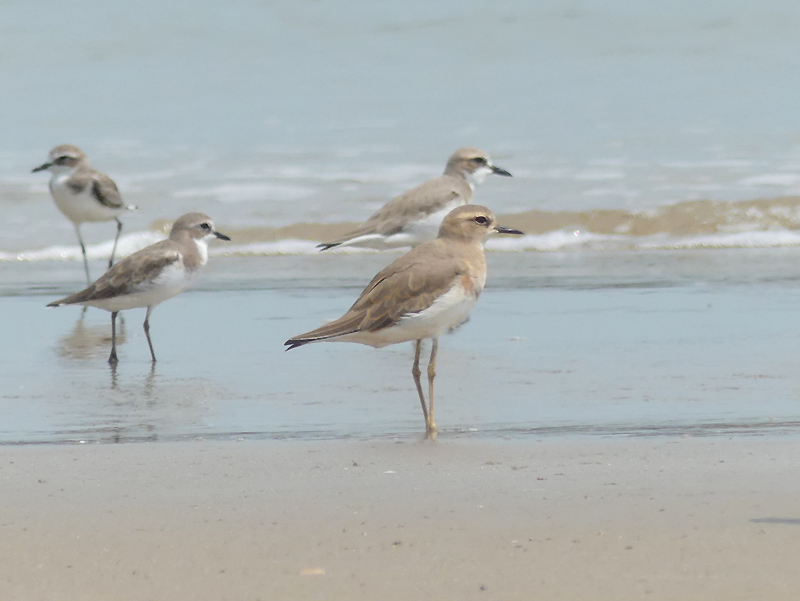 This photo shows the size difference between the Oriental Plover and surrounding Sand Plovers as well as the differences in the bare parts structure/colour.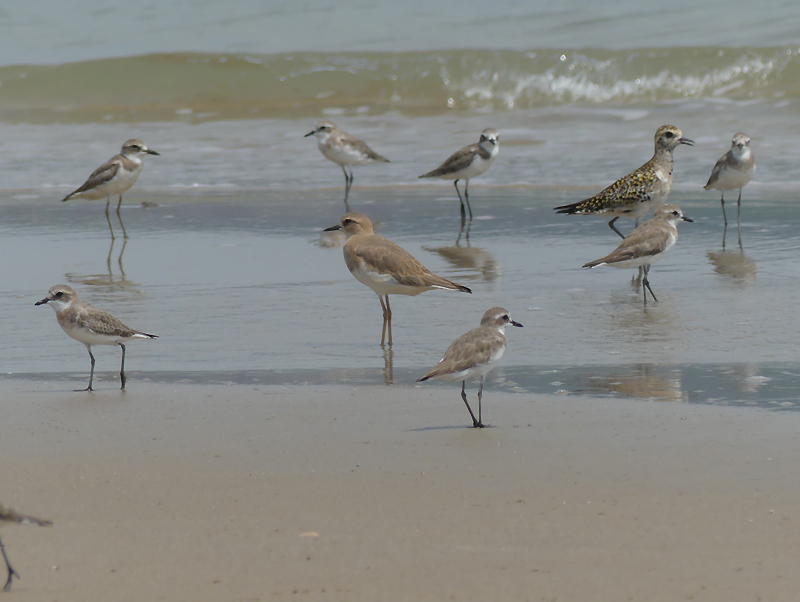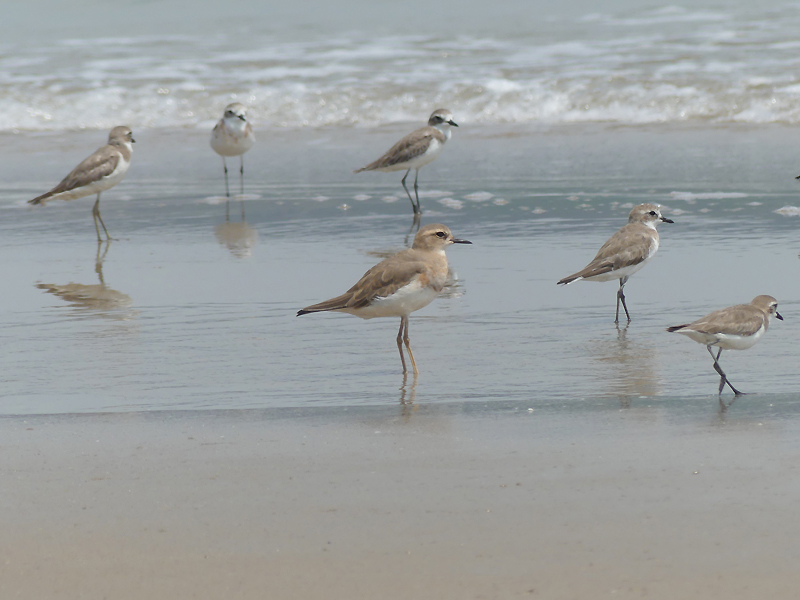 The two above photos give a nice comparison of the Oriental Plover to the surrounding shorebirds and for anyone, like myself, not sure about how this species compares to Sand Plovers, it gives a good view of the bird among, what are for birders in Thailand, far more familiar species. Something else which was also clear in the field and in these photos, is that Oriental Plover is a warmer shade of brown overall than the Sand Plovers; a sort of warm tan colour compared to a light sandy brown. This is also well illustrated in the photo below.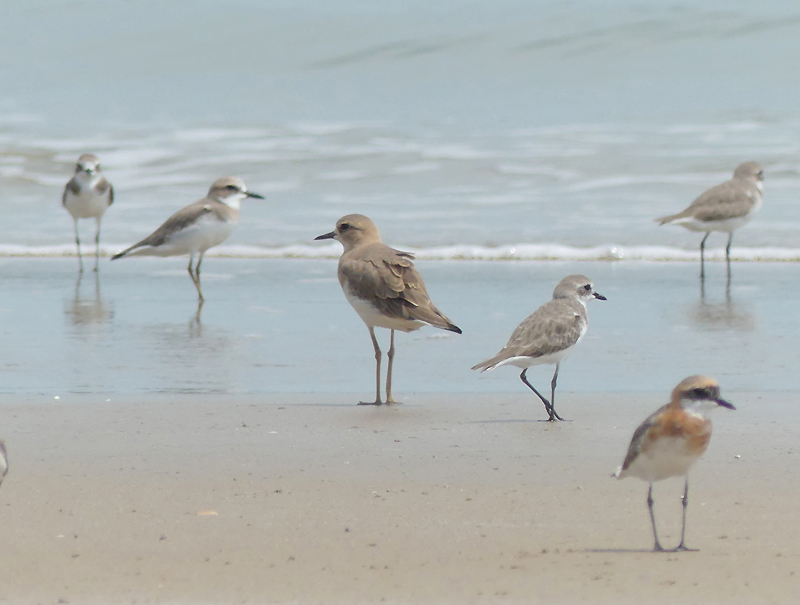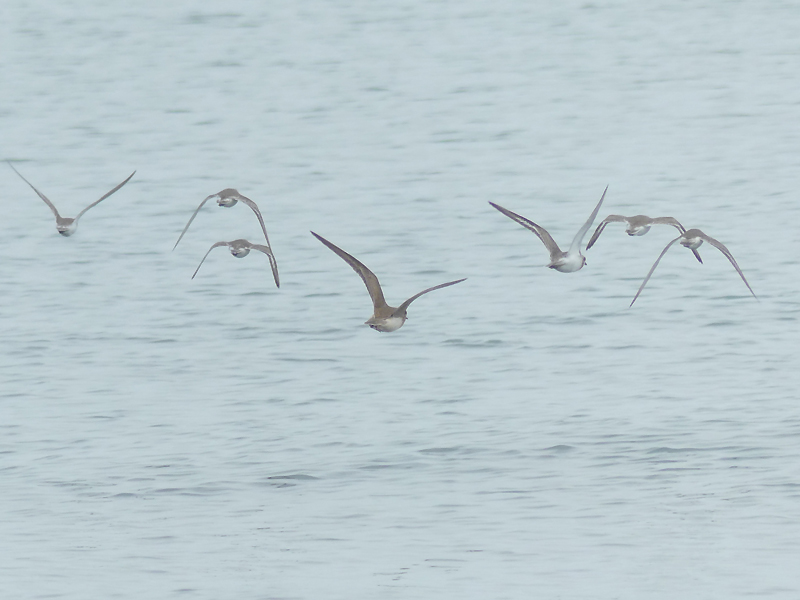 Certainly not the greatest photo but this one above does show the lack of white wing bars on Oriental Plover in flight and a more complete covering of brown on the rump/upper tail. It was pretty easy to pick out in flight even among a group of around 100 Sand Plovers in bad light.
I left the birds alone on the beach at Pranburi Forest Park at around 11.15am to continue birding around the location. The heat was intense by then and most people had left the beach and the birds were undisturbed and, indeed, the Oriental Plover was seen again later in the day, at around 2pm, by another birder. The map below shows the exact location in which I made the sighting should anyone be traveling down to look for it tomorrow.
And this eBird checklist contains all the bird sightings that I made at Pranburi Forest Park on the morning of 29th March 2017