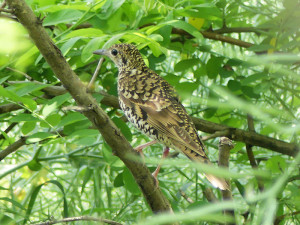 Apart from great birds like Courtois's Laughingthrush, Spoon-billed Sandpiper, Cabot's Tragopan, Reed Parrotbill and Elliot's Pheasant, one of the main objectives on last month's Zootherabirding tour of SE China was to witness the migration of East Asian passerines, particularly many of those species that can turn up, or potentially turn up, in UK – one might say "Sibe' vagrants".
By birding in and around small stands of trees and hedgerows situated close to the coast where open country was the prevailing landscape we managed to find a high number of migrant species including a few really sought-after birds. As with any migration-based birding the weather conditions are key to seeing birds in good numbers and we had a variety of conditions which gradually got better and better in terms of providing mini "falls" of migrants.
One of the commonest migrants that we saw was Grey-streaked Flycatcher. This Eastern migrant winters in Borneo, The Philippines, Sulawesi and West Papua as well as other nearby islands passing over the East China Sea before making landfall in Eastern China, the Korean Peninsula and Japan. We saw it in a number of locations before we actually made it to Rudong but here we saw them in quite large numbers where it was more numerous than any other flycatcher. I was particularly interested to study it as it has never been recorded in Thailand, where I spend most of my time, but is a distinct possibility as a vagrant. Although it can bear a strong resemblance to heavily worn Dark-sided Flycatchers the lack of any markings on the undertail coverts is a reliable way to identify it from this species.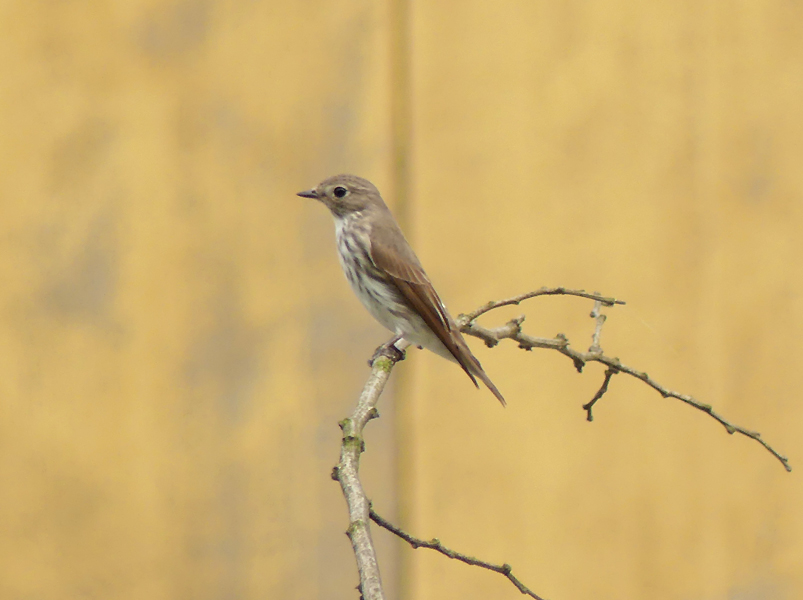 Grey-streaked Flycatcher
Narcissus Flycatcher was another bird that was fairly abundant as a migrant in this area and definitely one of the most visually stunning birds of the trip. The bird pictured below was part of a group of migrants feeding up in a very small copse of trees at the rear of the well-known "magic temple" which included several of this species, a male Yellow-rumped Flycatcher, several Grey-streaked & Asian Brown Flycatchers, a male and female Siberian Rubythroat, 2 male Blue-and-white Flycatchers, a White's Thrush, 1m & 1f Mugimaki Flycatchers, 1m pandoo Blue Rockthrush & 1m philippensis Blue Rockthrush as well as several Yellow-browed Warblers.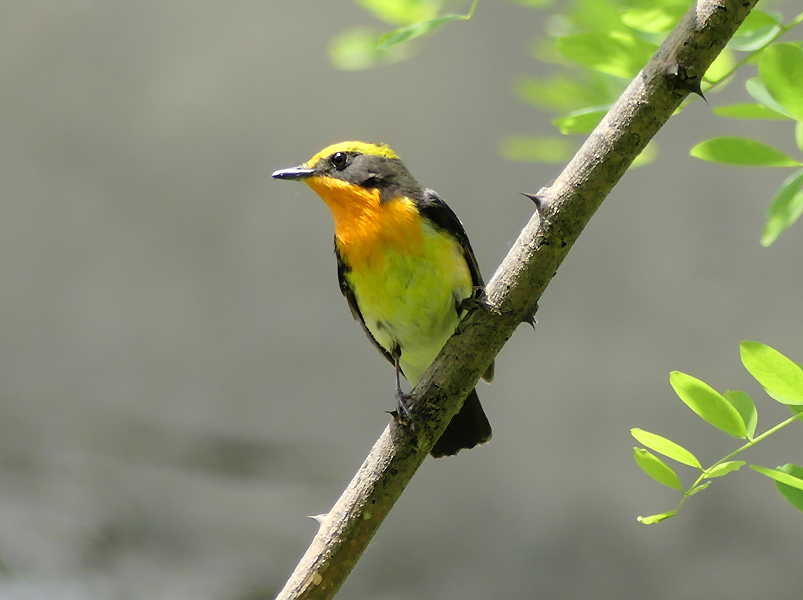 Narcissus Flycatcher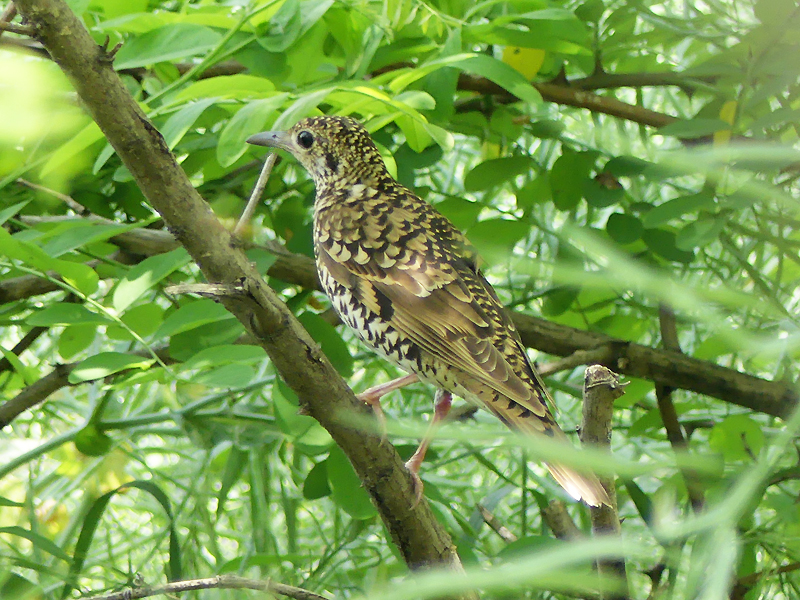 White's Thrush
The White's Thrush was one of those birds which got everyone excited and after a number of glimpses everyone manage to get really good views and some of us were in the right place to get some photos of this intricately marked bird. Very satisfying to get a Zoothera thrush!!!!!
Probably the commonest of all the passerine migrants that we saw was Black-faced Bunting which we saw at virtually all sites we visited. I got the photo below of a female in an area of farmland where we saw the subspecies spodocephala and personata which some authorities split these days. This rough area of farmland with reedy ditches was great for buntings with a few Little Buntings, a Meadow Bunting, a Chestnut-eared Bunting and a wonderful male Yellow-breasted Bunting in full song in fantastic late afternoon sunlight.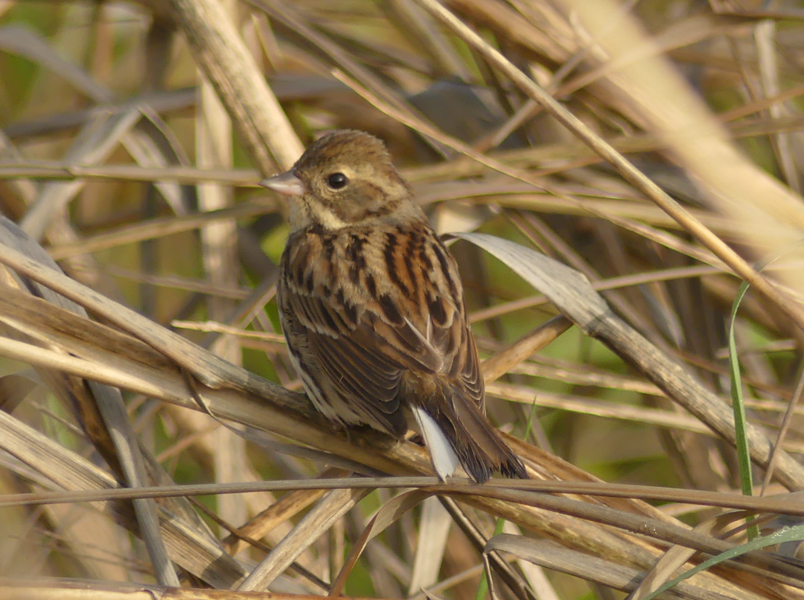 Female Black-faced Bunting
In a patch of very close-by woodland we found a good number of Tristram's Buntings foraging among piles of fallen twigs and branches as well as this stunner – our second male Chestnut Bunting.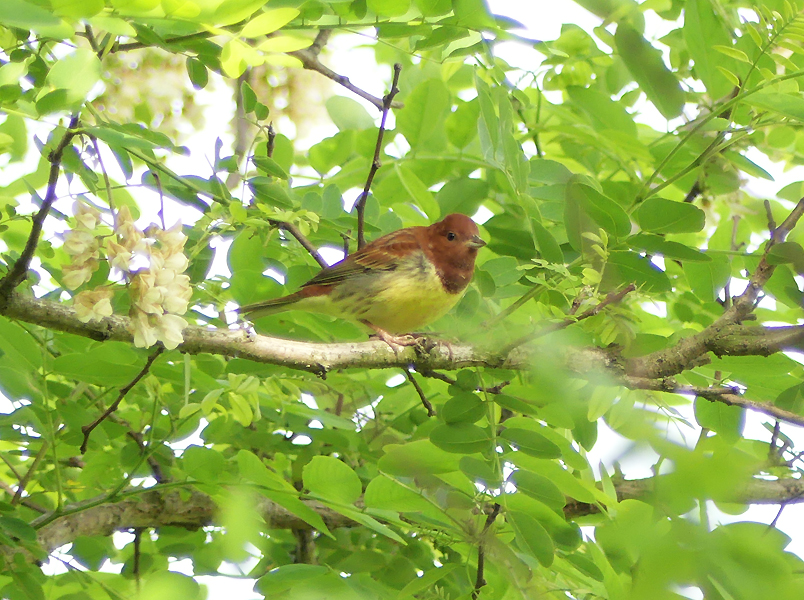 Chestnut Bunting
On a day with good weather we found a lot of migrant birds in the same area with several Eyebrowed Thrushes, a female Red-flanked Bluetail, a fly-by White's Thrush, a few Japanese White-eyes, Yellow-browed Warbler, Eastern Crowned Warbler, Sakhalin Leaf Warbler, Pale-legged Leaf Warbler, Arctic Warbler and, for me, Kamchatka Leaf Warbler as well as at least 2 Rufous-tailed Robins and a female Siberian Rubythroat.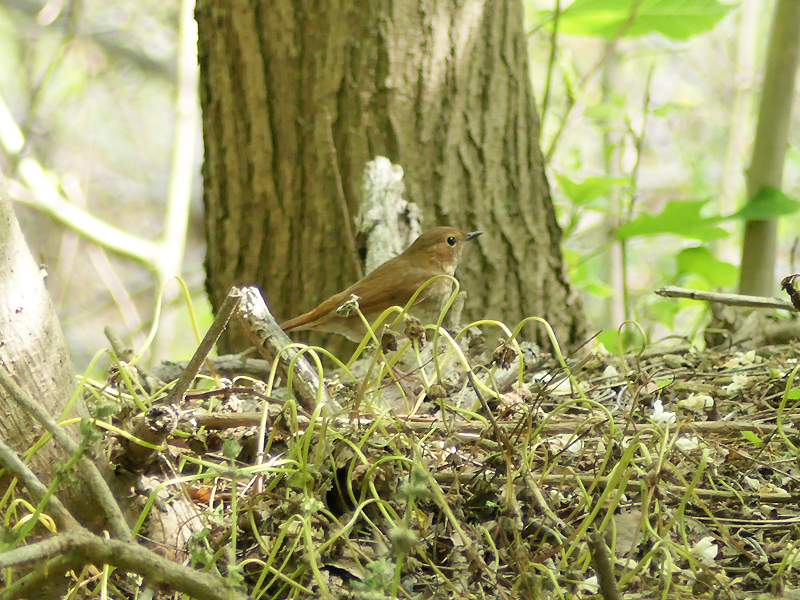 Rufous-tailed Robin
We made a few visits to the famous "Magic Temple" and despite the fact that there were cage birds everywhere and music playing we did find some good migrants including a good view of Sakhalin Leaf Warbler, Yellow-rumped Flycatcher and a real treat in the shape of Yellow-browed Bunting.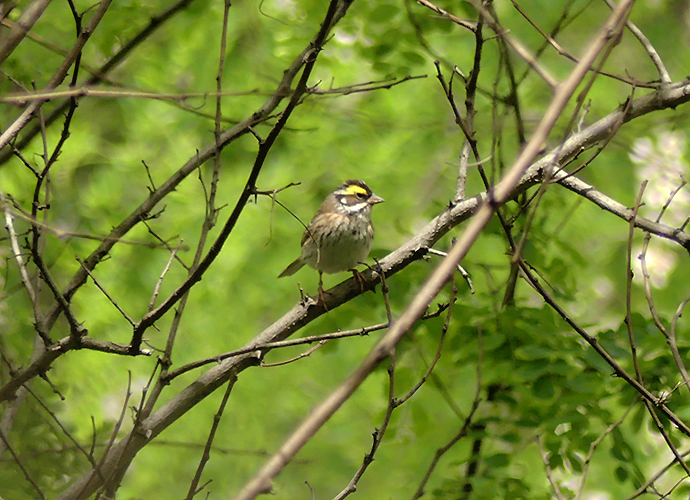 Yellow-browed Bunting
Other passerine migrants we found around the Rudong area in our 3 days here included Thick-billed Warbler, Black-browed Reed Warbler, Taiga Flycatcher, Oriental Reed Warbler, Pale Thrush and Two-barred Warbler.
Although at times finding birds was difficult with a group of people with sharp eyes and patience we gradually turned up a really good list of migrant species and a good abundance of birds, particularly on our last day and that is without previously mentioning the huge numbers of shorebirds we saw, including 7 Spoon-billed Sandpipers, 1 Nordmann's Greenshank & 4 Asian Dowitchers, and the incredible views of Oriental Stork.