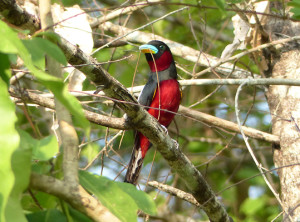 Over the last month I have made several visits to Kaeng Krachan National Park where the birding has been getting better and better and I have found many colourful resident species consistently; 6 species of Broadbill on each of my last three visits has been particularly enjoyable and something that is practically impossible to achieve during the months November-February when most bird watchers visit Thailand.
Woodpeckers are another group of birds that I am particularly fond of and these species have been performing well too recently, and I have seen normally scarce birds such as Great Slaty Woodpecker, Black-andbuff Woodpecker, Buff-rumped Woodpecker, Banded Woodpecker and Crimson-winged Woodpecker on a regular basis since mid March.
The recent good birding at Kaeng Krachan, which continues now, has been no surprise to me as every year I look forward to my visits to this excellent location from mid March onwards to the end of July when resident  forest species are breeding, making them much easier to find than in the "winter" months when many of them are seen very seldom. Regular sightings of Banded Kingfisher, Orange-breasted Trogon, Red-bearded Bee-eater, Collared Babbler, Black-thighed Falconet and Oriental Dwarf Kingfisher have made birding Kaeng Krachan this month very enjoyable.
With migration in full flow in April this is always a good time of the year at Kaeng Krachan for passage migrants and I have seen plenty of these species recently; Siberian Thrush, Yellow-rumped Flycatcher, Chestnut-winged Cuckoo, Mugimaki Flycatcher, Crow-billed Drongo and Indian Cuckoo are all species that I do not usually see but are regular at this time of the year.
On my most recent trip we also had some magic moments with Hooded Pitta, Blue-winged Pitta and Blue Pitta in just 2 days; something which can only happen between April and July at Kaeng Krachan. Hopefully I will get back there in the next week or so and I will look forward to the same time next year.