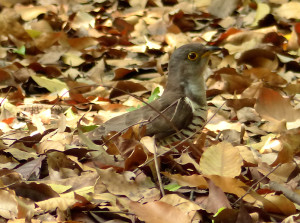 Each year I look forward to late March and April when I usually have time to make several visits to Sri Nakorn Kuen Khan Park, which is not far from where I live in Bangkok, in order to see which interesting passage migrants I can find. So far in 2015 I have made six visits and although I have seen quite a few interesting species, I have not quite had a morning yet where I find large numbers of migrants or large numbers of species as I have usually done in previous years.
However, this morning was quite productive with Large Hawk Cuckoo, Chestnut-winged Cuckoo, Indian Cuckoo, Mugimaki Flycatcher, Dark-sided Flycatcher and Arctic Warbler being the highlights and as I walked around the park I wondered if the weather conditions had not been right this year for really good falls of migrants or whether I had just been unlucky and not visited the park on the right days.
Over the course of my 6 visits I have seen quite some number of Mugimaki Flycatchers and Yellow-rumped Flycatchers, in fact I have seen more individuals of these two species than any other. Other Flycatchers I have seen this migratory period are Taiga, Dark-sided, Asian Brown and Green-backed Flycatchers.
Some of the common migrants I have seen include Black-naped Oriole, Ashy Drongo, Hair-crested Drongo, Black Drongo, Oriental Dollarbird, Black-winged Cuckooshrike and Ashy Minivet but not in the numbers I would usually expect. Instead of seeing these birds on every visit and many of them in double figures, this year I have only seen them sporadically and in small numbers. The only migrating raptors I have seen have been a couple of Black Bazas and Chinese Sparrowhawks.
Sri Nakorn Kuen Khan does not usually get large numbers of Leaf Warblers passing through but this group is one that I have seen more or less "normal" numbers of. This morning I saw 3 singing Arctic Warblers and over the last few visits I have found all of the following, in song; Eastern Crowned Warbler, Pale-legged Leaf Warbler, Radde's Warbler, Sakhalin Leaf Warbler & Yellow-browed Warbler.
This year seems to have been particularly hot and this morning I was dripping in sweat by about 9am, making bird finding quite uncomfortable. However, even after this time a few Flycatchers seemed to be arriving as well as Forest Wagtail and Crow-billed Drongo.
Migration seems to be still in full flow so it still worth getting out to the nearest likely spot to see what you can find. I will try again to see if I can add to this year's list of migrants which as well as all the previously listed species includes Black Bittern, Thick-billed Green Pigeon, Black-capped Kingfisher, Eyebrowed Thrush, Asian Drongo Cuckoo and Blue-tailed Bee-eater.