Yesterday afternoon a pair of Yellow-vented Bulbuls flew over my house on the outskirts of Bangkok, making me think about this much-overlooked species. Yellow-vented Bulbul is most certainly one of the more striking bulbuls in Thailand with its bright yellow undertail coverts and silvery-white head, but is one that seems to be under-recorded, particularly by visiting birders.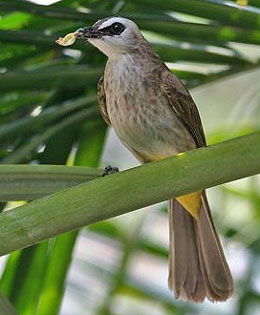 Yellow-vented Bulbul
by Peter Ericsson
Although not uncommon, Yellow-vented Bulbul prefers well-watered areas such as fruit gardens and coconut orchards – habitats that are virtually never visited by birders, due to their relatively low diversity of birds, making Yellow-vented Bulbul a species that is usually only encountered by birders in very small numbers despite having a fairly wide distribution.

Yellow-vented Bulbul distribution map
from "A Field Guide to the Birds of Thailand" by Craig Robson
As with many other birds, Yellow-vented Bulbul seems to have undergone a decline in and around Bangkok as the city is allowed to sprawl without any planning regulations, but can still be seen around the edges of the city and in small numbers in parks such as Suan Rot Fai and Suan Luang.
For those birders who have made a number of trips to Thailand but have managed to miss Yellow-vented Bulbul (and there are a surprisingly high number who have), Bang Pra in Chonburi has a healthy population of this attractive bird.
Acknowledgement: Much of the information here comes from "The Birds of the Bangkok Area" with Phil Round's kind permission.
birds, birding, thailand, nature, national parks