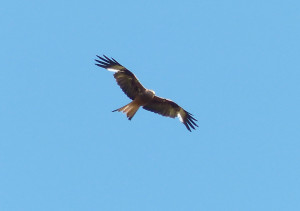 Last week Shuki Raviv and I spent a couple of days birding in the Brecon Beacons National Park in South Wales with Red Kite, Dipper, European Nightjar and Tawny Owl our main target species. Although the weather was poor on our arrival over the course of the time we spent in the area we enjoyed some great birding as well as some much better weather in which we were able to enjoy some long walks and great scenery.
On our first afternoon the drizzle and low cloud rather hampered our efforts although we did see some nice woodland birds including Spotted Flycatcher, Goldcrest and Coal Tit. We spent a lot of time walking along streams looking for Dippers, without success, but finding many Grey Wagtails, Pied Wagtails and a territorial Common Sandpiper as well as farmland species including Greenfinch, Meadow Pipit, House Martin and Goldfinch. A few Buzzards were also nice but 4 female Goosanders flying in to the Talybont Reservoir at 9pm were excellent to see and set us up nicely for an excellent day to follow.
The very long day lengths in mid summer in the UK provide the opportunity to spend a lot of time in the field and see very many species; on the down side it makes for very long and tiring days. Our second day in Wales proved to be both very rewarding and extremely tiring. Waking up to light rain we started birding along a valley in the village of Llangenny were we quickly found one of our most wanted birds – Dipper. Two juveniles of these cute birds were feeding in the waters just a short distance from us allowing us prolonged views and some chances to get photos, although the light conditions were difficult. A short walk along the stream found us Great Spotted Woodpecker, Nuthatch, Song Thrush, Coal Tit, Long-tailed Tit, Dunnock, Spotted Flycatcher and many other small, arboreal birds.
After a break for breakfast we took a long walk along a valley to the Neuadd Reservoirs where there are open habitats and scattered woodland. This proved to be a very productive walk with species such as Whinchat, Northern Wheatear, Willow Warbler, Chiffchaff, Meadow Pipit and Common Stonechat but it was a completely unexpected bird that was the highlight; a singing male Grasshopper Warbler which reacted to call playback and gave us excellent views before being joined by a female. Some other nice birds included Siskin, Common Redpoll and Bullfinch. With the weather improving we bought some sandwiches and headed to some crags near Crickhowell where we saw several Red Kites, the second of our target birds. Many good views of this spectacular raptor were obtained with one being attacked by 2 juvenile Peregrine Falcons, Ravens and a Kestrel. A number of Common Redstarts and a very handsome male Northern Wheatear were also nice birds.
A pub dinner lead us on to our search for Nightjar and Tawny Owl. By this time we were very tired but the weather was just about perfect for finding these tricky birds. We identified a likely looking piece of habitat for Nightjar but it took some crashing through brambles to reach it. Placing ourseves on a slope we were able to get superb views of a Nightjar churring from a perch and flying around catching insects. Considering that no other Nightjars were heard in the area we were very pleased to have found one and enjoyed great views. The final target bird of the day was found by driving along a wooded road listening for the screech of Tawny Owl. After some effort we got great views of 2 birds perched in a tree close to the road after already having spotlit one bird in flight.
Our final day was spent back along near the Neuadd Reservoirs where we enjoyed a long walk, adding excellent views of Garden Warbler to our list as well as Mistle Thrush, Sparrowhawk, Crossbill and an improved views of a male Bullfinch.
Overall this was a really successful trip with excellent views of many species that are either scarce or regionally restricted in UK. I will be looking forward to leading trips to the Brecon Beacons in the future.