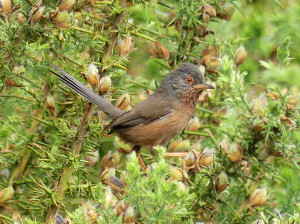 I very rarely go twitching but today was an exception. Having dipped on Red-footed Falcon last week at Minsmere a second chance presented itself with another bird present at Frensham Common, in Surrey, over the last few days. The plan was to get there early, which was somewhat spoiled by traffic on the M25 but  I still managed to get there before most other birders twitching the Falcon and it would turn out that this was a good move – the early bird catches the worm.
Frensham Common is an area of heathland and woodland owned and managed by the National Trust and as such it also contained really good numbers of heathland specialists and some nice woodland birds in good abundance too. As well as successfully twitching the Red-footed Falcon other highlights included Dartford Warbler, Woodlark, Tree Pipit, Spotted Flycatcher and Common Redstart.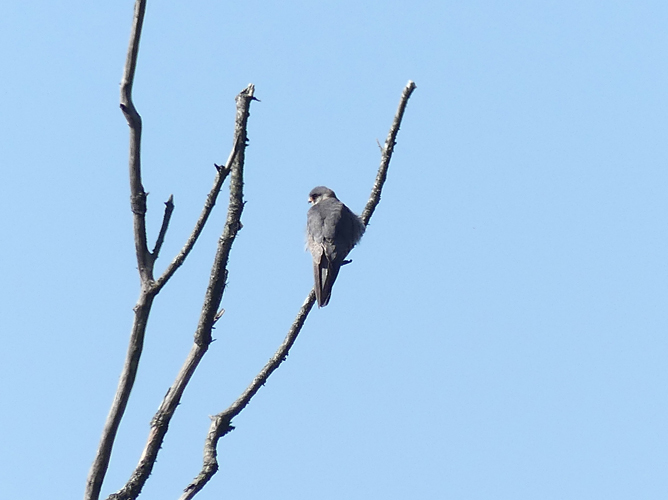 When I first arrived I walked out onto the heathland to the area that the falcon had been reported from. At first I did not see the bird but saw another birder and he told me it had been perched in the dead trees in front of us. A quick scan of the area revealed the subadult Red-footed Falcon sitting on top of a dead birch tree. I got closer walking along a footpath and watched it for 15-20 minutes before it moved to another tree further away, giving me a front view of the bird. Having enjoyed good views I continued my walk and some minutes later the bird flew right over me and away over some oak woodland. As it turned out that was the last of it to be seen today and later quite a crowd of late-arriving birders gathered in hope that it would return, which according to Birdguides's Bird News Extra, it never did.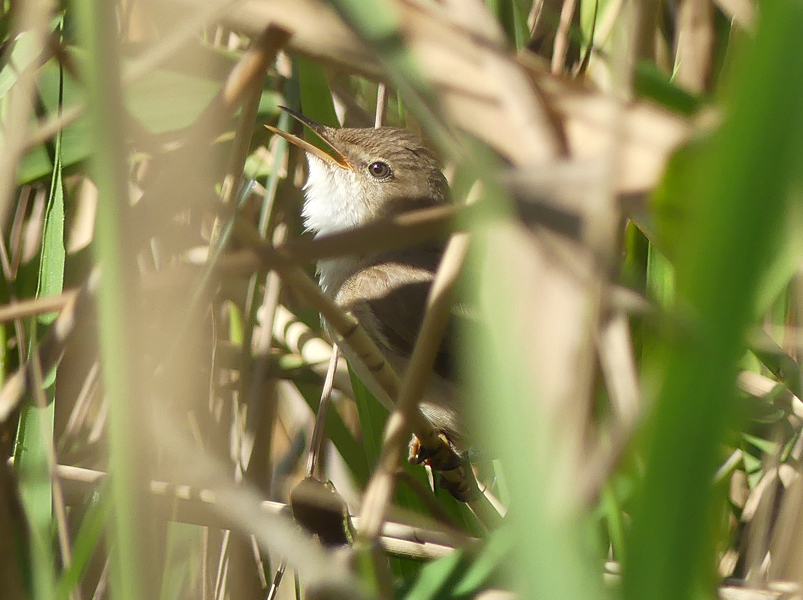 The Red-footed Falcon flew off towards a large pond so I went to investigate, finding a few Reed Warblers singing from dense cover. After some time one bird eventually climbed up the reed stem to expose itself.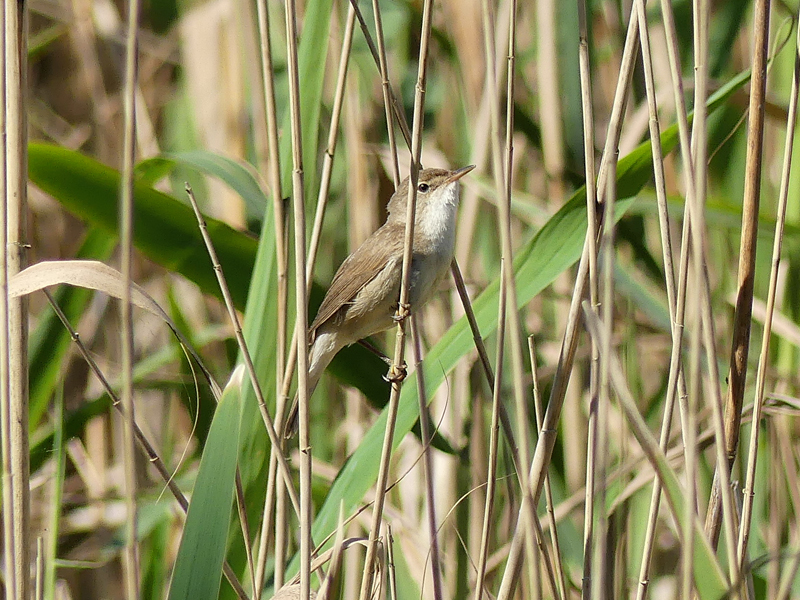 Walking around the heathland in the sun I have never seen such a high concentration of Woodlarks as I did here today, with many singing birds to be seen along the way. I saw 1 Tree Pipit, 3-4 Common Redstarts on the woodland edge, 2 Red Kites in flight, a Buzzard, Skylark, several Linnets, Common Stonechat and lots of Dartford Warblers. I have frequently talked about how Dartford Warbler is my favourite bird as I come from Dartford and it was the bird that got me into birding as a 6 year old, so it was wonderful to see so many of them here easily. I watched a pair of these birds feeding some recently fledged young and got lucky with a few shots.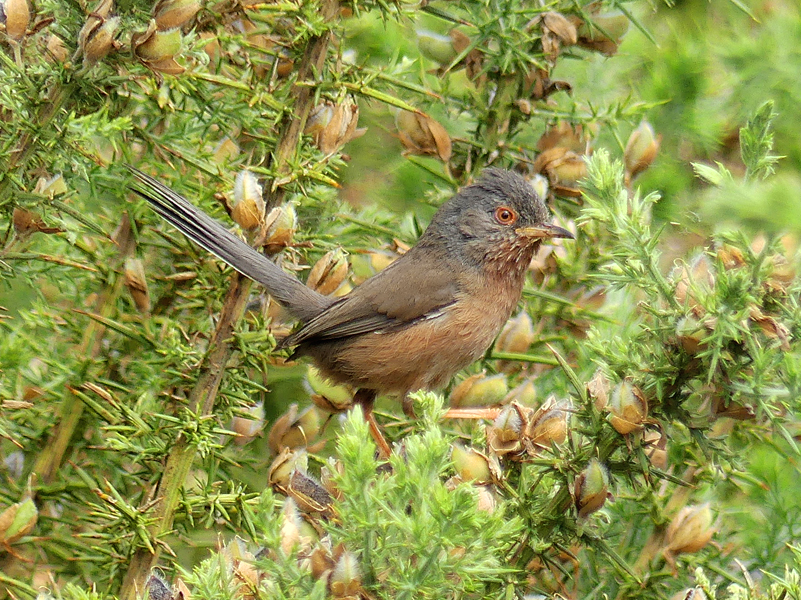 Given that this is my favourite bird I was extremely happy to get this shot, in fact for me it eclipsed the Red-footed Falcon even thought the falcon was a lifer and much rarer in UK. Getting a photo of this quality of this bird will probably be my birding highlight of the year so the rest of the morning was nothing but a joy with Nuthatches, Treecreepers, Goldcrest, Willow Warbler, Coal Tit and a nice pair of Spotted Flycatchers – great stuff.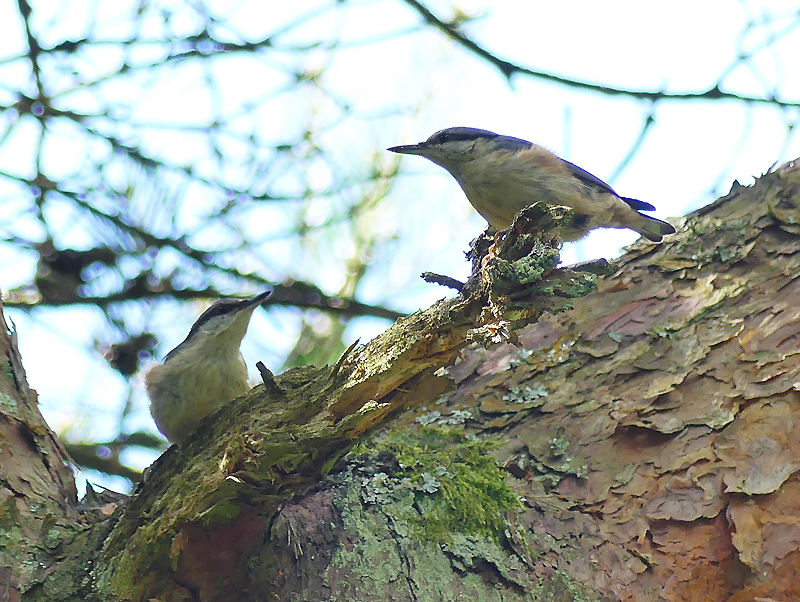 There are a couple of large ponds at this site and at the "Little Pond" I saw a few waterbirds including 1 Cormorant, 2 Common Terns, 2 Grey Herons, several Black-headed Gulls, and plenty of Coot and Great Crested Grebes.
All in all it was a really nice morning at Frensham Common with a good variety of species, plenty of scarce woodland and heathland birds as well as one rarity – Red-footed Falcon.
For those thinking of visiting the common there is a nice leaflet and map from Waverley Council that can be downloaded here – Explore Frensham Common.