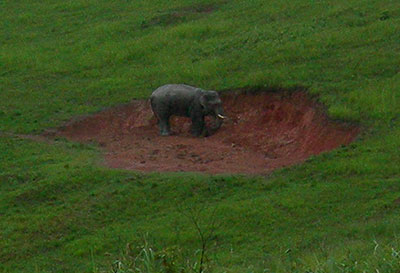 I recently got home after a four day birdwatching trip to Kaeng Krachan, Tung Bang Jak and Khao Yai with four Japanese ladies led by Shoko Sakaeda. Quite frankly the forest birding was very slow, although what we lacked in quantity we made up for in quality species. At this time of the year virtually all the winter migrants have departed and there are just simply lfewer birds to be found. Many of the resident birds populations are increased in the winter by migrant individuals too so even common species like Ashy Drongo, Bar-winged Flycatcher-shrike, Black Drongo and Black-winged Cuckooshrike were few and far between.
I have posted a trip report with some notes on our accommodation and other useful information for others who may be doing similar trips here: Kaeng Krachan, Tung Bang Jak & Khao Yai, 8-11th May 2008.
Some of the highlights of the trip were; Oriental Pied Hornbill at Kaeng Krachan and Khao Yai; Great Hornbill and Tickell's Brown Hornbill at Kaeng Krachan; Black-thighed Falconet, Black Eagle, Mountain Hawk eagle, Changeable Hawk Eagle and Crested Serpent Eagle at Kaeng Krachan; Japanese Sparrowhawk and Shikra at Khao Yai; Black-and-red Broadbill, Banded Broadbill, Silver-breasted Broadbill, Dusky Broadbill and Black-and-yellow Broadbill at Kaeng Krachan; Orange-breasted Trogon at Kaeng Krachan; Indian Pond Heron, Pheasant-tailed Jacana, Cotton Pygmy Goose, Purple Heron, Asian Openbill, Streaked Weaver, Asian Golden Weaver and Fulvous-breasted Woodpecker at Tung Bang Jak; Bamboo Woodpecker at Kaeng Krachan and Stork-billed Kingfisher at Khao Yai & Kaeng Krachan.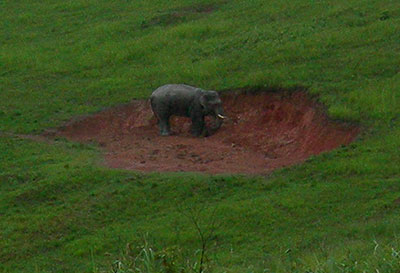 Although the birding was slow, we got quite lucky with mammals with White-handed Gibbon, Dusky Langur, Black Giant Squirrel, Grey-bellied Squirrel, Burmese Striped Squirrel at Kaeng Krachan and Variable Squirrel, Pig-tailed Macaque, Sambar, Barking Deer, Golden Jackal and Asian Elephant at Khao Yai. We saw one bull elephant early in the morning and two young elephants in the dark at about 7pm on the road towards Haew Narok – both very memorable sightings.
birds, birding, thailand, nature, animals