Recently I had an email asking me if I noticed many representations of birds around the temples of Angkor during my visit there last March while leading the Zootherabirding tour to Cambodia. A photo I posted previously on this blog of Sarus Cranes – Birding Around Angkor Wat –  on a bas-relief on the Bayon temple at Angkor prompted this question and reminded me of a number of photographs I took of carvings of birds, all from Bayon as far as my memory serves me. As we were on a birding trip our local guide pointed many of these out to us but, considering the scale of the carvings at Bayon and Angkor in general, I am sure there are many more for archaeologically-minded ornithologists to discover. For me the temples at Angkor are wonderful and I got almost as much pleaure at finding birds in the carvings as I did the real things. In this post the photos of Angkor's ancient birds that I have can be seen.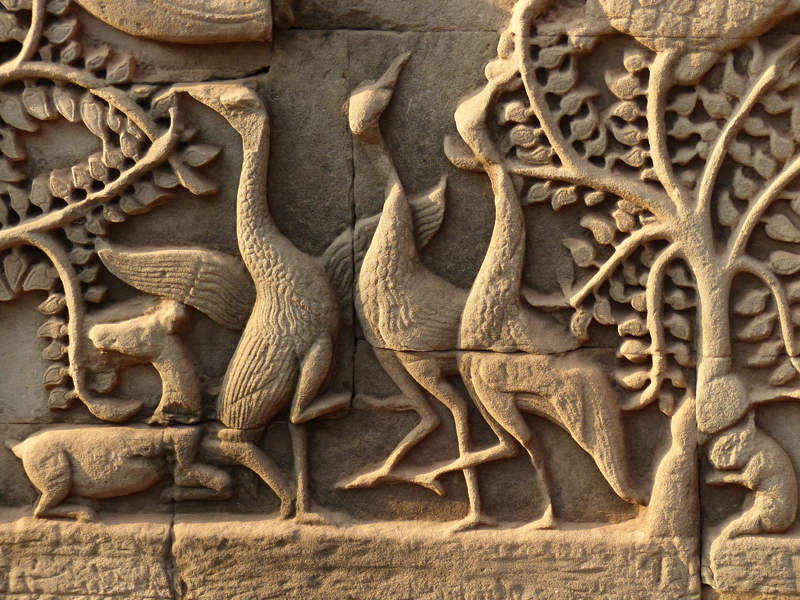 These are the Sarus Cranes that I originally posted. They are easily identified as cranes from their shape and apparent courtship behaviour and as Sarus Cranes are the only crane of the region that is what we assume they are. They looked very beautiful in the late afternoon light.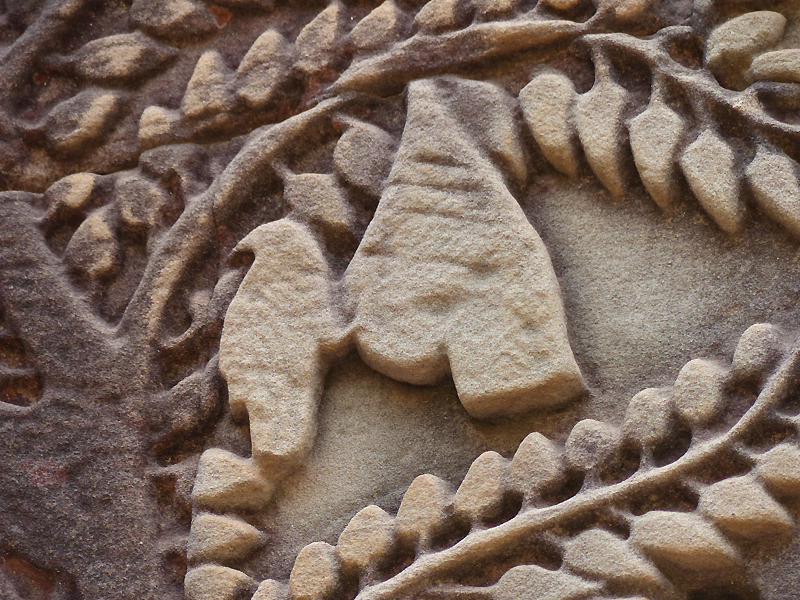 Anyone who has been birding in wetlands and open country in mainland Southeast Asia will be able to recognize this bird from its distinctive nest – Baya Weaver. Three species of weaver occur in Cambodia but only Baya Weaver makes this type of hanging nest with a spout at the base.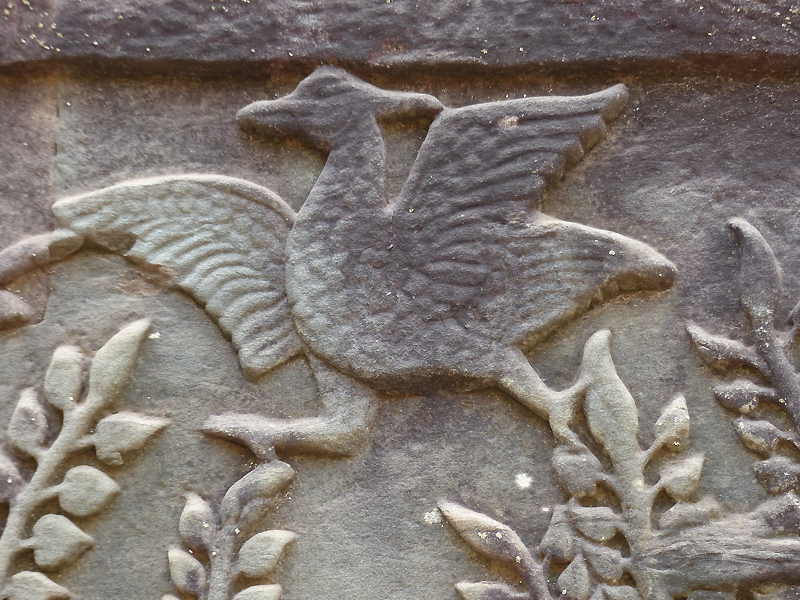 This dancing bird was not obvious to me at first but I was told that it was a Green Peafowl. I guess the wing shape, body and crest are right for this bird but I am not sure what has happened to the tail. Still, Green Peafowl is a striking and very obvious bird which presumably would have been domesticated or hunted by the ancient Khmers and would be an obvious candidate for including on temple bas-reliefs. Green peafowl these days is rare and restricted to very inaccessible places.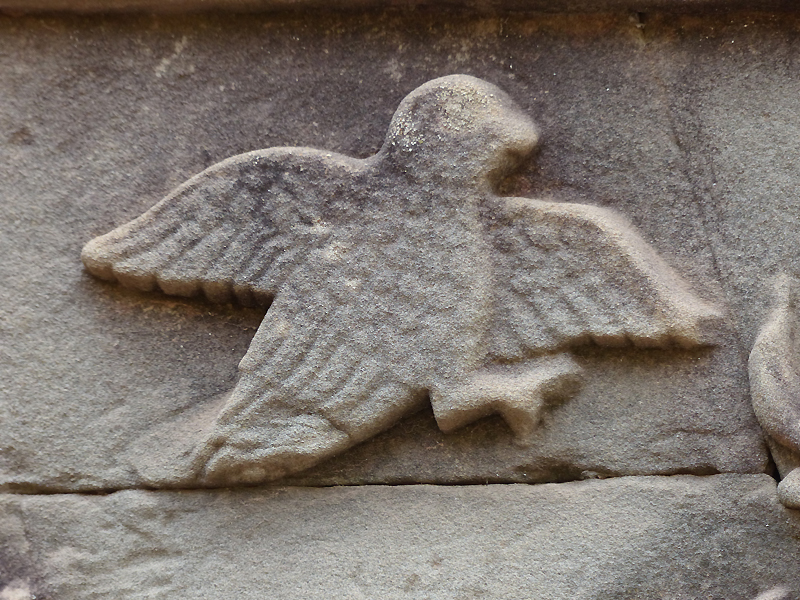 The above carvings looks like some sort of Parakeet to me, looking at the shape of the bill and structure of the body and wings. It also looks like part of the tail has been broken off; a longer tail would make it more obviously a Parakeet. As Red-breasted Parakeet is extremely common around the Angkor region I am assuming that this is the species represented here.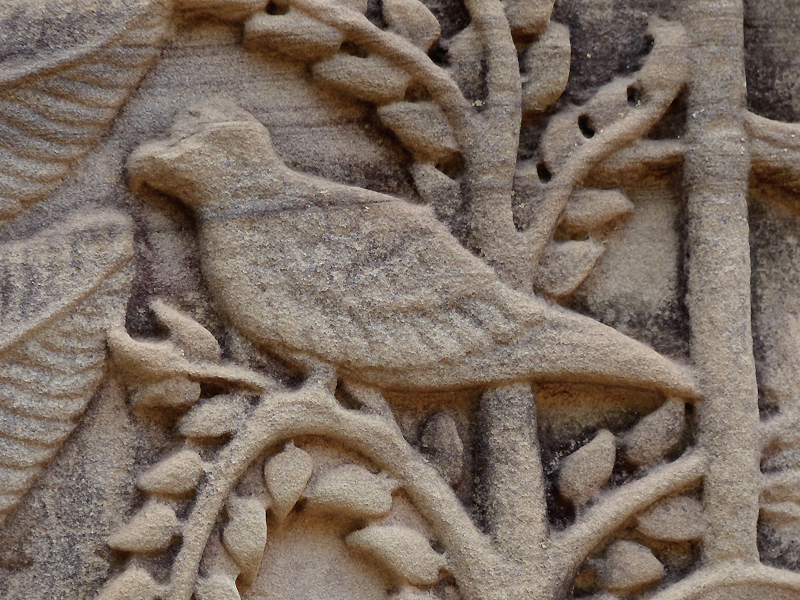 The bill on this carving gives it away as some sort of raptor. I have enough trouble identifying real raptors so I will not try and identify this representation although as Crested Serpent Eagle, Shikra and Crested Goshawk are common in this part of Cambodia I will stick my neck out and say that it is one of those three.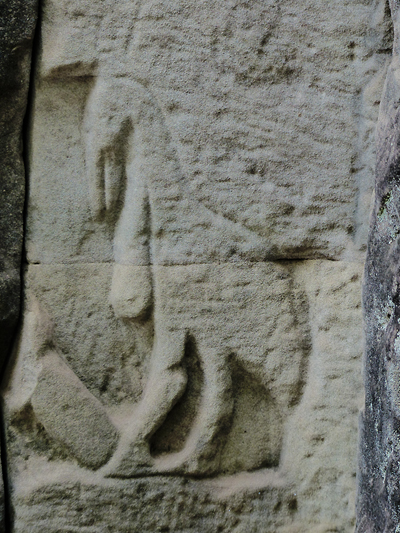 This rather worn carving shows a large upright bird with a huge neck wattle which can only be Greater Adjutant. This was one of our main target species in Cambodia which we saw at Prek Toal but it has been wiped out of most of Southeast Asia and, indeed, it is globally endangered. I guess it is fitting that it holds on where it has been immortalized in stone in Cambodia.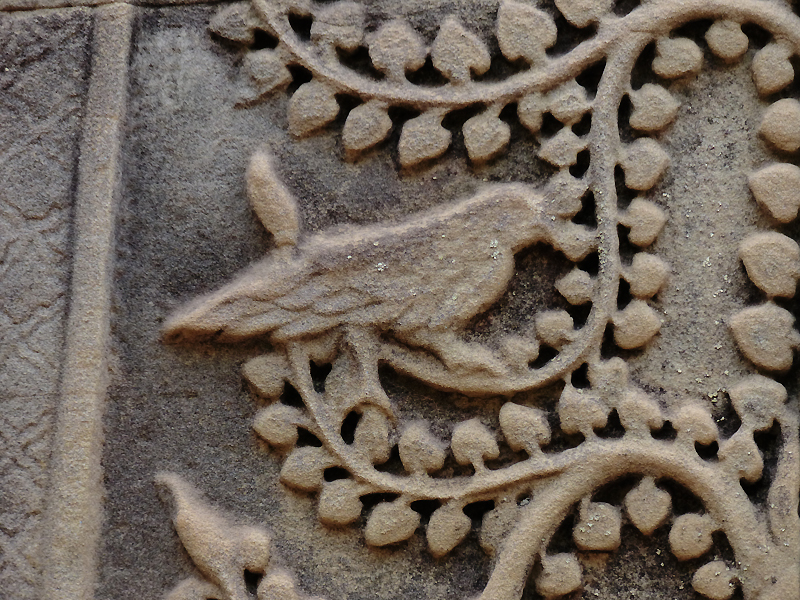 Well, it's obviously a bird but I am not really sure what species the above photo depicts. Perhaps a Dove, maybe a Coucal? I don't really know, it will have to go on the list as Bird sp.
Carved birds, bas-reliefs and sculptures apart our trip to Cambodia was very successful for living birds as well, read about it in my trip report here – Cambodia Birding Tour Report. Contact me if you are interested in a future birding trip to Cambodia, I hope to do another, similar trip in the not too distant future.