On the Southern half of the Korean peninsula is the Republic of Korea, more widely known as South Korea. Despite being one of the most modern and influential countries in Asia this is a nation much overlooked by westerners but one which has a lot to offer to birders. Better known for companies like Samsung and Hyundai South Korea stretches from the subtropics of Jeju Island in the far south to temperate areas along the North Korean border with summer high temperatures in the thirties to winter lows of minus twenty the climate makes for a high diversity of species throughout the year. Although South Korea is a highly industrialized country there are still many areas that attract large numbers of birds including forests, farmland, lakes, rivers and estuaries all of which contain a surprising abundance of bird life throughout the year.
Few have explored the possibilities of a South Korea bird tour yet the country contains some true spectacles of nature that should not be missed, where some exceptional birding can be enjoyed at all times of the year. Whether it is an abundance of breeding woodland birds in the Spring and early summer, impressive levels of migration of passerines and waterbirds in Spring and Autumn or large numbers of wintering Cranes, Wildfowl and Gulls there are always interesting birds to be seen including some of Asia's most threatened species. Think about Steller's Sea Eagle, Spoon-billed Sandpiper, Relict Gull, Black-faced Spoonbill, Red-crowned Crane, Scaly-sided Merganser, Asian Rosy Finch and Spectacled Guillemot, Japanese Pygmy Woodpecker, Long-billed Plover, White-naped Crane and Japanese Wagtail  and you start to understand the quality of birding in South Korea.
One of the themes of Korean birding is the joy of seeing birds in great abundance. Even in forested mountain parks in the capital city, Seoul, there are plenty of birds breeding in Spring and Summer filling the woods with their song.
Top South Korean Birding Sites
Cheorwon – Cranes, Buntings
Namhansanseong – Woodland birds
Paldang – Steller's Sea Eagle
Northeast Coast – Alcids, Loons, Gulls
Nakdong Estuary – Steller's Sea Eagle, Relict Gull
Junam Reservoir – Cranes, Swan Goose, Raptors, Wildfowl
Suncheon Bay – Hooded Crane, Raptors
Geum Estuary – Oriental Stork, Baikal Teal
Birds such as Marsh Tit, Japanese Pygmy Woodpecker, Eastern Great Tit, Grey-backed Thrush, Yellow-rumped Flycatcher and Yellow-throated Bunting are common in woodland and woodland edge everywhere you go, in fact birding in a South Korean woodland is just as it ought to be, bursting with dawn chorus and woodland birds everywhere you look. A Black-faced Spoonbill colony surrounded by major roads tells you everything you need to know about the proximity of breeding birds to humans here.
Spring migration can be described as "spectacular" with large numbers of Buntings, Warblers and Thrushes passing through but it is on a winter South Korea bird tour that you really experience the magnificent numbers of birds. Try standing near the border in the North and watch the procession of White-naped and Red-crowned Cranes that come out of the demilitarized zone. Stand on an East coast beach and see tens of thousands of gulls. See flock after flock of Taiga and Tundra Bean Geese in farmland as you travel. See an amazing group of 400+ Cinereous Vultures feeding together. Witness thousands of Grebes, Loons and Alcids on the sea from a boat trip. Any of these is likely to be one of the most memorable massed bird experiences any birder will see but they can all be witnessed on one birding trip to Korea, all within a few hours drive of each other. Add to that 20000 Rooks or half a million Baikal Teal on one lake and it is clear that South Korean birding is not to be missed.
---
South Korea Winter Birding Tour 2019: 3rd January – 15th January
Join me for my third mid-winter birding tour to South Korea where we will see one of the world's most impressive raptors – Steller's Sea Eagle. A few of these birds winter at regular sites in South Korea every year and getting good views will be one of the top priorities. We can be assured of superb views of large numbers of Hooded, Red-crowed and White-naped Cranes but this spectacle may be eclipsed if we find a flock of 500000 Baikal Teal on one of their favourite lakes.
Other highlights will include massive Gull flocks including the rare Relict Gull; some lovely woodland birding with Japanese Pygmy Woodpecker, Varied Tit, Dusky Thrush, Hawfinch, Naumann's Thrush & White-backed Woodpecker; an impressive selection of seabirds including Rhinoceros Auklet, Ancient Murrelet, Spectacled Guillemot & Long-billed Murrelet; a wide variety of wildfowl in huge numbers with Scaly-sided Merganser, Harlequin Duck, Stejneger's Scoter and Swan Goose in the starring roles. Other attractions will include Asian Rosy Finch, Solitary Snipe, Long-tailed Rosefinch, Meadow Bunting as well as a lot of laughs with two knowledgeable guides. This bird tour to South Korea is a great way to see many of Asia's most threatened birds, experience a seldom-visited country and have a lot of fun without the huge expense that seeing these birds in nearby Japan accrues.
South Korea Winter Birds Tour 2019: 3-15th January
.
---
Previous Trip Reports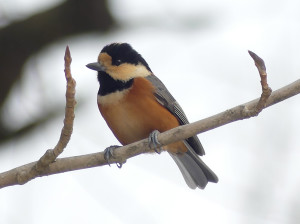 South Korea Winter Bird Tour Trip Report January 2017 A very successful and enjoyable 11-day birding tour of South Korea. Highlights included Steller's Sea Eagle, Hazel Grouse, Red-crowned Crane, Sandhill Crane, Solitary Snipe, Yellow-bellied Tit, Pallas's Rosefinch, Lesser White-fronted Goose, Oriental Stork, Hooded Crane, Scaly-sided Merganser, Swan Goose.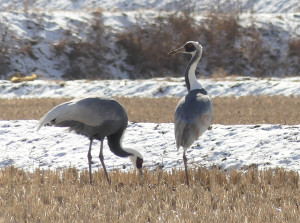 South Korea Winter Bird Tour Trip Report January 2016 A great first winter trip to South Korea for 9 days with many excellent birds including Steller's Sea Eagle, Oriental Stork, Red-crowned Crane, Solitary Snipe, Scaly-sided Merganser, Swan Goose, White-naped Crane, Baikal Teal, Pallas's Bunting, Hooded Crane.