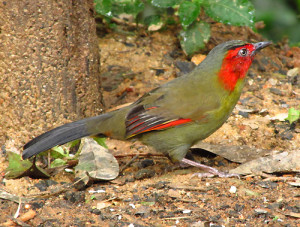 Last year opportunities for photographing birds at Doi Lang were spectacular with a number of stakeouts created by local birders where birds were fed with mealworms in order to lure them out into photographable situations.
Recent visits to Doi Lang have revealed that a number of signposts have been placed by national park authorities requesting that usage of mealworms, call playback and staking out of nests stops and that there are officials patrolling who will ask offenders to leave. However, a visit to the checkpoint area revealed that the border police stationed there are continuing to provide fruit and rice at feeding stations and that Scarlet-faced Liocichla, Silver-eared Laughingthrush, Dark-backed Sibia and Spectacled Barwing are all still visiting and are easily seen and photographed.
From the photos below it can be seen how simple these birds are to photograph, I am using just a fairly basic compact digital camera,
Canon Powershot SX 160 IS
, so those of you with better equipment will be able to get top quality shots very easily. The irony is that there are signs requesting no bird feeding or call playback right next to where this feeding station is still operating!
Currently some Rufous-throated Partridges are also visiting this feeding station on a semi-regular basis early in the morning and late afternoon, Whiskered Yuhina is lurking around in nearby trees waiting to be seen and photographed, as always and a Chestnut-headed Tesia may be lured out at the little pond if you are patient.
However, the news on the photographic stakeouts that were producing such great birds as Rusty-naped Pitta, White-bellied Redstart and Spot-breasted Laughingthrush is not so good. Currently they are very wet from rain continuing into December and only a few birds are arriving to take photographers' food which is being provided rather nervously, with photographers feigning nonchalance every time a vehicle appears. A few days ago only Silver-eared Laughingthrush was seen although others have photographed Large Niltava and White-gorgetted Flycatcher there recently. Hopefully drier weather will arrive soon and as the forest dries out the birds will arrive to feed and be photographed but try not to overdo the call playback – some photographers were playing sunbird calls on a continual loop for more than 40 minutes and this sort of thing is probably what has led to the signs being erected.