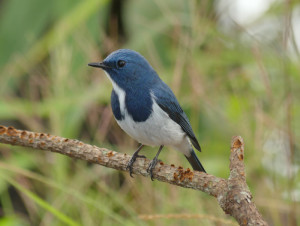 Doi Lang is definitely one of the best birding sites in Northern Thailand, probably THE best single site in fact hosting most of the county's high altitude birds and being the only known site for several species. Most birders visit the mountain between January and mid March when there are many active photographic stakeouts but I recently made a couple of visits in mid November which is often a difficult time for birding in Thailand with the vegetation at its densest after the rainy season, many migrants yet to arrive, many resident species moulting and remaining secretive, frequent foggy weather and birds not vocal or responding to call playback. Despite all these difficulties over the course of a few days, with patience, I found a lot of really good birds and obtained quite a few nice photographs as well as finding a scarce passage migrant. Highlights included Himalayan Cutia, Giant Nuthatch, Grey-headed Parrotbill, Mrs Hume's Pheasant, Black-throated Bushtit, Sapphire Flycatcher, Chestnut-headed Tesia, Asian Stubtail, Oriental Hobby & Eurasian Hobby as well as many others. So long as a huge list is not your aim, birding on Doi Lang in November can be rewarding so long as you have time to spend and do not expect to rush in and see everything in a short space of time. 
Currently the military do not allow travel through the whole length of the road so birders have to deal with the east and the west side separately.
Doi Lang West
The road up this side of Doi Lang (or Doi San Ju as locals call it), from the town of Fang, remains in a good condition and although steep at times, it is easy to drive. Ken Langelier and I spent an extended morning here with the early morning weather glorious; bright sunshine and cool temperatures; the perfect conditions for photography and birding. However, by mid morning cloud had built up and we started our fight with fog, always designed to make life difficult although as the afternoon approached it mostly cleared again, but leaving some very quiet birding.
Our first target was Mrs Hume's Pheasant which we found on our second drive along the pine ridge. While we got nice views of a male patrolling a ridge, beating his wings in territorial control, he remained difficult to photograph.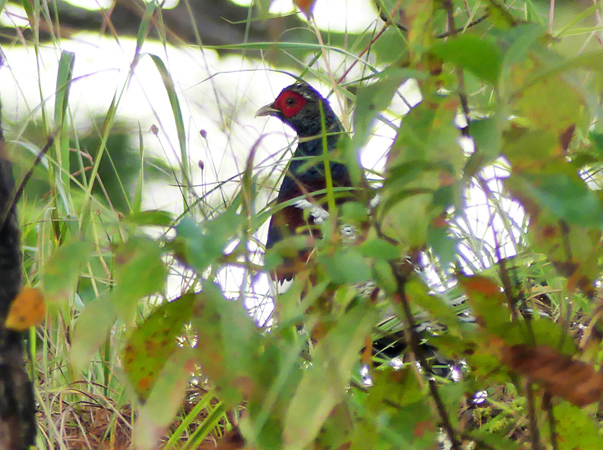 Mrs Hume's Pheasant
Further along the ridge we came across several calling Giant Nuthatches but none of them would sit in a place where we could get a photo, they were either terribly backlit or too far away. Bird activity was quite high in the pine forest with Grey Treepie, Long-tailed Minivet, Buff-throated Warbler, Puff-throated Babbler, Chestnut-bellied Rockthrush, Japanese Tit and Grey Bushchat but one of the nicest sightings was to come in the form of a party of 4 Himalayan Cutias which were following Blyth's Shrike Babbler and Dark-backed Sibia. I completely messed up a great photo opportunity but I am sure Ken did much better! A little further along the road an Oriental Hobby was perched on top of a dead pine tree.
Oriental Hobby
As we were photographing this bird the cloud began to fog us in and for the next few hours things became a little tough although a nice party of birds including Black-throated Bushtit, Scarlet Minivet and Sapphire Flycatcher were nice. The definite highlight of the remainder of the morning was a Eurasian Hobby which sat on a bare branch for a long time, presumably unhappy with the weather and we were able to get fairly close to it before the fog obscured it completely.
Eurasian Hobby
A stunning Chestnut-headed Tesia was a challenge to photograph but it did give us wonderful, close-up views and a Eurasian Hoopoe teased us, flying away every time we were about to take a shot of it. After lunch on the mountain it was time to head back having had a nice morning with some great birds.
Doi Lang East
The road up the east side, from Thatorn, is in a terrible state at the moment due to steep areas with mud remaining wet. Even in a 4-wheel drive vehicle I got stuck a couple of times and had to reverse to take a second go at it. In a few weeks when things have dried out the road should be ok to drive again as most of the potholes have been filled in, it is just the mud which is a problem when wet. We made a couple of stops along the road but things were really quiet, so as photography was our main aim we drove straight up to the second checkpoint and spent most of the morning waiting around there. A few bananas on a branch got a quick response from the ever-present gang of Dark-backed Sibias but due to the heavy cloud and the fast-moving birds it was not easy to get a good shot even though they were so close.
Dark-backed Sibia
Usually I would expect Silver-eared Laughingthrush, Spectacled Barwing and Scarlet-faced Lioccihla to join them but not today and I have found this before in November. The Laughingthrushes did arrive but never sat anywhere we could get a shot of them, remaining foraging in the undergrowth. However, waiting around did turn up a few warblers in the low trees around us including this Chestnut-crowned Warbler.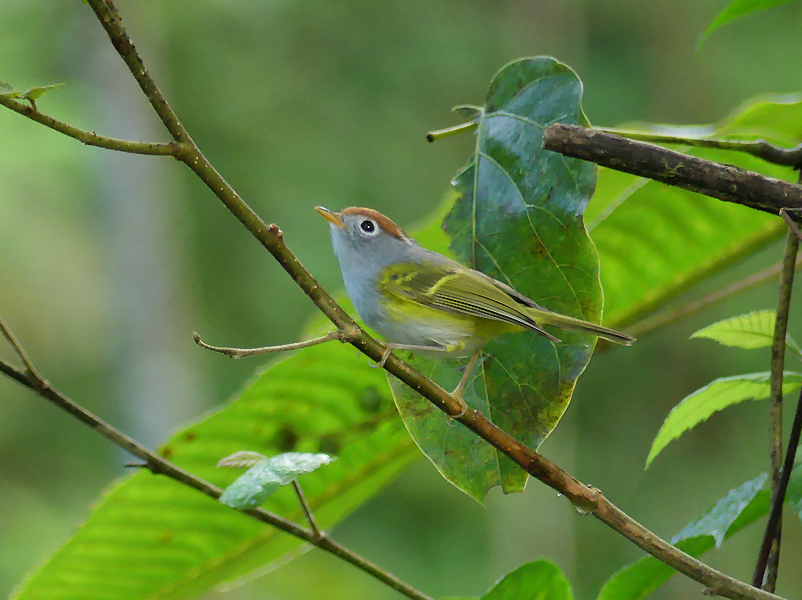 Chestnut-crowned Warbler
Yellow-browed Warbler, Buff-barred Warbler and Davison's Leaf warbler were all seen at close range but I failed completely to get any worthwhile photographs although Ken fared better with these species. However, I did manage to capture this Hume's Leaf Warbler; tough to id but very dark tertials narrowed it down to a few species and then the call was diagnostic.
Hume's Leaf Warbler
We were kept on our toes and quite often frustrated by small, fast-moving species but with patience we managed to photograph most of them in the end, including a Mountain Tailorbird and this Whiskered Yuhina helping itself to some berries. This is one of very few sites in Thailand to see this colourful little bird and it is quite reliable in the area of the second checkpoint.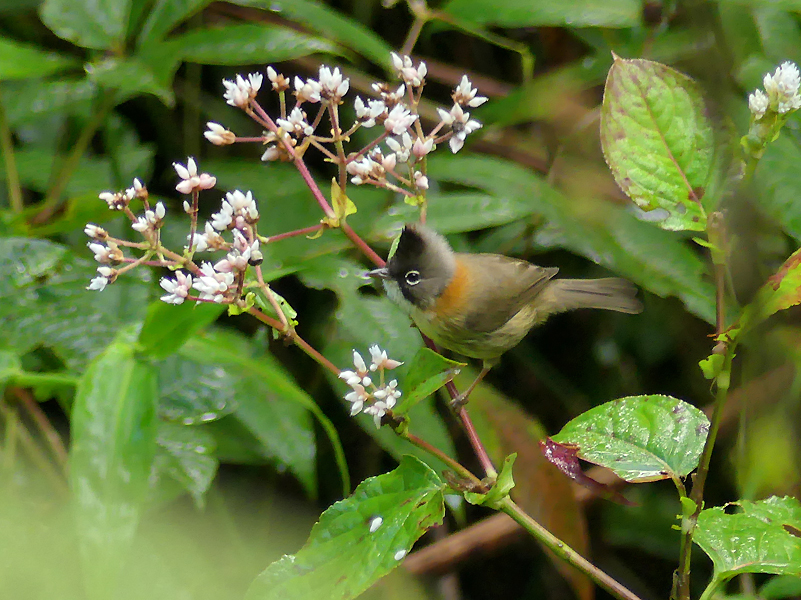 Whiskered Yuhina
As I previously mentioned some of the usual suspects, namely Spectacled Barwing and Scarlet-faced Liocichla, were conspicuous by their absence but by taking a short walk down the road we found them slowly moving through the undergrowth but never emerging fully from it. When you look at the photo of the Liocichla you will see why; it is undergoing a moult, which obviously affects its ability to fly and manoeuvre quickly, making it stay in the safety of the undergrowth.
Scarlet-faced Liocichla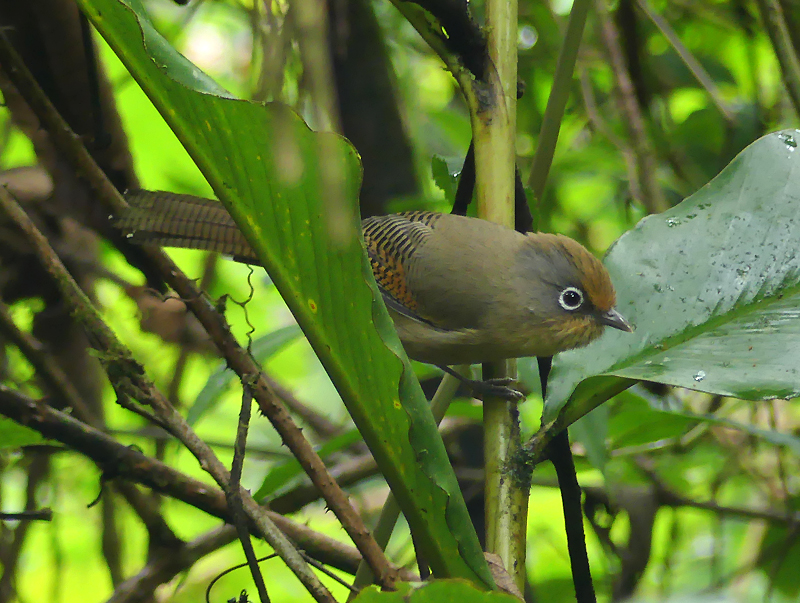 Spectacled Barwing
Doi Lang West (again)
A few days after parting company with Ken I found myself with some time to myself so headed back to Doi Lang in hope of getting some better photos of Himalayan Cutia and whetever else posed for me. Once again on the way up the mountain in the early morning I got lucky with Mrs Hume's Pheasant along the road through the pine forest.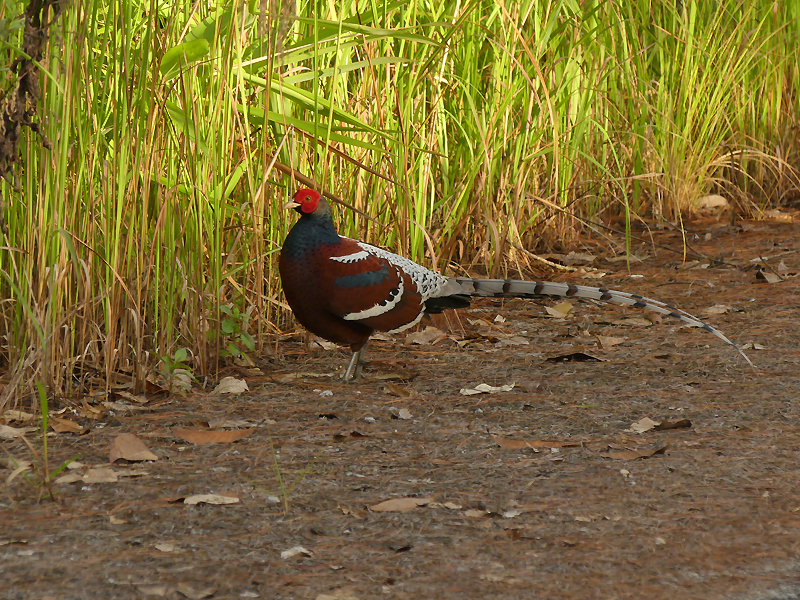 Mrs Hume Pheasant
The weather was lovely, with blue skies and sunshine the whole time, in fact during the middle of the day things got quite hot and the bird activity slowed but by hanging around there was plenty to see and take photos of. Lots of Grey-headed Parrotbills were an interesting feature but Giant Nuthatch was uncooperative again always staying too far away for photos. While hanging around waiting for something to happen I spent time trying to photograph the many Phylloscopus warblers that were around. Most of them were vocal so I was able to identify them including this nice Chinese Leaf Warbler and the following Hume's Leaf Warbler.
Chinese Leaf Warbler
Hume's Leaf Warbler
Anyone who has visited Doi Lang over the last few years will have acquainted themselves with the male Ultramarine Flycatcher that has wintered at the site regularly. Well, he was absent on 13th November but he had returned to his regular spot by 17th November and was ready to have his photo taken.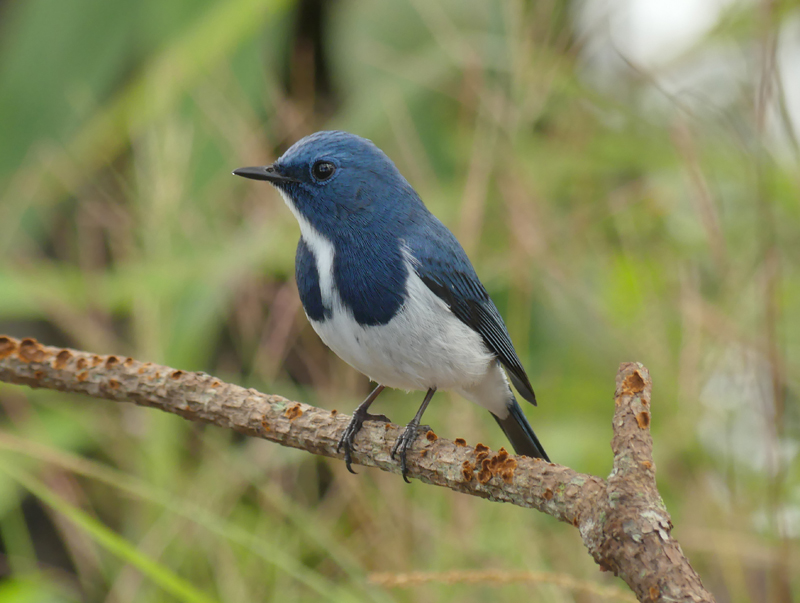 Ultramarine Flycatcher
Ultramarine Flycatcher
The difference that a few days makes at this time of year is quite amazing and on 17-18th November a number of the regular birds that turn up at photo stakeouts had returned whereas they were not to be seen on 13th.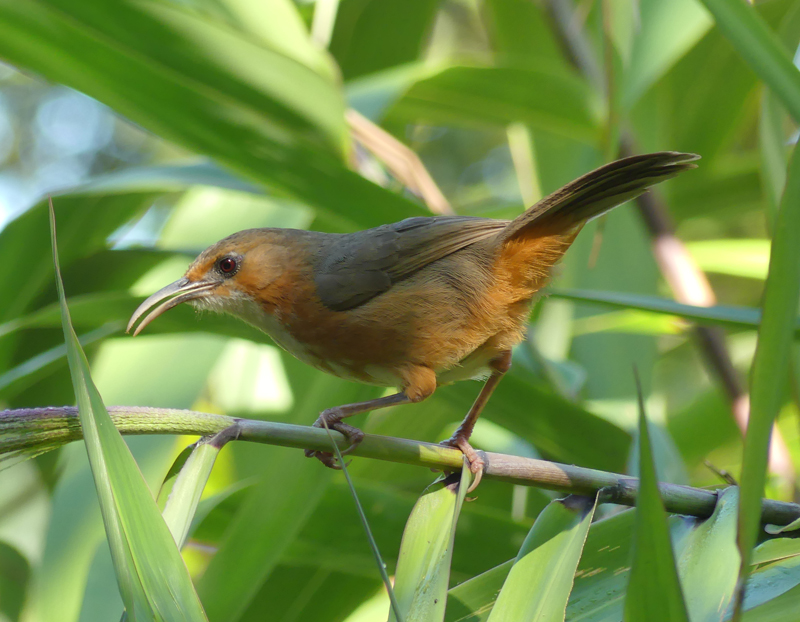 Rusty-cheeked Scimitar Babbler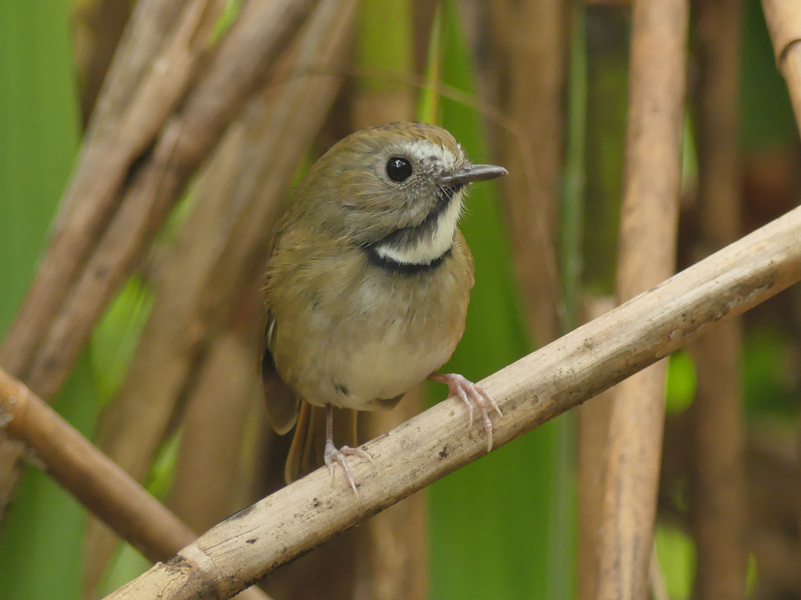 White-gorgetted Flycatcher
While I was standing around having my lunch I heard a party of Black-throated Bushtits which very obligingly fed in a flock up and down the road for about 15 minutes; it was still hard to photograph these small, fast-moving birds though.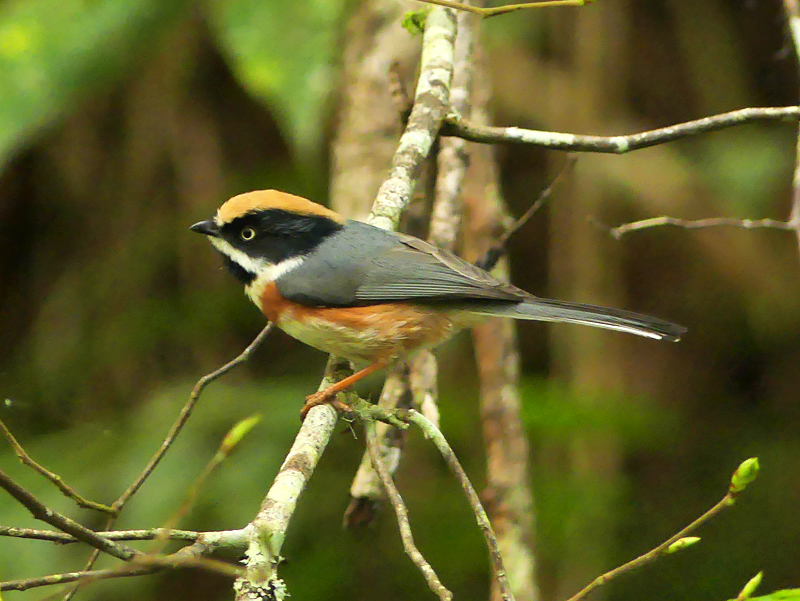 Black-throated Bushtit
Some Crested Finchbills turned up at one spot that I was taking a midday rest at; always a nice bird.
Well, this was all great stuff but the real prize was Himalayan Cutia and after most of the second morning they had still not performed. I went back to the area I had seen them in before and just waited around, looking at whatever was nearby, which mostly was Hume's Leaf Warbler and Grey Bushchat but after some time I heard and then saw a Lesser Racket-tailed Drongo. This species is often in flocks of birds so I watched carefully, seeing next a Rufous-backed Sibia. Very promising, this bird is often followed by Cutia and then there it was, a glimpse of the barring on the flanks and then a full view of a female Himalayan Cutia. This was followed by a male and the group consisted of 4 birds which spent the next 20 minutes active in the trees next to the road. Photographing them was still not simple and I never got that best shot but I got quite a few nice pictures.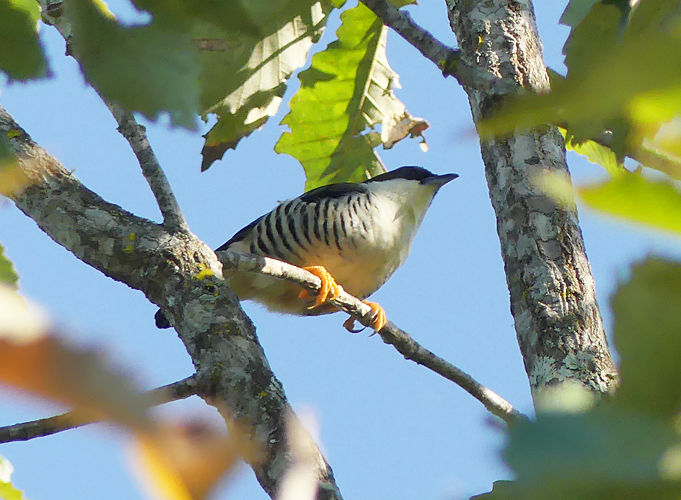 Himalayan Cutia
With that success I decided to move on and head for the lowlands. At times birding was tough due to cloudy weather and low abundance of birds and my trip list certainly was not as high as it would have been in January but I did see a lot of excellent species and the quality of birds was excellent even at this non-peak time of year.