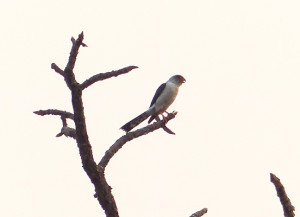 Dry dipterocarp forest has a high number of bird species that are specialists to this niche and the dry forest at the bottom of Doi Inthanon has long been a location for visiting birders to catch up with a number of these species. However, for most birders resident in Thailand the dry dipterocarp forest at Doi Inthanon is extremely poor in bird abundance with locations such as Mae Ping and Nam Nao far better places to catch up with many of the birds associated with dry woodland. However, on the morning of 11th March 2014 I took a walk along the dirt road at Km 13, Doi Inthanon, with Hugues Dufourny, Guy Mirgain & Patrick Derennes as we did not have enough time to travel to Mae Ping national park.
My warning that we would experience extremely low levels of bird activity proved to be accurate, but with a lot of patience and effort we managed to find quite a few of the species that we had been hoping to see. Although Black-headed Woodpeckers are fairly common along this trail it took us quite some time before we managed to see a group of at least six birds. At one point they became quite agitated and fluffed up their red rump patches – quite a sight! We all felt like we deserved to see these birds after having chased several groups of them that we had heard; they were all completely unresponsive to call playback.
Another highlight was a calling male White-rumped Falcon which sat on the same perch all the time we walked around him to obtain better light for a good observation.
Raptors are a group of birds which are quite well represented in this habitat and we were successful in seeing Collared Falconet, Black Baza, Rufous-winged Buzzard, Crested Goshawk and Oriental Honey-buzzard between 7.30 and 10am.
Although birds came slowly, one by one, we did manage to see quite a few interesting species including Rosy Minivet, Purple Sunbird, Golden-fronted Leafbird, Common Flameback, Coppersmith Barbet, Grey-capped Pygmy Woodpecker, Hill Myna, Greater Racket-tailed Drongo, Hair-crested Drongo and Banded Bay Cuckoo. By 9am it had already become very hot and what little bird activity there had been had already slowed down so we walked back to our vehicle for one more good bird to be found right next to it – Neglected Nuthatch, a recent split from Chestnut-bellied Nuthatch, formerly known as the neglecta subspecies.
Although we had a good morning in the dry dipterocarp forest birding had been very difficult and it remains a mystery to me why bird abundance is so low here when at other locations with similar habitats have much higher levels of bird activity and abundance.