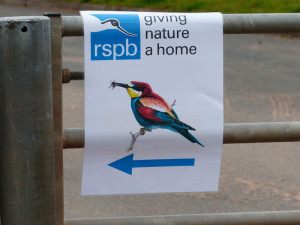 For few weeks now the RSPB has given British birders the opportunity to watch European Bee-eaters nesting at a sand quarry near Brampton in Cumbria. Bee-eaters are a very rare breeding bird in UK and this, combined with their colourful plumage, has meant that many people have made the journey to northern England to see them. Although I am not much of a twitcher, I decided to combine a trip to see these birds with a short visit to the nearby Lake District National Park, as well as a short stop to see a Sabine's Gull near Manchester.
Finding the site for the Bee-eaters was not too difficult with signs similar to the one pictured on the A69 a few miles south of the junction of this road and the A689 near Brampton. These signs took me down a small lane for a few hundred metres where drivers are directed into a field for parking. A fee of £5 was charged for parking and a volunteer directed me for the short walk around the quarry to where a viewpoint had been set up, also attended by a volunteer who was able to point out where the nest was located.
I had been hoping to get some photos of the colourful Bee-eaters but the watch point was far too far away to realistically hope to get any decent shots, in fact a huge zoom lens would be needed such was the distance but good views were obtained through a telescope. This distance was required so as not to disturb the Bee-eaters at the nest. Originally there had been two nests but the volunteers said they had not seen any activity near the second nest for some time.
I had to wait some time before seeing a Bee-eater and I heard it calling as it flew around catching insects some distance away and just as it finally looked like it would come to the nest a Sparrowhawk flew by and a couple of walkers appeared really close to the nest site which resulted in heated words between the RSPB volunteer and the walkers; excitement!
The watchpoint was open until 8pm so I had plenty of time to view the birds which repeatedly returned to the same few fence posts after catching bees and dragonflies and occasionally they visited the nest to feed recently hatched young. At least five birds had been seen recently but the most I saw was three and in the late afternoon light they looked very spectacular. Well worth visiting if you are in the area but it could require some waiting to see the Bee-eaters.