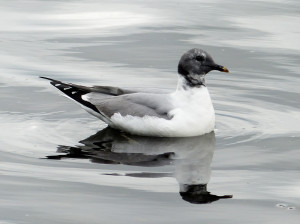 I spent the last few days walking in the mountains in the Lake District National Park, but on my way I decided to stop off to look for a couple of unusual birds, the first being an adult Sabine's Gull which had been reported as present for a few days at Pennington Flash, near Manchester. Finding Pennington Flash Country Park was easy with just a short excursion off of the M6 motorway and on arrival the large lake had the potential to make for a long search, being full of a variety of Gull species. However, as if often the case when twitching a rare bird, other birders were around to point the way to a nearby hide where it had been seen on a daily basis. A short stroll revealed a small group of birders photographing the Sabine's Gull which was feeding on pieces of bread being thrown to the ducks; the cutting edge of birding!
I stood for about an hour and a half getting lots of very close views of this bird, watching it preen, bathe, flying around and feeding right in front of me and it was nice not to be in a rush, rather than just ticking the bird off I was able to see it properly and obtain a lot of photographs although the light was rather challenging. Although I have seen several Sabine's Gulls in Britain in the past, I had never seen one this close before or been able to watch one for so long. Quite an amazing sighting.
Spending time watching Sabine's Gull also allowed me to scan the large numbers of birds on and around the lake. An adult Yellow-legged Gull was notable this far north and it was a further surprise to see a juvenile as well. Mediterranean Gull had also been reported but despite much searching I could not find it among the large numbers of Black-headed Gulls, some juveniles of which displayed some interesting plumage types for some nice pictures.
Other interesting birds included a male Common Scoter, several Common Terns and a flyover Black-tailed Godwit. If I had walked the trails around the nature reserve section of the country park I am sure I would have added more nice sightings but I had a long way to drive to my destination so had to leave without investigating the site further.