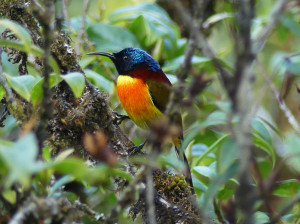 I have just returned home having led the Zootherabirding North & Central Thailand trip which was a great success in terms of both numbers and quality of birds. As usual the North provided us with a lot of good birding, nice flocks, colourful birds and wonderful photo opportunities with a long list of highlights including Mrs Hume's Pheasant, Pin-tailed Parrotfinch, Baikal Teal, Brown-cheeked Rail, Black-eared Shrike-babbler, Grey-sided Thrush, Lanceolated Warbler, Pied Harrier, Jerdon's Bushchat as well as many old favourites such as Scarlet-faced Liocichla, Dark-sided Thrush, Silver-eared Mesia, Giant Nuthatch and loads more. The following is a short summary of our time in the North of Thailand and some photos from the trip.
Doi Inthanon
This site provided us with the usual array of colourful birds in feeding flocks and our visits to the summit were absolutely delightful with very high levels of bird activity and super views of many species including Eyebrowed and Grey-sided Thrushes at close range in a fruiting tree at the coffee shop along with Yellow-bellied Flowerpecker.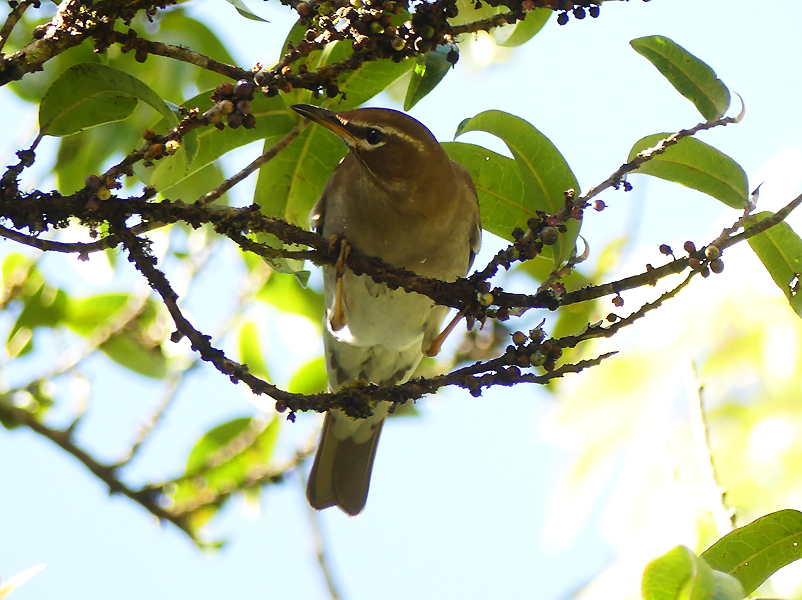 Grey-sided Thrush
In the late afternoon the birds really came out in numbers and some of our group were in raptures about how many birds could be seen well at just one spot. We all enjoyed photographing birds such as Blue Whistlingthrush, Green-tailed Sunbird and the wonderful Chestnut-tailed Minla at the summit but tracking down White-browed Shortwing, Rufous-throated Partridge, Pygmy Wren Babbler and Dark-sided Thrush on the board walk gave us all a thrill too.
Blue Whistlingthrush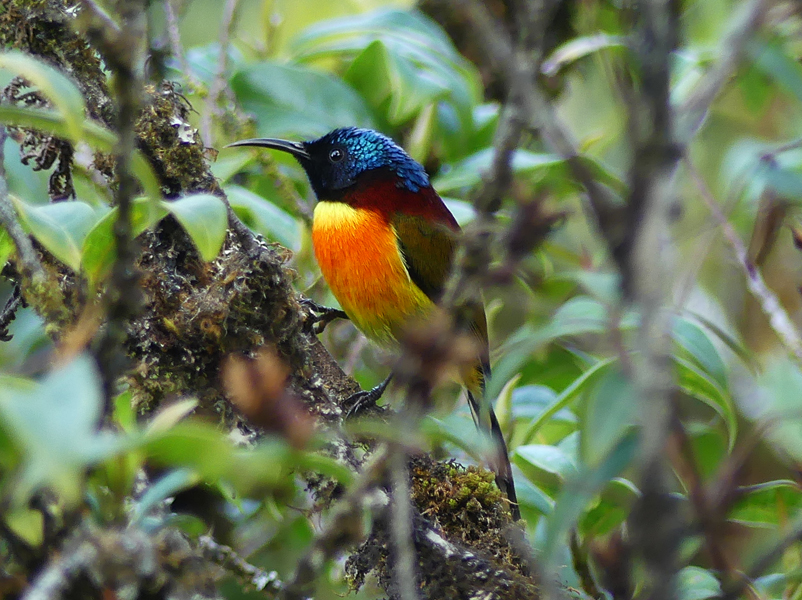 Green-tailed Sunbird
By visiting various altitudes on the mountain we were able to find a really good variety of birds with some of the most enjoyed species being Speckled Woodpigeon, Collared Falconet, Black-headed Woodpecker, Slaty-bellied Tesia, Black-backed Forktail, White-headed Bulbul, Clicking Shrike-babbler, Blossom-headed Parakeet, Hume's Treecreeper, Small Niltava and Snowy-browed Flycatcher.
Doi Ang Kang
Our short time here began with a visit to the King's Project. Unfortunately there was construction going on close to the photo stakeout so shy birds like Rusty-naped Pitta did not come in this year but Black-breasted Thrush, Hill Blue Flycatcher, White-tailed Robin and this Streaked Wren Babbler were very nice indeed.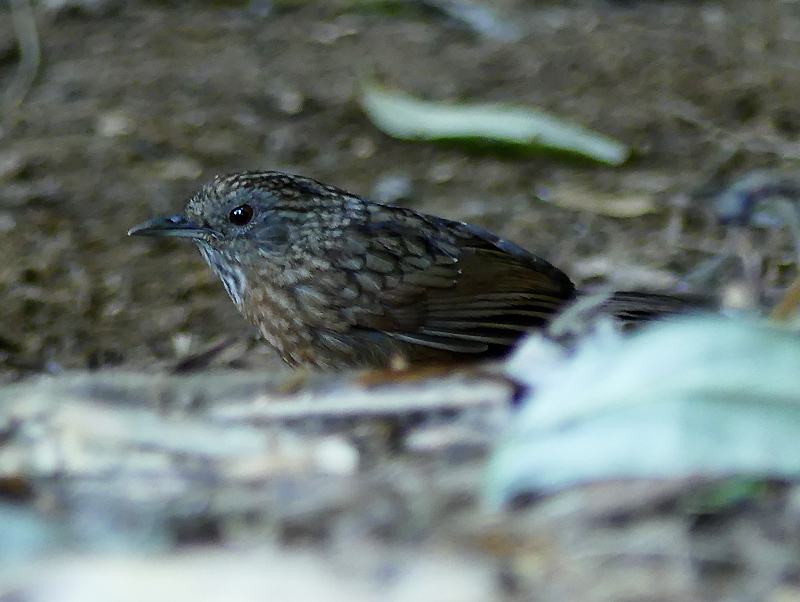 Streaked Wren Babbler
Birding at the army camp/campsite in the morning was not quite as productive as it normally is but there was still plenty to see with Giant Nuthatch, Striated Bulbul, Short-billed Minivet, Scarlet-faced Liocichla, Spectacled Barwing, Grey-backed Shrike and Chestnut-vented Nuthatch all before 9am.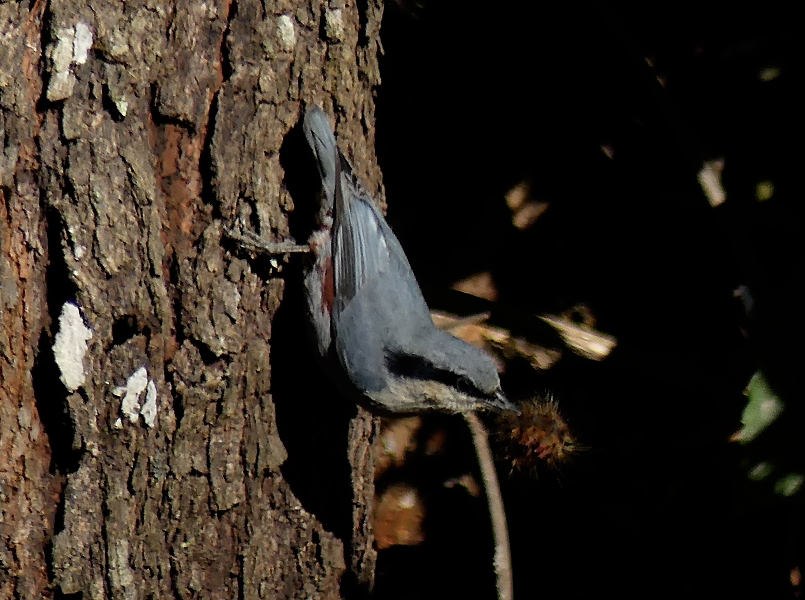 Chestnut-vented Nuthatch
Other nice birds at Doi Ang Kang included Eyebrowed, Grey-sided and Black-breasted Thrushes at Ban Luang Resort along with a host of other species at the feeding station there; Chestnut-bellied Rockthrush, White-capped Redstart, Brown-breasted Bulbul, Grey Bushchat and Red-Whiskered Bulbul. A stop at Ban Nor Lae produced the expected Daurian Redstart and Yellow-streaked Warbler.
Doi Lang
Spending time on both flanks of Doi Lang resulted in a collection of sightings that can only be described as superb. With the feeding stations there we enjoyed spectacularly close views of many species including Siberian Rubythroat, White-gorgetted Flycatcher, Large Niltava, White-tailed Robin, White-bellied Redstart, Scarlet-faced Liocichla, Rufous-gorgetted Flycatcher and many more.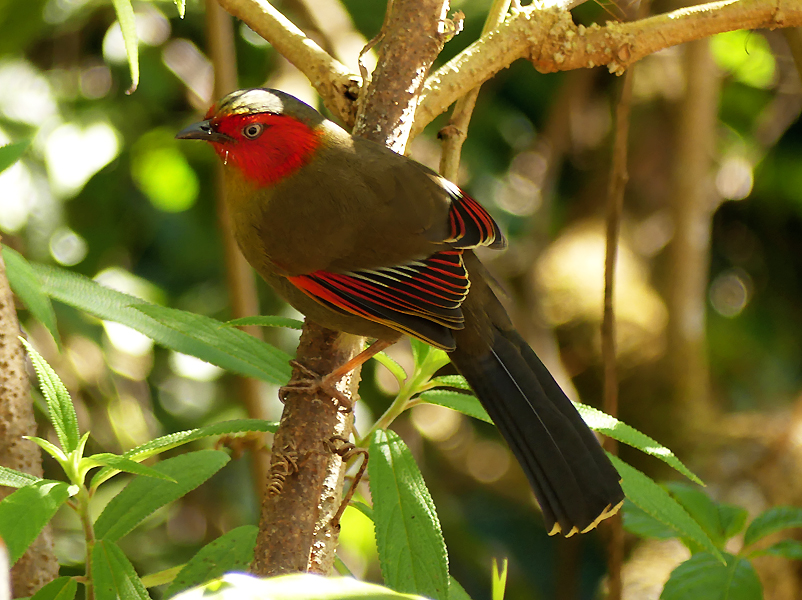 Scarlet-faced Liocichla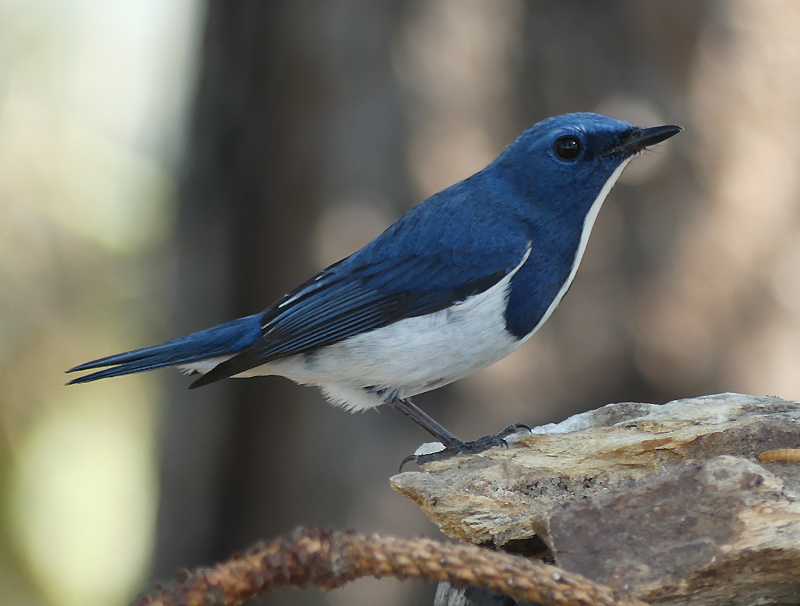 Ultramarine Flycatcher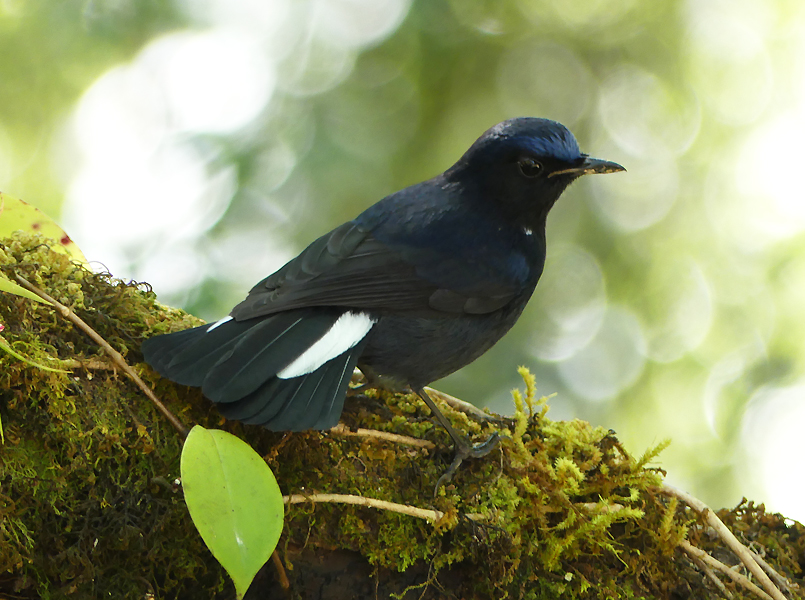 White-tailed Robin
Birding at Doi Lang was not just about the stakeouts, although perhaps the most anticipated was that for Mrs Hume's Pheasant. Lots of people waiting for this star bird but a little polite co-ordination with the Thai photographers and everything was fine. One of our party was even allowed to use the blind of one of the photographers.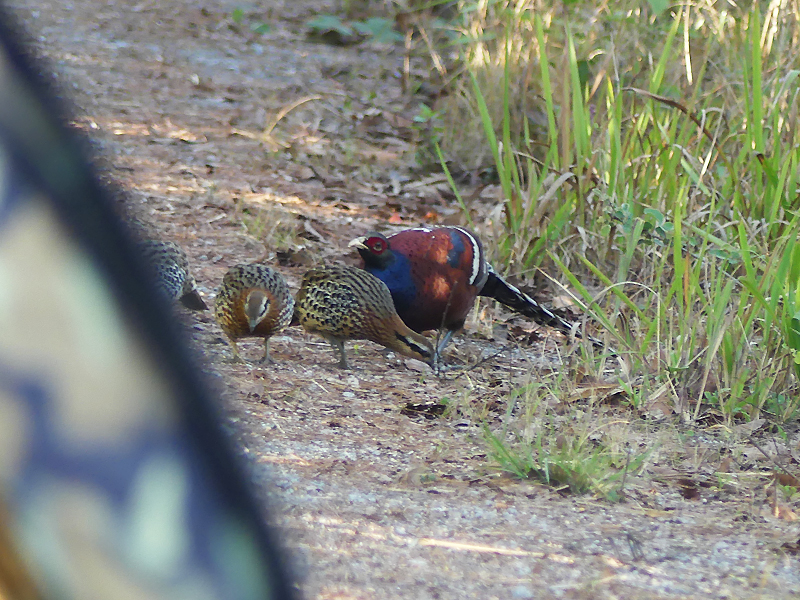 Mrs Hume's Pheasant, Mountain Bamboo Partridge & Photographer's Blind
Of course we spent plenty of time looking for birds the "old fashioned" way and although there were some quiet spells, persistence paid of with sightings of some great species including Long-tailed Sibia, Silver-eared Mesia, Whiskered Yuhina, Spot-breasted Parrotbill, Bay Woodpecker, Black-eared Shrike-babbler, Giant Nuthatch and a whole host of warblers including Chinese Leaf Warbler, Aberrant Bush Warbler, Grey-crowned Warbler and Claudia's Leaf Warbler. Black-throated Bushtit nest-building was a real treat!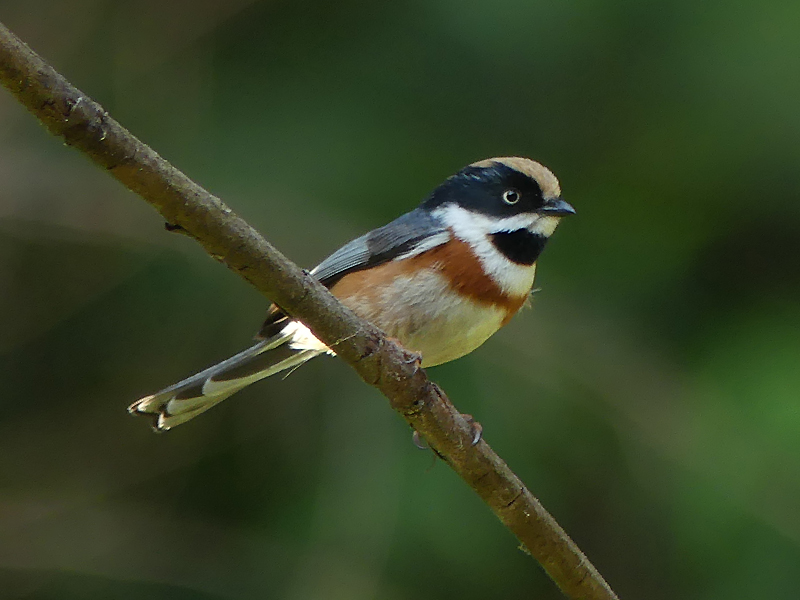 Black-throated Bushtit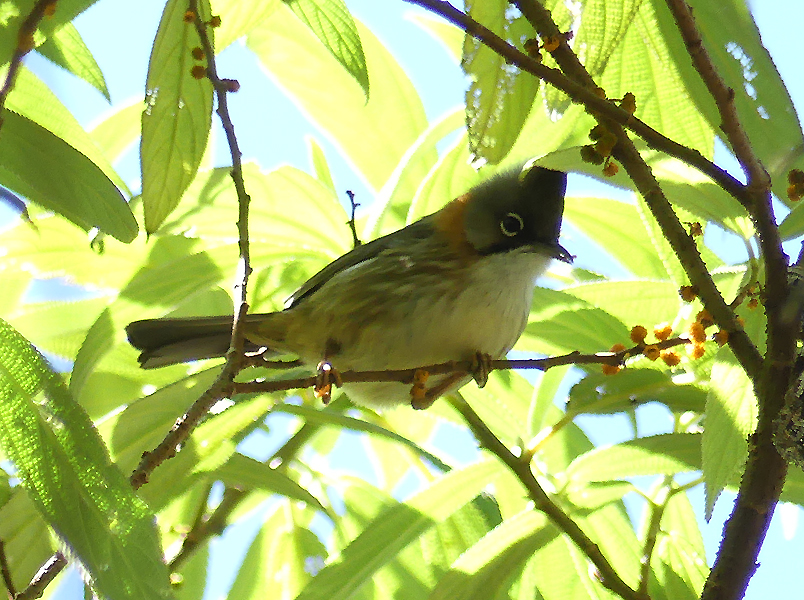 Whiskered Yuhina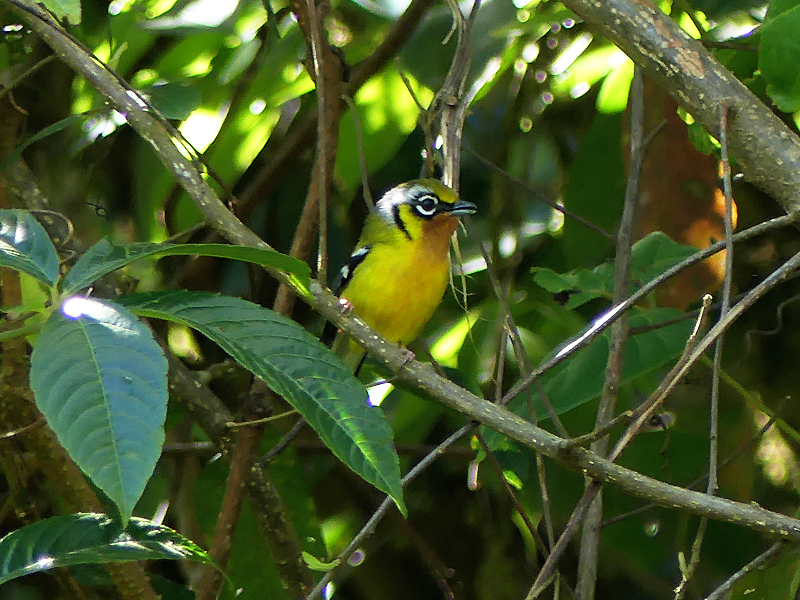 Black-eared Shrike-babbler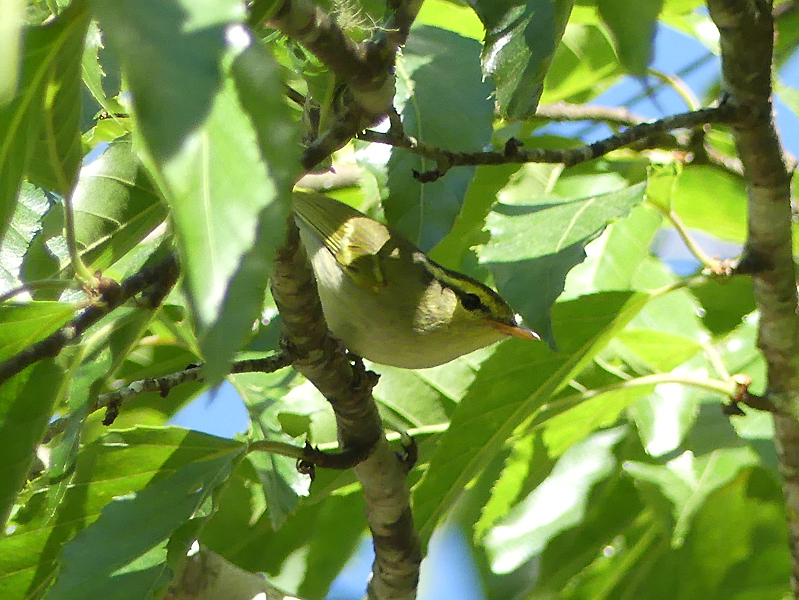 Claudia's Leaf Warbler
The time we spent at Doi Lang was very enjoyable in terms of birding and photography with everyone appreciating the fact that we were able to see so many species extremely well. Spending a little longer at this location than we usually do was justified with many great birds.
Chiang Saen
Visiting Chiang Saen as a day trip from our base in Thatorn is a long day of birding but it was completely justified by a couple of very rare Thai birds as well as an incredible spectacle of more than 250 Harriers coming to roost at the end of the day. On the lake there was one of the largest concentrations of migratory ducks I have ever seen with large numbers of Northern Pintail and good numbers of Garganey and Ferrugnious Duck too. However, it was the male Baikal Teal, found from the lakeside, that was the highlight with only a handful of records of this beautiful bird from Thailand.
Although the Mekong is now an environmental wasteland, our day in this area gave us a bird list that included Pied Harrier, Western Marsh Harrier, Brown-cheeked Rail, Pallas's Grasshopper Warbler, Baikal Bush Warbler, Small Pratincole, Striated Grassbird and many commoner species.
Thatorn
We made a couple of visits to areas of agricultural land around the village of Thatorn and although intensification of farming continues here we still found some good birds.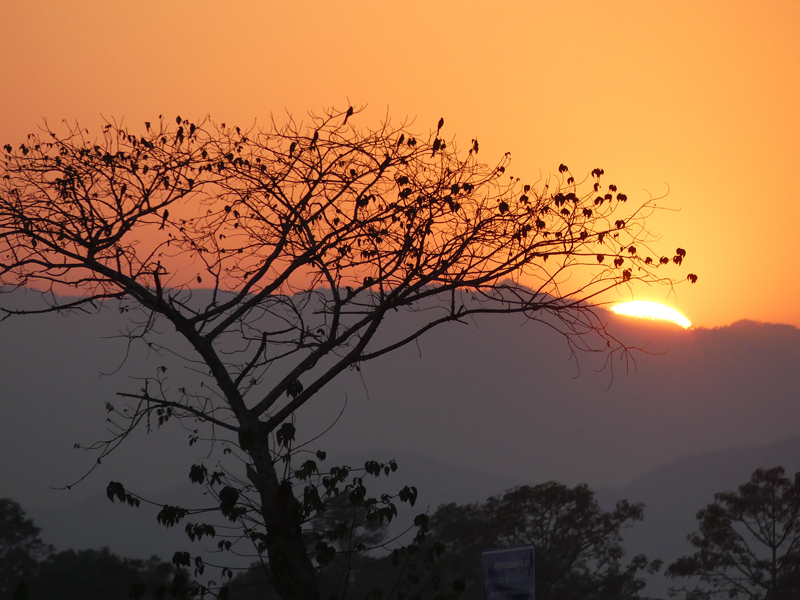 Black Drongos gathering to roost
The highlights here were around 50-60 Yellow-breasted Buntings that came in to roost in some reeds although the female Jerdon's Bushchat was pretty good too and everyone obtained really good views of Lanceolated Warbler. Red-throated Pipit, Citrine Wagtail, Chestnut-capped Babbler, Yellow-eyed Babbler, Bluethroat, Horsfield's Bushlark, Grey-headed Lapwing, Pied Harrier all reveal the potential of birding this area even though it can be difficult to find the right patches of habitat and birds.
Overall, our time in Northern Thailand was a great success with some of the most enjoyable and productive birding that Southeast Asia can offer. Coupled with comfortable accommodation and good food this part of the tour alone provides an excellent trip that was enjoyed by participants and leaders alike.