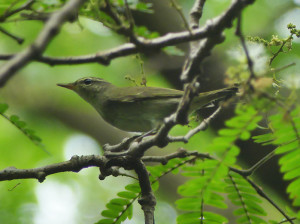 I the morning of 11th October birding in Sri Nakorn Kuen Khan Park and although the weather was mostly gloomy with some heavy showers I saw exactly 50 species between 7 and 11,30am. I saw some of the regular, resident species which always amaze me that they occur this close to central Bangkok including Stork-billed Kingfisher, a female Laced Woodpecker, Lineated Barbet, Vinous-breasted Starling, Green-billed Malkoha, Greater Racket-tailed Drongo and, of course, plenty of Pink-necked Green Pigeons.  My main aim, though, was to look for migrant species and although there was not an abundance of birds passing through I did find a total of 13 migratory species including four species of Phylloscopus; Arctic Warbler, Eastern Crowned Warbler, Sakhalin Leaf Warbler and a single Kamchatka Leaf Warbler which I located and identified on call.
Vinous-breasted Starling
Kamchatka Leaf Warbler by Nick Upton
You can see my day list for the park here – Sri Nakorn Kuen Khan Park, Wednesday 11th October.
When I left the house I nearly turned straight back when I saw the huge clouds building over Bangkok but as I had not been out in a while I grabbed an umbrella and jumped in a taxi to Sri Nakorn Kuen Khan Park. With the heavy clouds there was not much action to start with but a female Laced Woodpecker was a nice sighting. As is often the case when I visit the park during migration there were very few migrant species early on but I find that if I wait things usually liven up by around 8-9am and this is exactly what happened today. A few showers were over by 8.30am and then I started to see migrant birds with 2 Common Kingfishers and a Black-capped Kingfisher on the ponds; a couple of leucogenis Ashy Drongos were next followed by a solitary Barn Swallow. One of the commonest passerine migrants to visit this park is Asian Brown Flycatcher and I saw a couple of these before a flash of colour alerted me to an Amur Paradise-flycatcher which perched out nicely for some photos.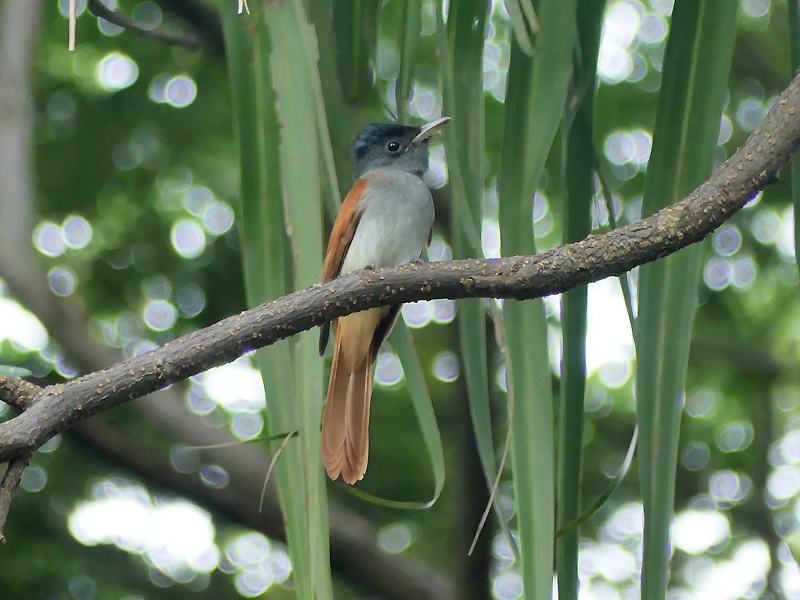 Amur Paradise-flycatcher
However, while I was photographing this bird my attention was then drawn to a small group of birds that comprised around half a dozen or so Phylloscopus warblers. A couple of Eastern Crowned Warblers were easy to pick out due to their bright yellow undertail coverts and bold crown stripe but several Arctic-type warblers were not very helpful in that they were hard to observe properly and were silent.
Eastern Crowned Warbler
After some time trying to get decent views two of the birds began to call to each other revealing their identity as Arctic Warblers and I assumed that the others were too. In fact a rain shower forced me to take shelter close by. While waiting out the light shower I heard a bird that I recognized as Sakhalin Leaf Warbler. This species can be picked out from the extremely similar Pale-legged Leaf Warbler with practice but I wanted to be sure so I thought I would try and get a reaction by playing the bird's song. Well, I not only got a reaction as it came right up to me but it actually sang back at me for a period of 5-10 seconds, at least two times, surprising given the time of year. While watching this bird it was suddenly chased away by another, slightly larger, Leaf Warbler which uttered a sharp "click" call that I instantly recognized as Kamchatka Leaf Warbler. Wow! Both of these species are still not well-known in Thailand and I had only ever seen Kamchatka Leaf Warbler (knowingly) once, in China in May 2017. Luckily for me I managed to refind this bird and get a few photographs; you can read more about this discovery along with some links to interesting articles about Kamchatka Leaf Warbler here – Autumn Kamchatka Leaf Warbler in the Bangkok Area.
Eventually these birds drifted away but as I walked around the park I heard several more Sakhalin Leaf Warblers and saw at least 3 more but interestingly I neither heard nor saw any Pale-legged Leaf Warblers. A circling Chinese Sparrowhawk took advantage of a break in the rain and a mouhoti Ashy Drongo was perched out on an exposed branch. Lots of the resident species sat out to dry themselves when the sun briefly came out including large numbers of Indian Rollers and Eastern Jungle Crows.

Eastern Jungle Crow
A couple of Blue-tailed Bee-eaters also emerged in the sunny spell and I added two Chinese Pond Herons, still in partial breeding plumage, to the list of migrant species but the sunshine was short-lived and I had to shelter again as the heavens opened; this Black-crowned Night Heron was also sheltering from the rain close to me.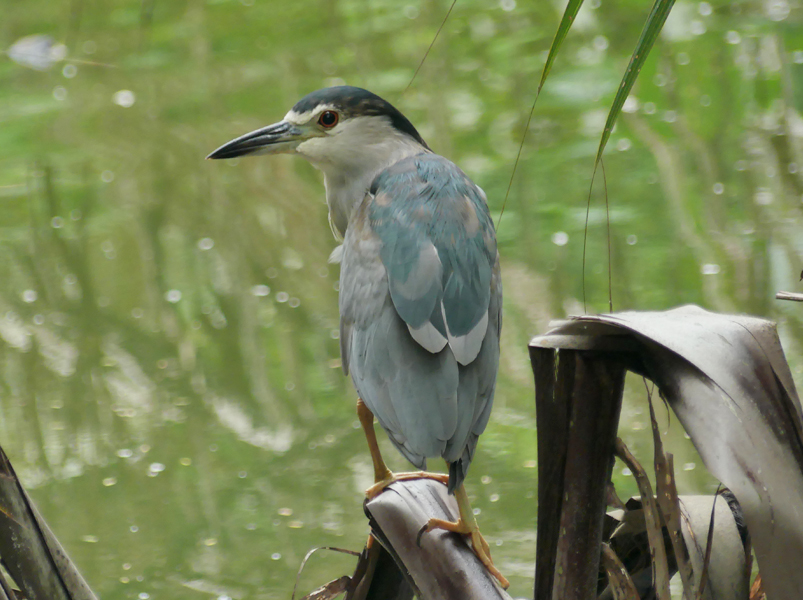 Black-crowned Night Heron
With the wet weather and parts of the park a little flooded Asian Water Monitor Lizards were out in force with a few being the largest individuals I have ever seen. A year or so ago I read that many of the largest Water Monitors were being removed from Lumphini Park in the city centre, maybe they ended up at Sri Nakorn Kuen Khan because there were more here than I ever remember.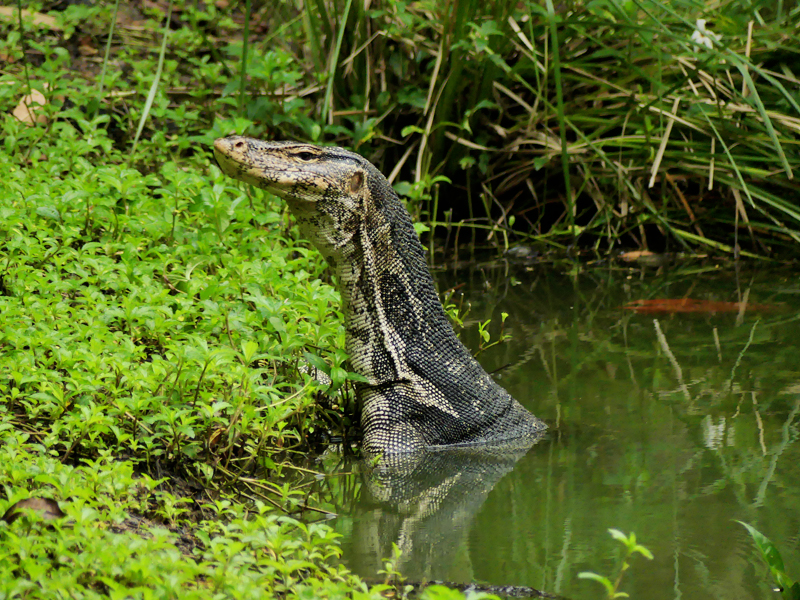 Asian Water Monitor
Although the number of migrant bird species had not been high, having found and identified two very cryptic and still poorly understood species in Kamchatka Leaf Warbler and Sakhalin Leaf Warbler it was a successful outing. Other birders who go out looking for migrant birds in autumn and spring should remember to remain persistent particularly if in the early morning there are few birds to be found.