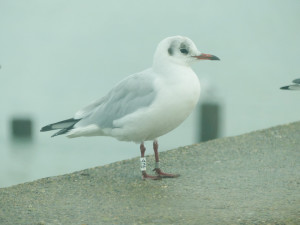 Once again I made a visit to Leysdown, on the Isle of Sheppey, to photograph gulls and shorebirds having enjoyed seeing a juvenile Pallid Harrier at nearby Harty Marshes. In order to get gulls to come really close I bought a portion of chips at a nearby fish 'n' chips shop and parked the car at the seafront. I then chucked the chips out of the car window, one by one, and large numbers of gulls quickly turned up to eat them. I noticed that one of the marauding crowd had a colour leg ring and knowing that the ringers who originally ringed this bird would value a report of one of "their" birds I took some photos of it through the car windscreen.
In previous posts I have mentioned using the
European Colour-ring Birding website
 to find out who to report a colour-ringed bird to and this time it seems that this bird, 3HP, was ringed as part of a program in Denmark.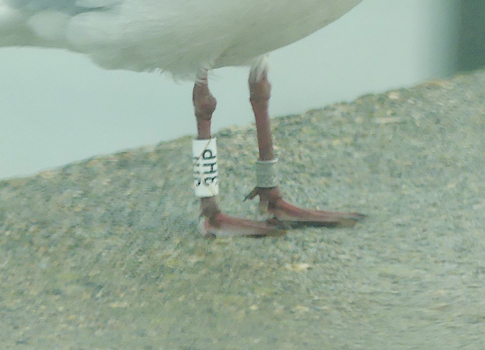 As can be seen there is also a metal ring on the bird's left leg, but I am unable to read the number on that. Once again I would encourage birders to photograph and report birds with colour rings where possible – you may find that you are contributing to some valuable ornithological knowledge.
I have now received information from Kjeld Tommy Pedersen about the ringing and recovery history of this bird.