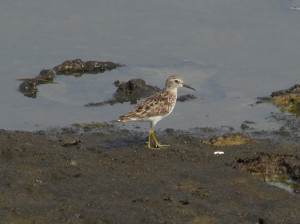 The dreary weather in Thailand continues and we had to deal with drizzle, mist and low cloud today at Pak Thale and Laem Pak Bia where one would normally expect blue skies and intense sun. Trying to spot shorebirds in these poor viewing conditions was not easy but at least we did not have to deal with heat haze! However, we did not let this stop us from finding 3 Spoon-billed Sandpipers at Pak Thale within 10 seconds of beginning our search! 
We were able to watch these critically endangered birds for about 30 minutes before they moved on to another area to feed. Also at Pak Thale were 2 Far Eastern Curlew with the Eurasian Curlew flock (identifying them in flight is really the only way), 1 juvenile Black-tailed Gull, 1 Dunlin, 3 Red Knot with a large group of Great Knot, 3 Pied Avocets and a Mangrove Whistler in nearby mangrove trees.
Long-toed Stint
Moving on to Laem Pak Bia we managed to beat the mist and find a total of 39 Nordmann's Greenshank hanging out with Grey Plovers and Great Knots. A flock of 43 Pied Avocets was an unusually high number and more than 50 Asian Dowitchers were seen in the same pool that they have been in for more than a month.
Our afternoon boat trip to Laem Pak Bia sand spit was pleasant and quite successful with a first winter Heuglin's Gull, 1 Lesser Crested Tern, 8 Great Crested Terns, 5 Malaysian Plovers, a male and female White-faced Plovers (alone, not together), 2 Chinese Egrets, 3 Pacific Reef Egrets keeping everyone happy.
Unfortunately, bad weather meant that we had a less than satisfying ending with no sign of any Indian Nightjars where they are usually common.