From 27th to 29th January I spent time at Khao Yai national park with a group of birders from UK. Fresh from a very successful northern leg of our trip expectations were high for some great birds at Khao Yai. When we arrived to absolutely awful weather conditions with unseasonal persistent rain and very poor visibility things did not look very promising. However, with patience and good planning we managed to find a lot of highly sought-after birds. 
The very obliging White-throated Rock Thrush and Mugimaki Flycatcher at the Boonson Lekagul camp entry road were a very good start to our first day, but there was no sign of any Orange-headed Thrushes at Pa Gluai Mai campsite. Presumably the wet weather means that the thrush no longer needs to hang around the damp spot behind the toilets.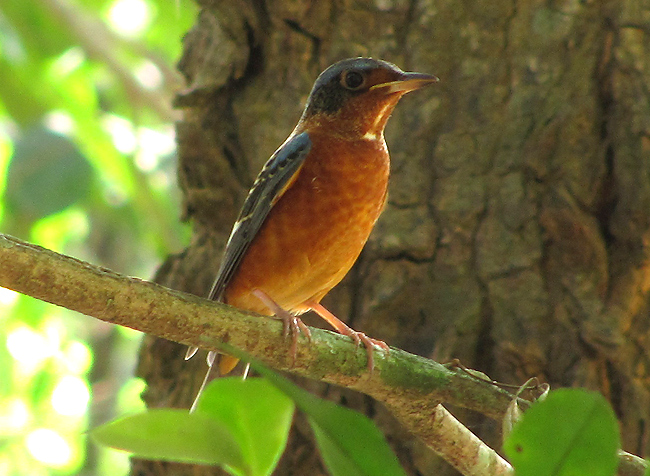 White-throated Rock Thrush
Over the rest of our time in the forest our highlights were a hard-earned male Blue Pitta, which was all the better for the long period of anticipation in seeing the bird, Red-headed Trogon, Collared Owlet, Van Hasselt's Sunbird, female Banded Kingfisher, Dusky Broadbill, Long-tailed Broadbill, Banded Broadbill, Great Hornbill, male Silver Pheasant, several Siamese Fireback Pheasants, Black-and-buff Woodpecker and Heart-spotted Woodpecker.
In addition to our bird sightings we had several elephant sightings including one while we were on foot and a stampeding herd of 13 elephants crossing the road in front of our vehicle; three Pileated Gibbons were also a welcome sighting.