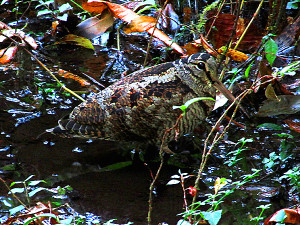 The summit of Thailand's highest mountain, Doi Inthanon, is always a lovely place, with its mossy, fern-covered trees and fantastic, colorful birds. On 24th and 25th January I made a couple of visits to the summit where it was really quite cold in the early morning and late afternoon.  What this meant was that as soon as the sun reached the forest, bird activity was quite high and over the course of two visits a lot of nice birds were seen including some scarce migrants.
On both visits the regular species were seen quite easily; Rufous-winged Fulvetta, Bar-throated (Chestnut-tailed) Minla, Silver-eared (Chestnut-crowned) Laughingthrush, Yellow-cheeked Tit, Dark-backed Sibia, Flavescent Bulbul, Ashy-throated Warbler, Yellow-browed Tit, Mrs Gould's Sunbird and Green-tailed Sunbird. However, over the course of the two visits, quite a few less common and harder to find species were also seen, including this very confiding Eurasian Woodcock.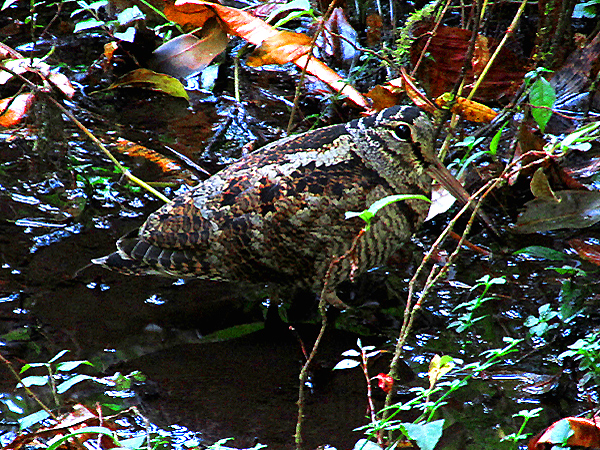 Eurasian Woodcock
A flock of about 20 Common Rosefinches were seen at the car park in the early morning, including some beautiful males, but I was most excited about a male Brambling that we saw on the boardwalk as it was a bird that I had not previously seen in Thailand.
Other highlights on our two visits were 2 Dark-sided Thrushes foraging amongst the leaf litter, 2 male White-browed Shortwings, 2 Ashy-headed Woodpigeons to add to the Speckled Woodpigeons we saw on the way up, superb views of a singing Pygmy Wren Babbler, 2 Rufous-throated Partridges that we called in behind the toilets, a Northern White-crowned Forktail, a male Snowy-browed Flycatcher and a male Yellow-bellied Flowerpecker.
All in all, a very successful two trips to the summit of Doi Inthanon.