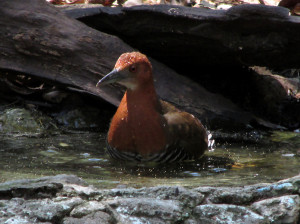 Slaty-legged Crake is a bird that is seldom seen in Thailand and its status and movements in the country are poorly known. However, this species has made a number of appearances at the Lung Sin's waterhole near Kaeng Krachan national park and I was lucky enough to witness this bird's performance there a few days ago on 16th December.
For those that have not visited this location, Lung Sin's waterhole is a man-made bird bath and feeding station set in some dry forest outside of Kaeng Krachan national park and is maintained by locals for the benefit of bird watchers, photographers and the birds themselves. It is a great place for seeing birds at close quarters.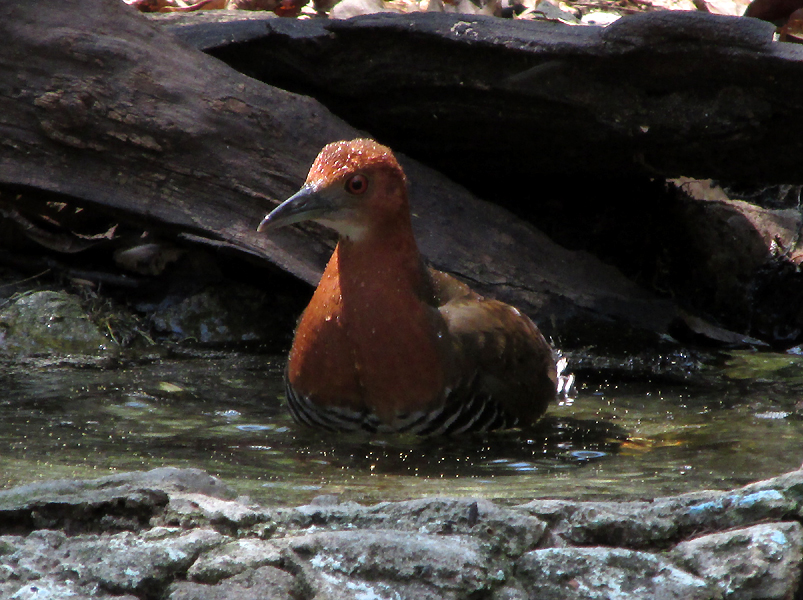 After watching many species bathing and drinking at the waterhole the Slaty-legged Crake came in and took a lengthy bath, splashing around and giving itself a good clean allowing us to get excellent views.
Other species we saw at the waterhole included Asian Paradise Flycatcher, Siberian Blue Robin, Large Scimitar-babbler, Tickell's Blue Flycatcher, Orange-headed Thrush, Lesser Necklaced Laughingthrush and Greater Necklaced Laughingthrush.
If you want to visit the waterhole yourself there is a 200 baht per person fee and the hide can be booked through Ban Maka guesthouse or Samarn Bird Camp.