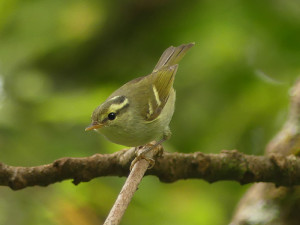 After a 15 day trip with just two of us armed with cameras I now have an enormous amount of photos to wade through. I recently finished a 15 day trip with Nick Robinson who has set himself a quest to photograph all of the world's Leaf Warblers, a tricky task given not only the difficulty in actually identifying many species but their high activity levels make them hard photographic subjects. We managed to photograph 17 species of Leaf Warbler on our trip but along the way we also enjoyed seeing and photographing a wide range of species and in particular, the northern leg of our trip provided us with a lot of good birds and great photos. The following are a selection of bird photos from the northern section of our trip.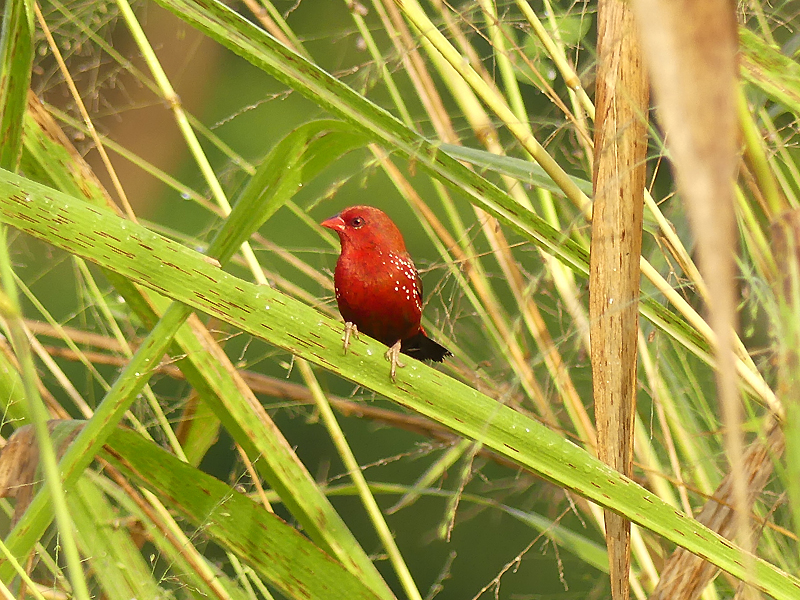 Male Red Avadavat
Leaving Chiang Mai in the early morning we spent a few hours at Huay Tueng Tao just outside of the city. One of the first birds we saw and the very first bird that we photographed was this stunning male Red Avadavat. This can be a tricky bird to get close to so it was a nice start. We also managed to photograph our first Leaf Warblers here too; Greenish Warbler & Yellow-browed Warbler. Some other nice birds at this site included 3 Black Bazas, 8+ Indochinese Bushlarks and a nice Siberian Rubythroat.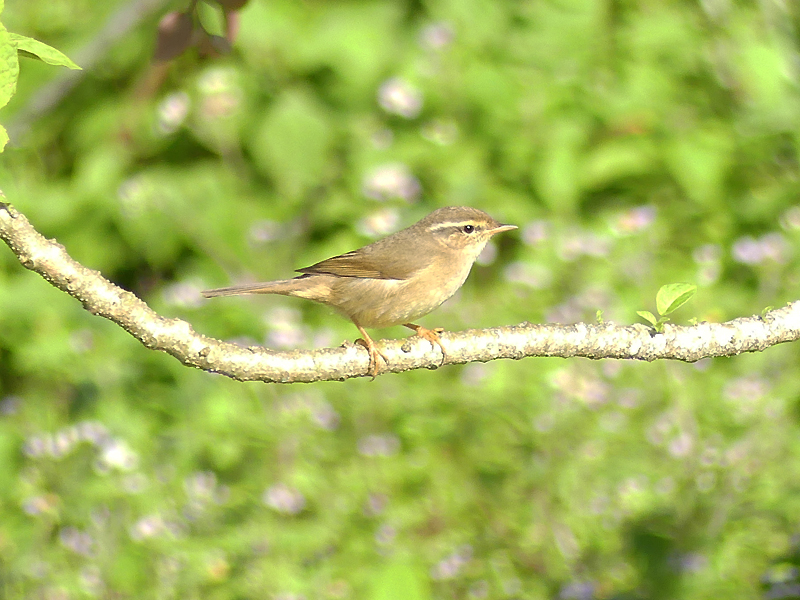 Yellow-streaked Warbler
Our next destination was Doi Ang Kang where we went to the Ban Nor Lae army camp to look for Yellow-streaked Warbler and Buff-throated Warbler. The Yellow-streaked performed well for us, after some waiting two birds came out into the open but Buff-throated frustratingly called from the other side of the border with Myanmar but did not show itself.
Olive-backed Pipit
A couple of Olive-backed Pipits showed at close range too and we got our first shots of Hume's Leaf Warbler although better ones were definitely required and we managed to get far better at another spot on the mountain shortly after.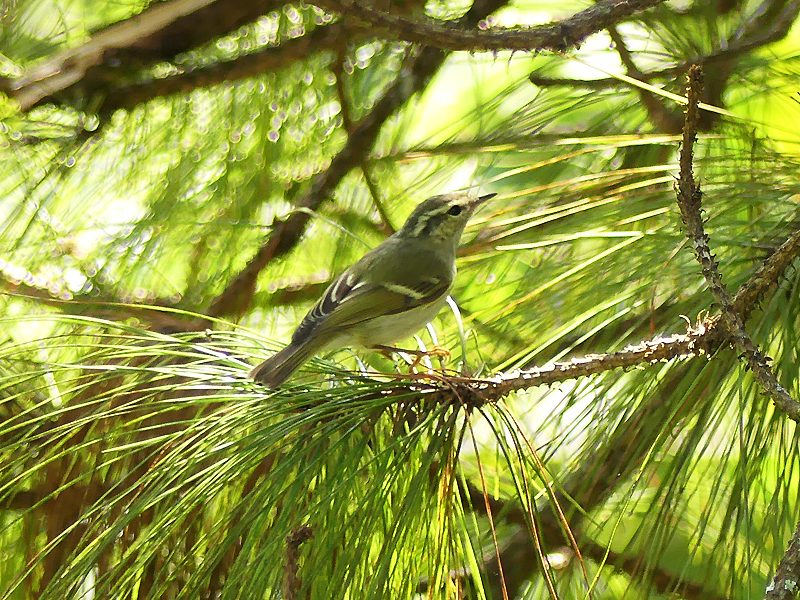 Hume's Leaf Warbler (mandelli)
Despite large crowds of people we also managed to see Short-billed Minivet, White-browed Laughingthrush, Mrs Gould's Sunbird and this Golden-throated Barbet feeding on colourful flowers.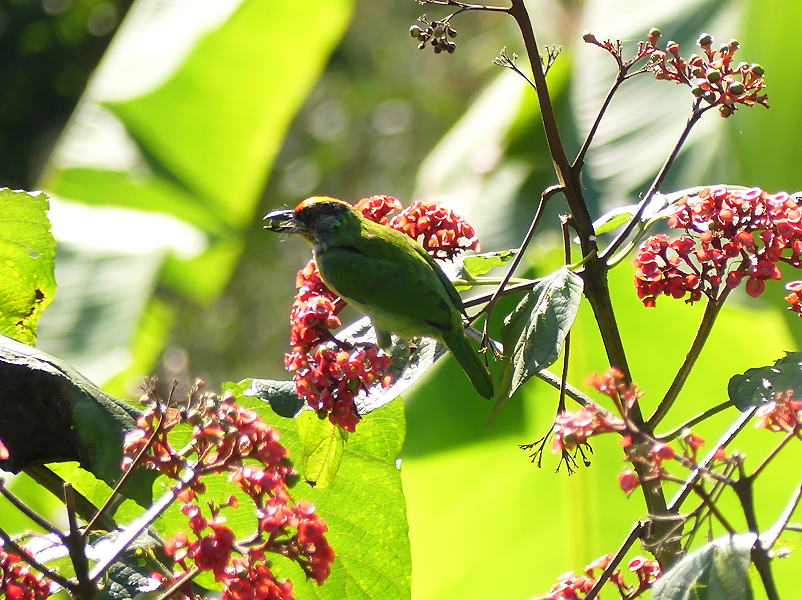 Golden-throated Barbet
We made one more stop on Doi Ang Kang before leaving due to high visitor numbers. Driving through the King's Agricultural Project was amusing to see lots of people dressed in their best clothes having their photos taken among the flowers but at the back of the bamboo farm there were just two other photographers taking shots of Hill Blue Flycatcher, a female Rufous-bellied Niltava, male White-tailed Robin and this nice male Black-breasted Thrush.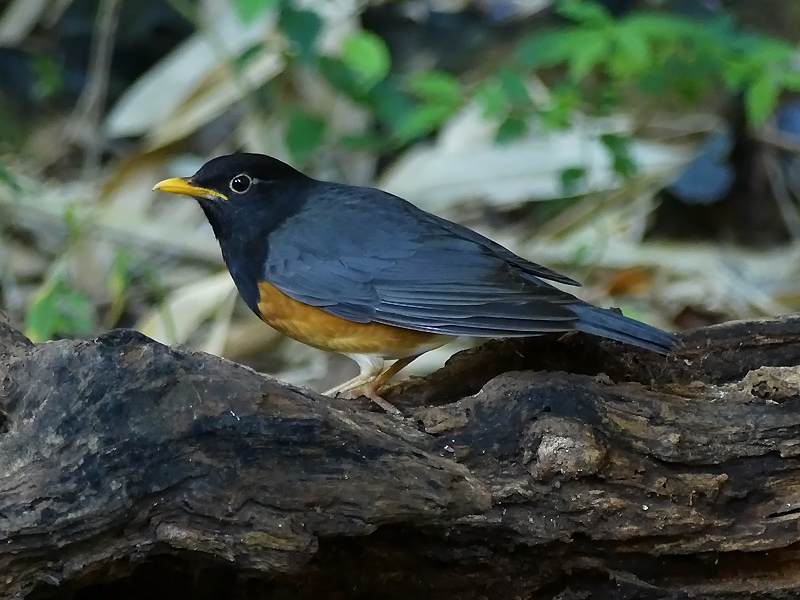 Black-breasted Thrush
Our next day saw us on Doi Lang, going up the rather rough road from Thatorn. We had a good morning, seeing some great birds including 1 Little Bunting, Scarlet-faced Liocichla, Spectacled Barwing, Chestnut-headed Tesia, Bianchi's Warbler, Red-billed Scimtar Babbler, Lesser Rufous-headed Parrotbill, Collared Babbler, Himalayan Bluetail and two of our Leaf Warbler targets; Buff-barred Warbler and Davison's Leaf Warbler.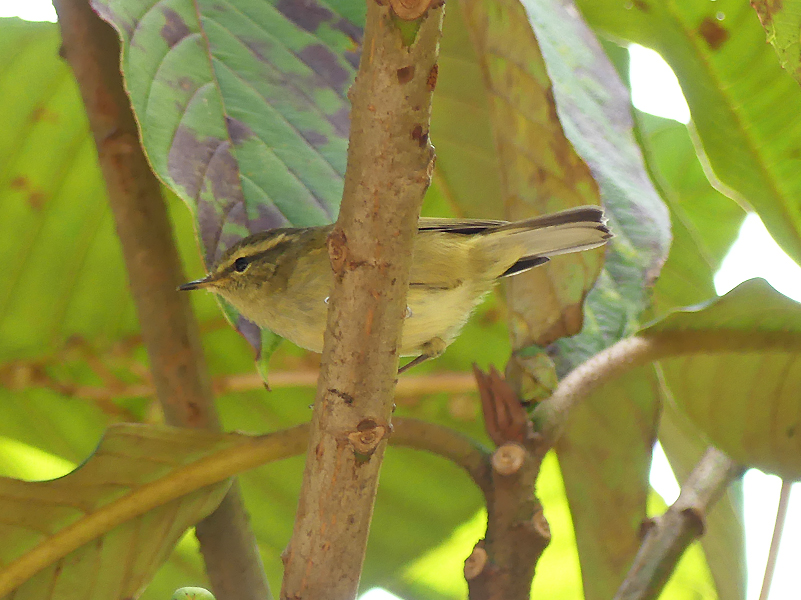 Buff-barred Warbler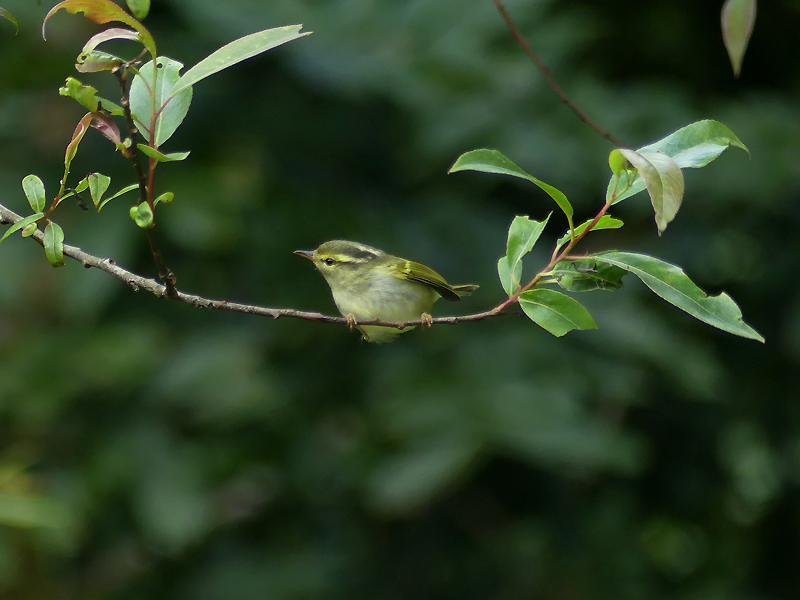 Davison's Leaf Warbler
There are some great photo opportunities at this location and it was impossible to ignore Spectacled Barwing and Dark-backed Sibia even though I have many images of them.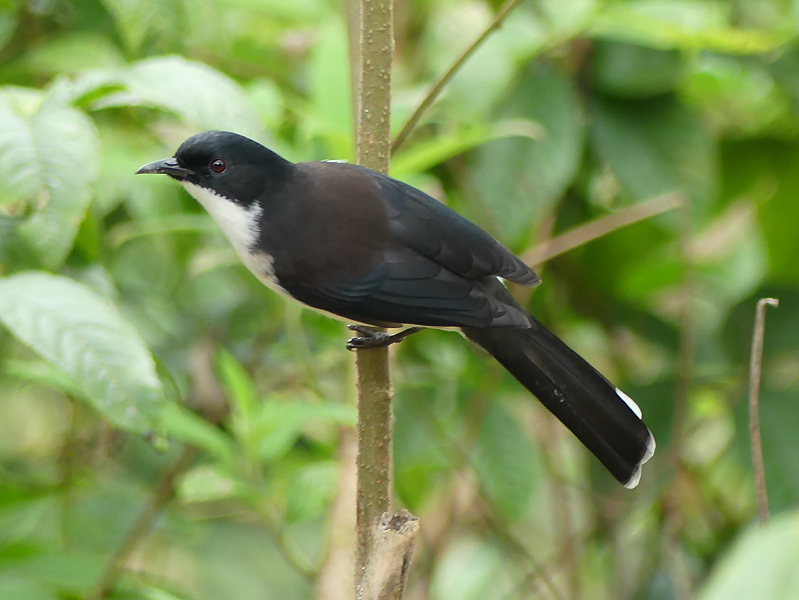 Dark-backed Sibia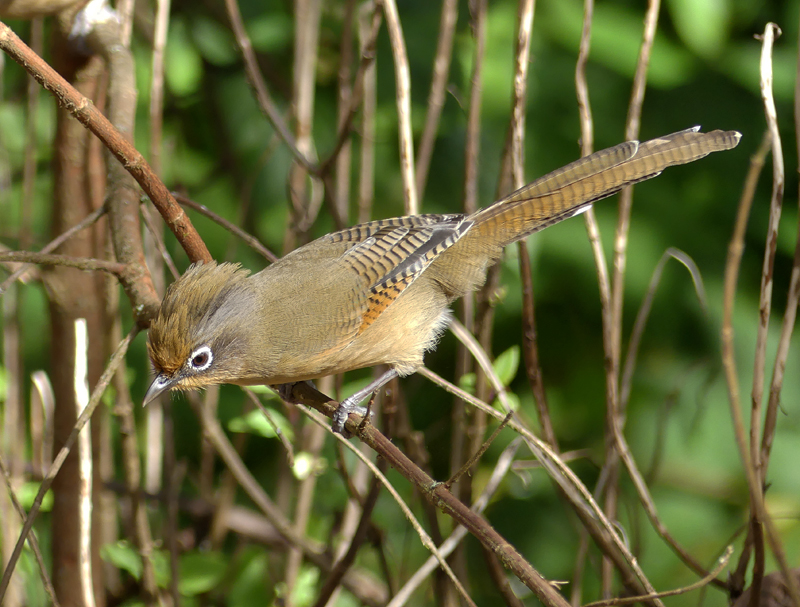 Spectacled Barwing
We finished our day in Thatorn rice fields where we saw some really good birds including a few Thai rarities; Japanese Quail, Black-headed Bunting and Amur Falcon. We saw our first male Pied Harrier, Eastern Marsh Harrier, Citrine Wagtail, Horfield's Bushlark, Yellow-breasted Bunting and well over 1000 White Wagtails heading into their roost.
Our third day was really excellent, on the West side of Doi Lang we started with spectacular views of Mrs Hume's Pheasant feeding on the road.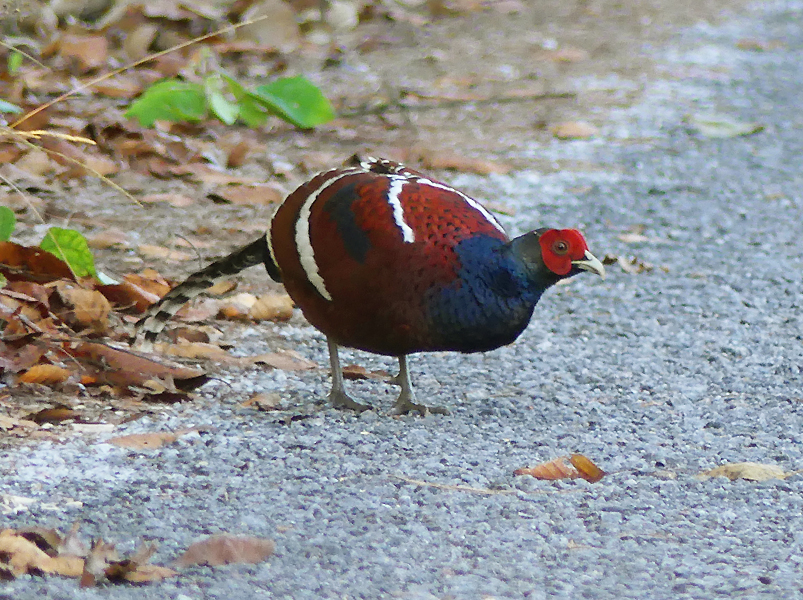 Mrs Hume's Pheasant
The species that we saw in one day here could take many years to see under normal circumstances in Thailand – Grey-headed Parrotbill, Mountain Bamboo Partridge, Siberian Rubythroat, Slaty-blue Flycatcher, oriental Hobby, Aberrant Bush Warbler, Sapphire Flycatcher, Black-throated Tit, Rufous-gorgetted Flycatcher, Spot-breasted Parrotbill and Giant Nuthatch. We also did quite well for our Leaf Warblers with Buff-throated Warbler showing exceptionally well.
Buff-throated Warbler
Chinese Leaf Warbler was another one of our sought after species that performed at length for us but it was hard to get a good photo due to the light conditions and its high level of activity. This Blyth's Leaf Warbler was more cooperative though.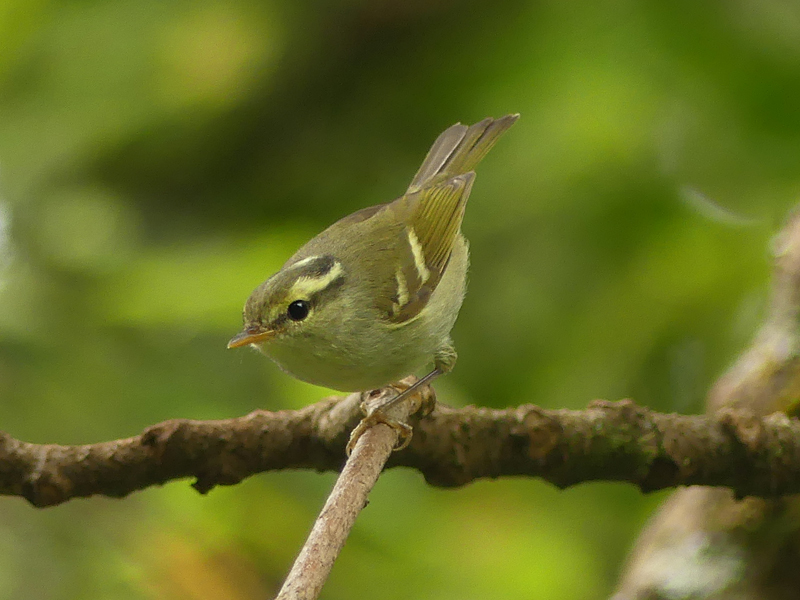 Blyth's Leaf Warbler
Although I have more photos than I know what to do with of Siberian Rubythroat it was impossible not to take more of an individual feeding on our mealworms.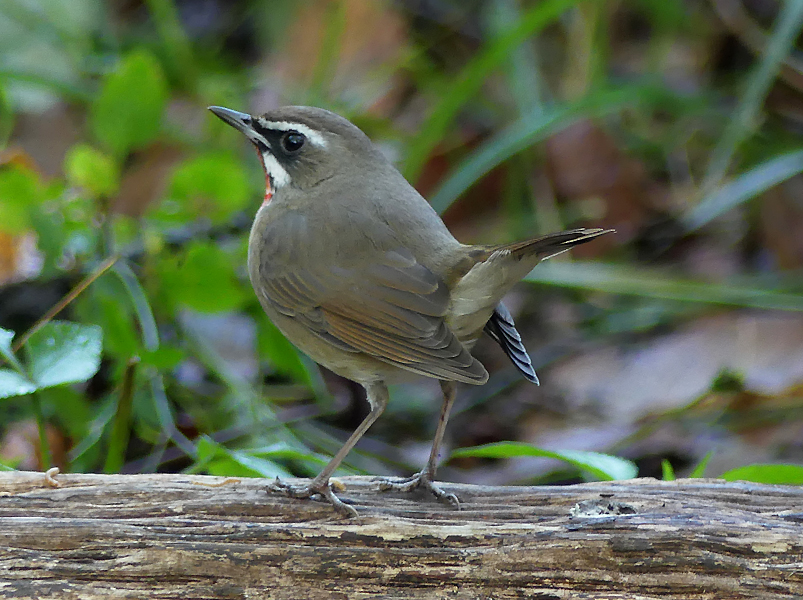 Siberian Rubythroat
One bird which always shows itself here is Spot-breasted Parrotbill and this was no exception with it just asking to be photographed. Grey-headed Parrotbills and Slaty-blue Flycatcher were quite showy too.
Spot-breasted Parrotbill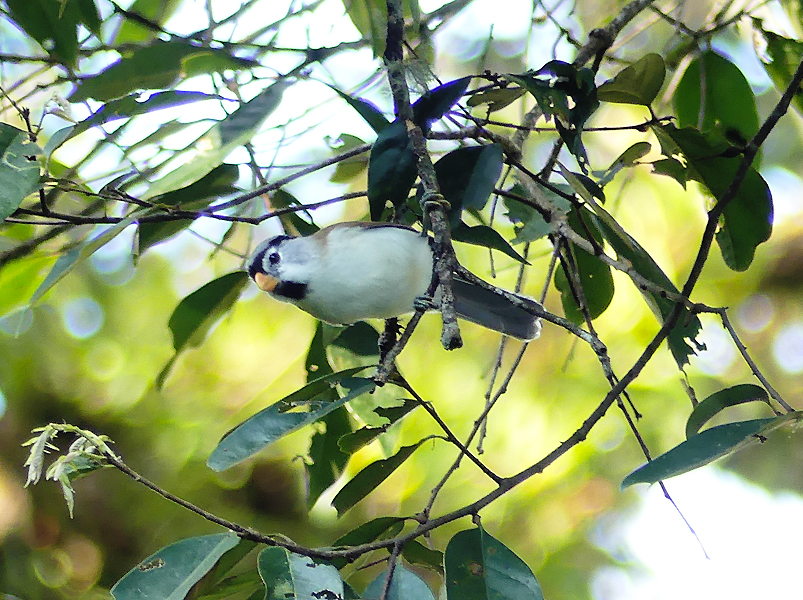 Grey-headed Parrotbill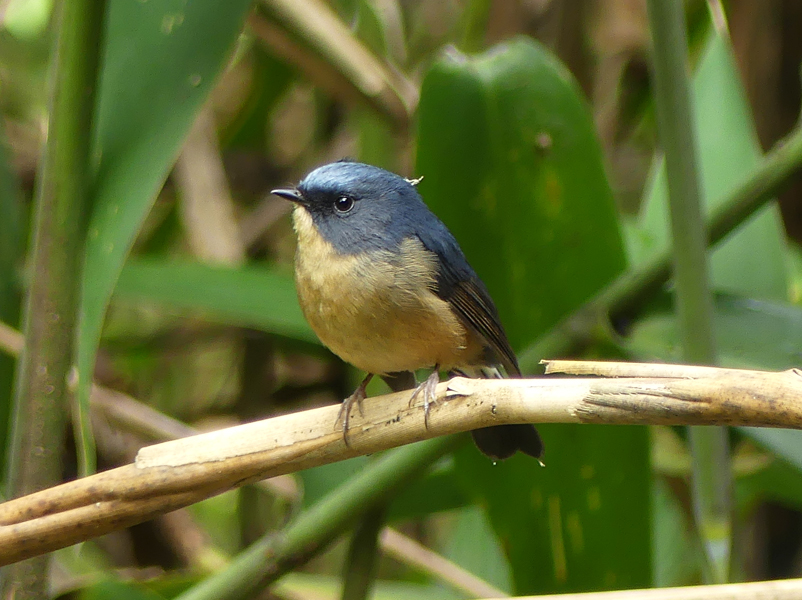 Slaty-blue Flycatcher
Our next day was not one for photography but at Chiang Saen we had some great sightings including 6 Red-billed Starlings, Baikal Bush Warbler, Blyth's Reed Warbler replying to its song, Baer's Pochard, Grey-headed Lapwing and a huge number of Pied & Eastern Marsh Harriers coming to roost along with a Thai rarity – Hen Harrier. Photographs of Dusky Warbler were pleasing too.
A morning at Fang Hot Springs produced the regular flock of Spot-winged Grosbeaks and a White-capped Water Redstart but a Spot-winged Starling in a group of Chestnut-tailed Starlings was a great find and this Amur Falcon was wonderful.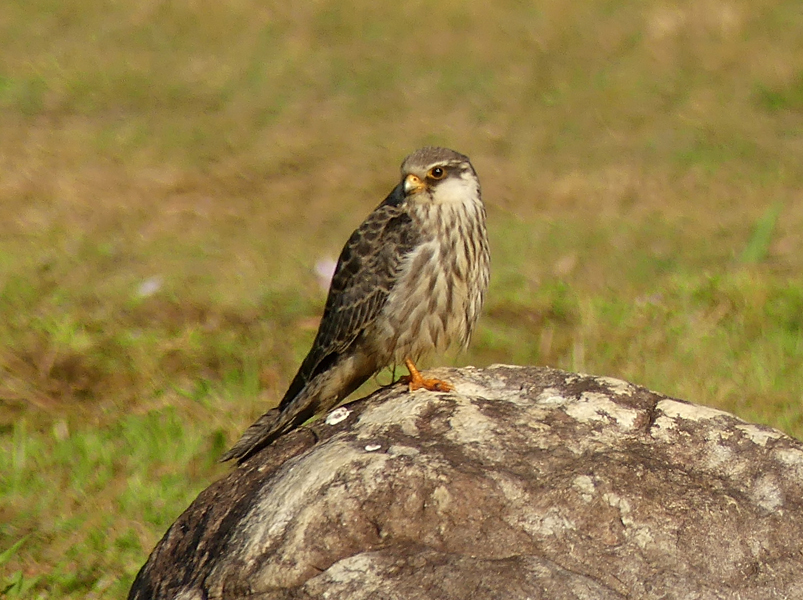 Juvenile Amur Falcon
Retracing our steps up Doi Lang for a few hours turned up most of the birds we had previously seen but improved views of Giant Nuthatch.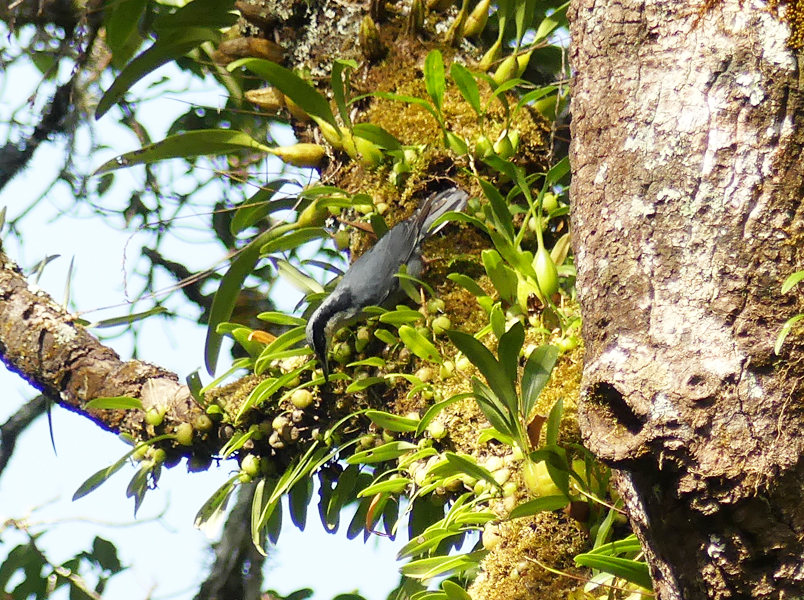 Giant Nuthatch
The next birding site was Doi Inthanon and the summit was always going to be a big hope for us for good shots of Leaf Warblers due to their abundance and low vegetation into which they frequently descend. Our sessions photographing the many colourful birds at the summit of Doi Inthanon were some of the most enjoyable moments of the trip for me and certainly produced some of the best photographs.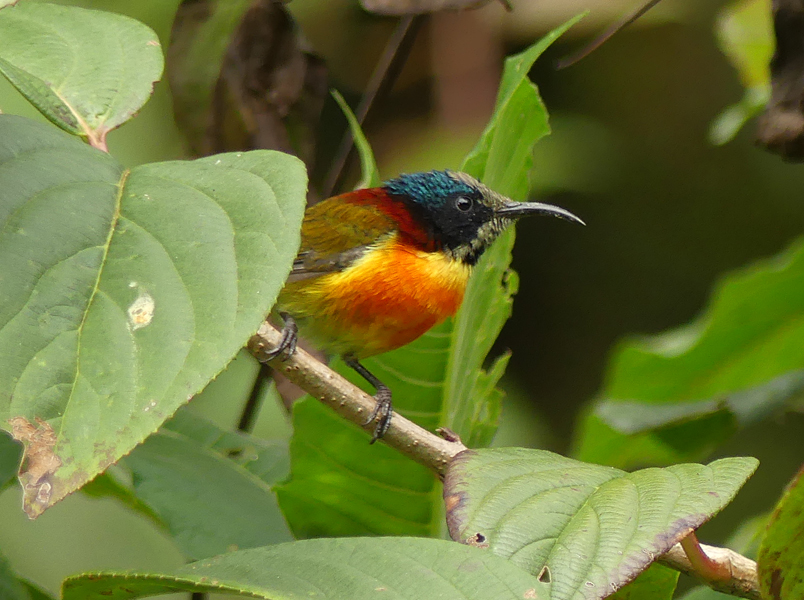 Green-tailed Sunbird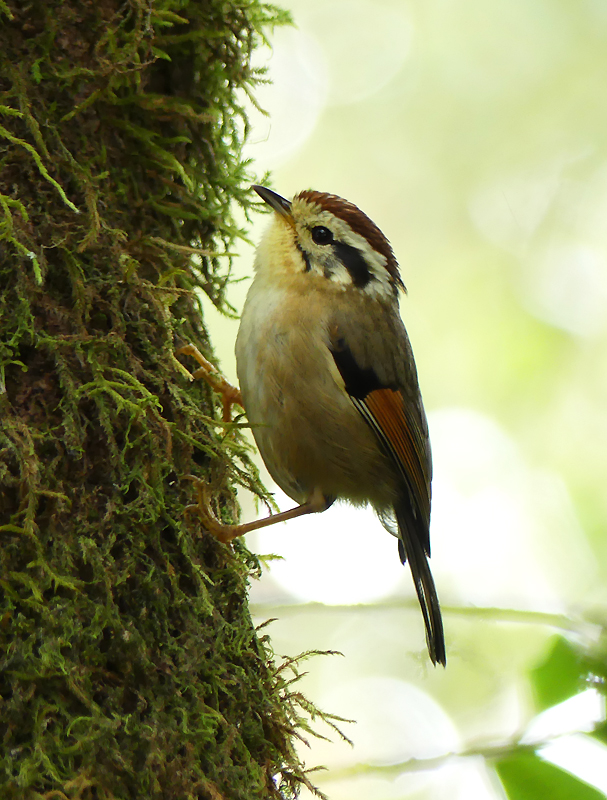 Rufous-winged Fulvetta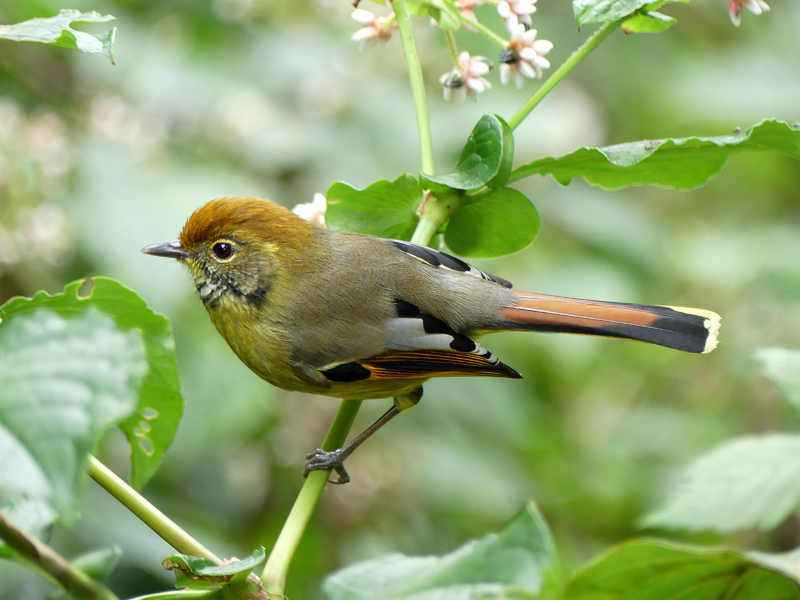 Chestnut-tailed Minla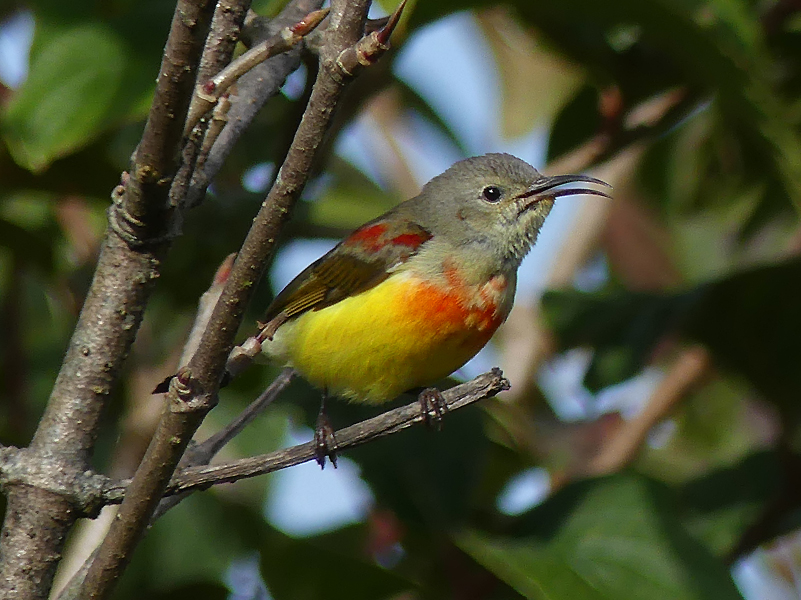 Mrs Gould's Sunbird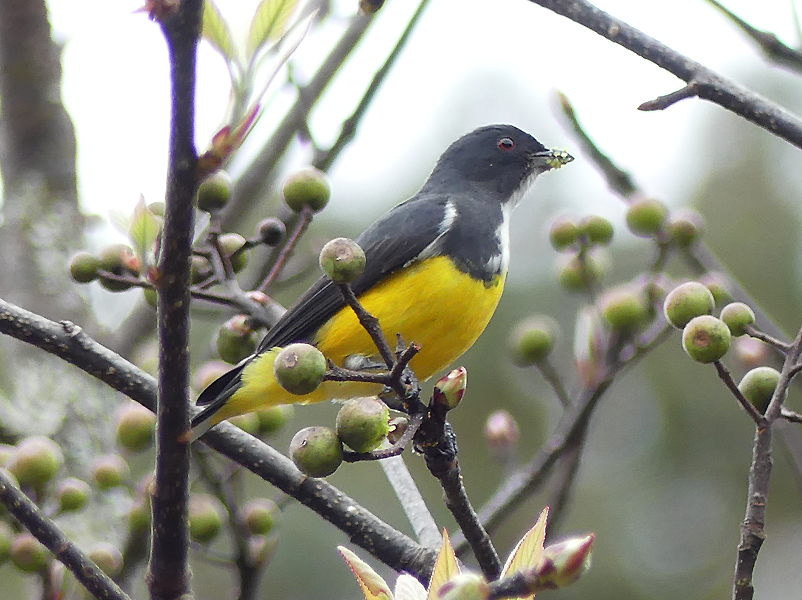 Yellow-bellied Flowerpecker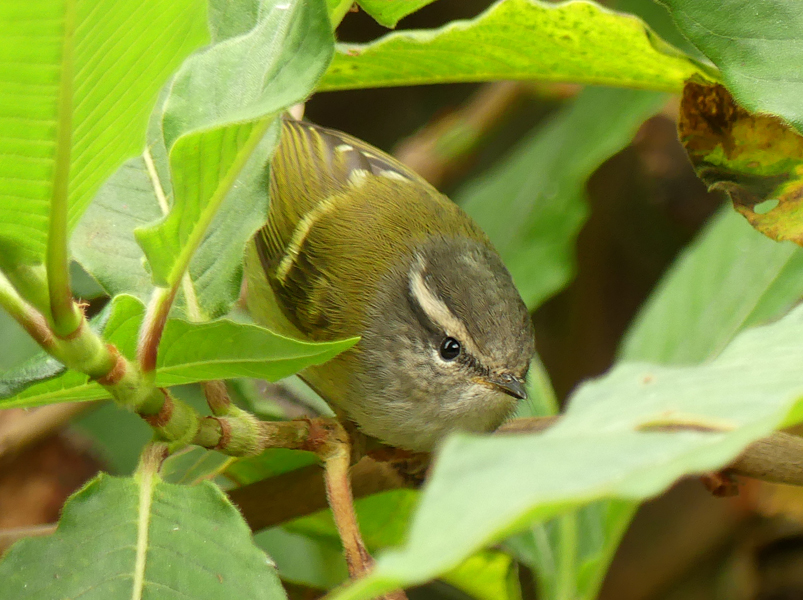 Ashy-throated Warbler
I actually managed better photos of Ashy-throated Warbler than this but I like the way this one shows the bird as seen – peeping out from within the foliage. We also got excellent photos of Buff-barred and Davison's Leaf Warbler as well as very good shots of Claudia's and Blyth's Leaf Warblers. Dark-sided Thrush, Rufous-throated Partidge, Northern White-crowned Forktail, Yellow-browed Tit, Large Niltava, Pygmy Wren Babbler and White-browed Shortwing all added to a wonderful time at the summit.
Lower down the mountain we also had some success photographing Chinese Leaf Warbler and I was pleased to get some shots of Hume's Treecreeper.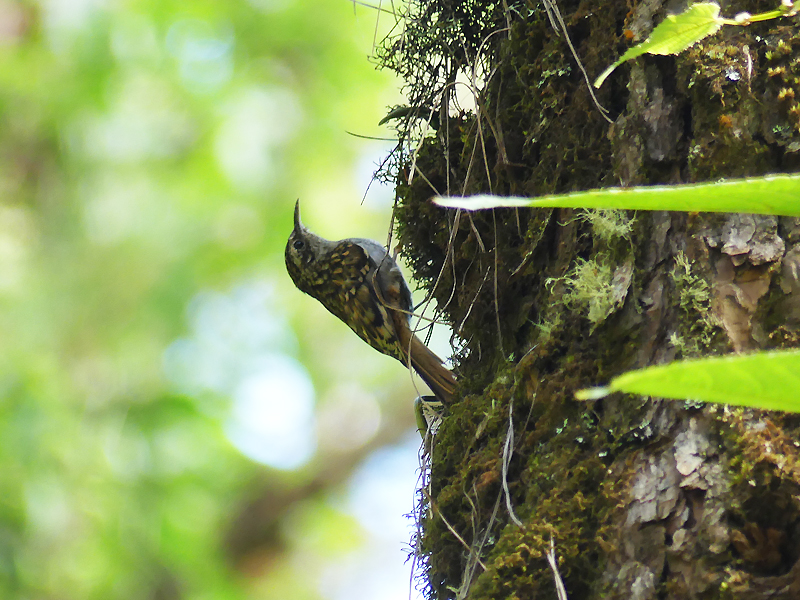 Hume's Treecreeper
Small Niltava, Rufous-backed Sibia, Large Niltava, Clicking Shrike Babbler, Wedge-tailed Green Pigeon, Slaty-backed Forktail, Plumbeous Redstart, Grey-chinned Minivet were all nice additions on Doi Inthanon too and of course we got more Leaf Warbler shots including good ones of Chinese Leaf Warbler and more of Davison's, Hume's and Claudia's.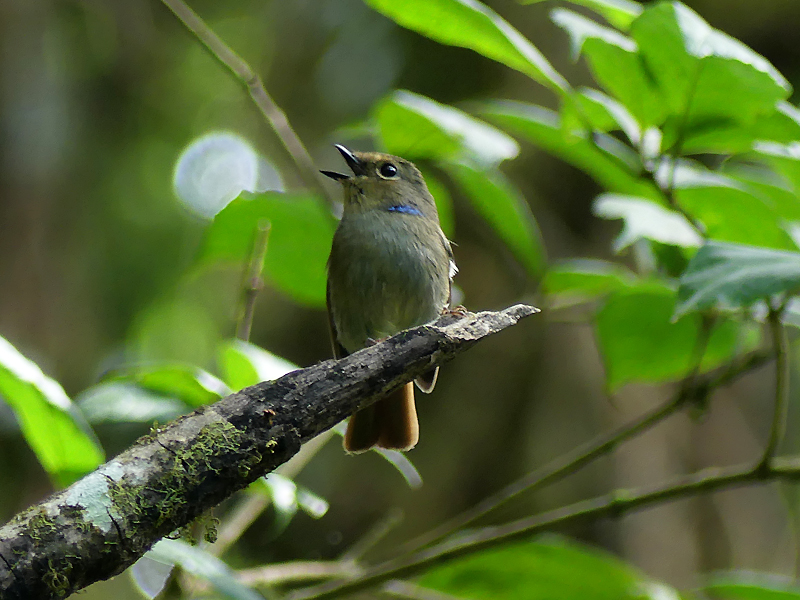 Small Niltava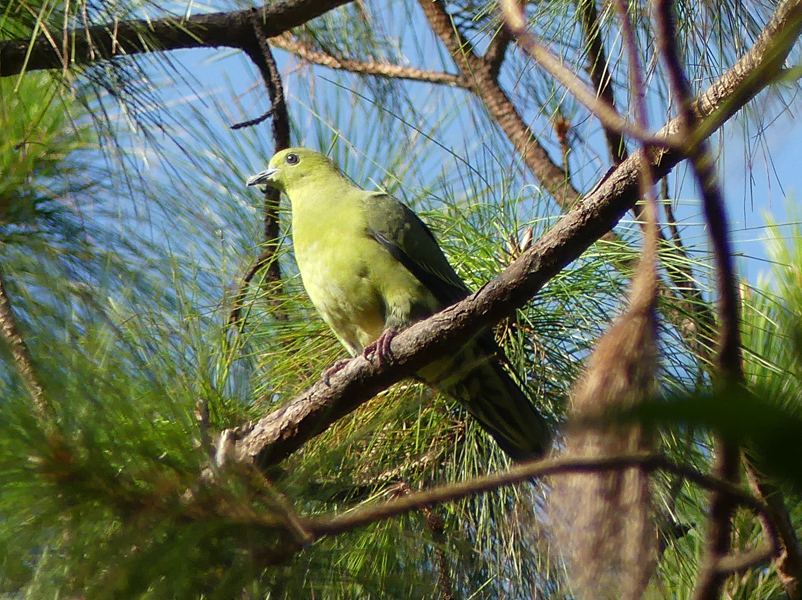 Wedge-tailed Green Pigeon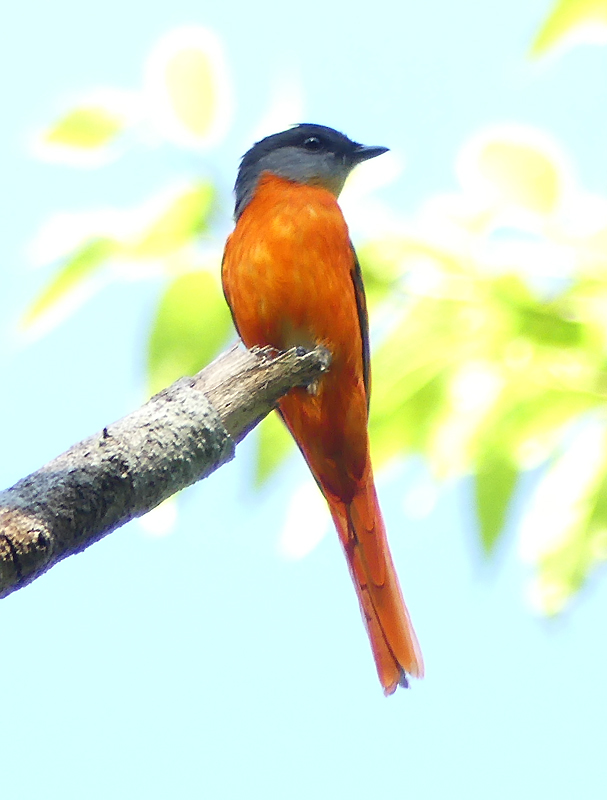 Grey-chinned Minivet
Being able to watch a group of Collared Falconets at length as they collected before roosting was a real highlight of the trip too. The light was fading badly as they came close enough to photograph though.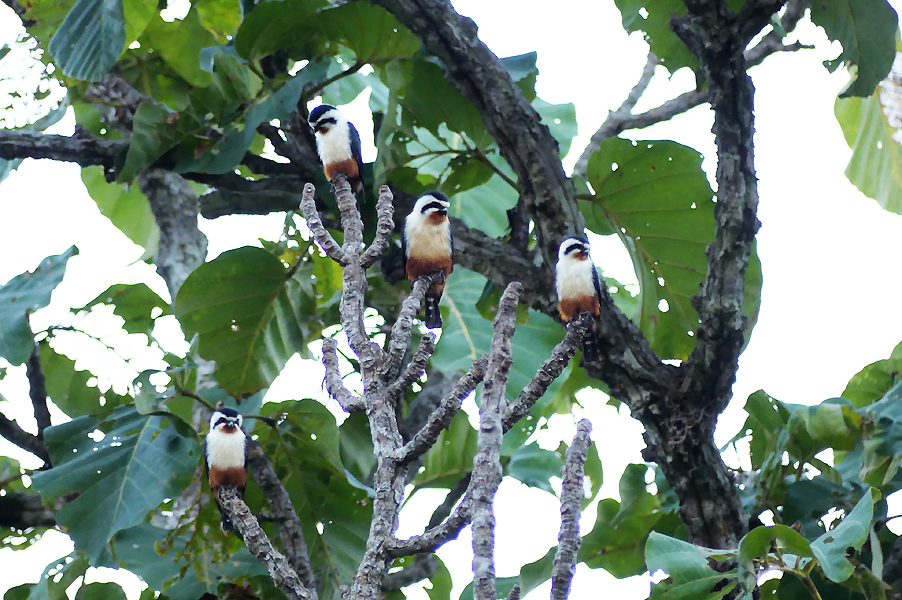 Collared Falconets
Leaving Doi Inthanon we drove a couple of hours to the dry woodland of Mae Ping National Park. We spent an afternoon and a morning there but it was unusually quiet. Radde's and Yellow-streaked Warblers were abundant but they refused to be photographed. I don't think we even got any bad photos let alone good ones. I did get some nice shots of White-bellied Woodpecker and Grey-headed Parakeet though.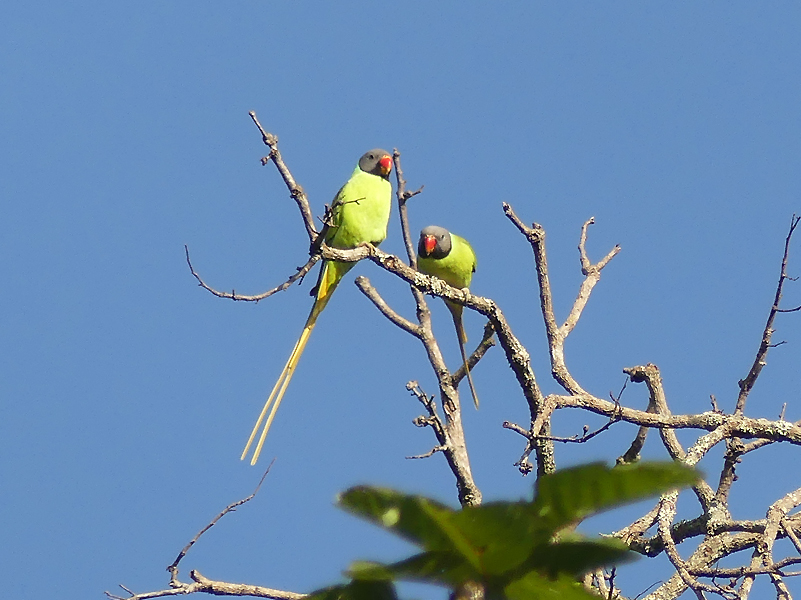 Grey-headed Parakeets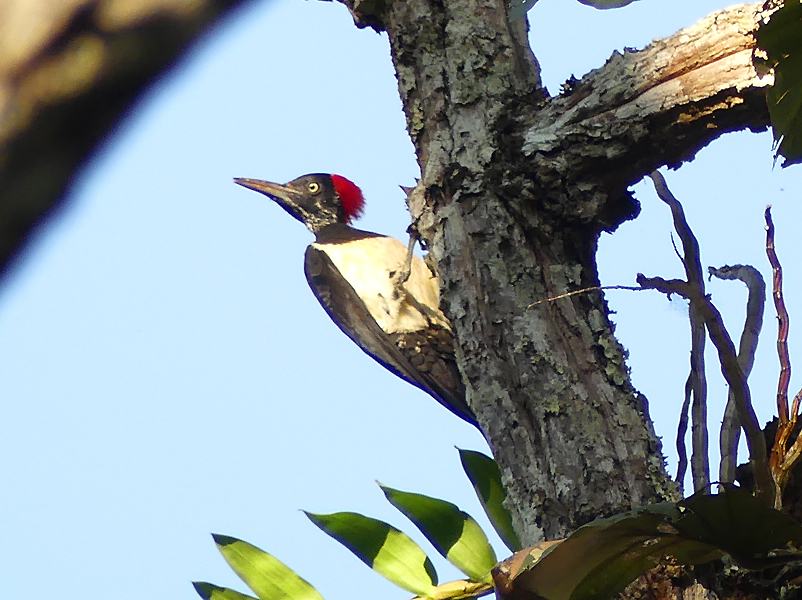 White-bellied Woodpecker
Other good birds we saw here included Black-headed Woodpecker, Yellow-footed Green Pigeon, Black Baza, Burmese Shrike, Blossom-headed Parakeet, Indochinese Cuckooshrike and Common Woodshrike.
The last stop on the northern section of our trip was Taksin Maharat National Park. This is not visited by many birders, although at this time it was visited by large numbers of Thai campers. The habitat here is not very good and neither is the birding but it is the most accessible site to see two very range restricted species – Olive Bulbul and White-throated Bulbul, both of which we saw fairly easily. We were hoping for Yellow-vented Leaf Warbler which is rare in Thailand but with most sightings coming from this part of the country we thought we had a chance. We did see our first Sulphur-breasted Leaf Warblers as well as photographing Claudia's Leaf Warbler, Radde's Warbler, Hume's Leaf Warbler, Yellow-browed Warbler and our first Two-barred Greenish Warbler.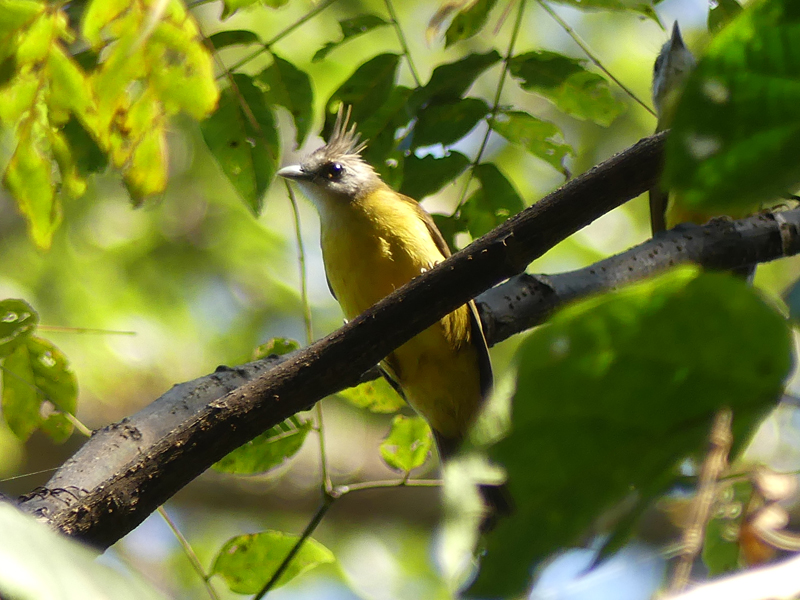 White-throated Bulbul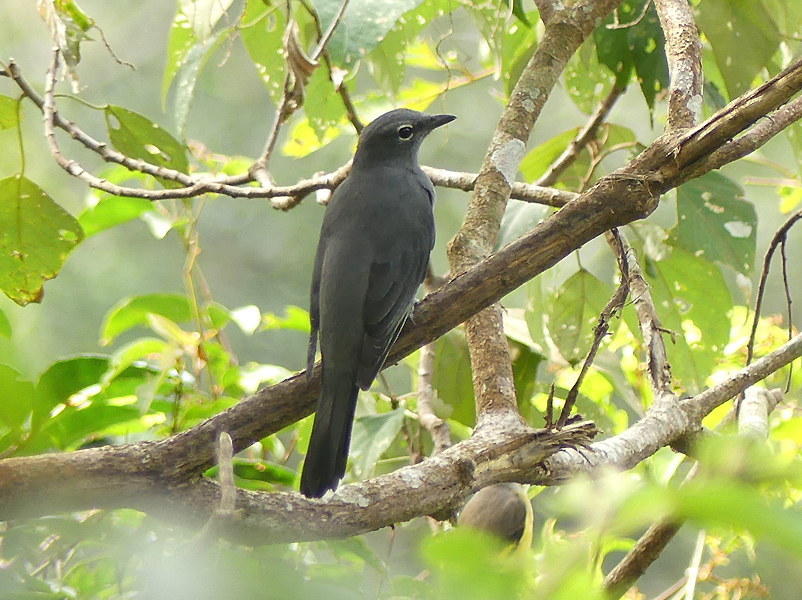 Black-winged Cuckooshrike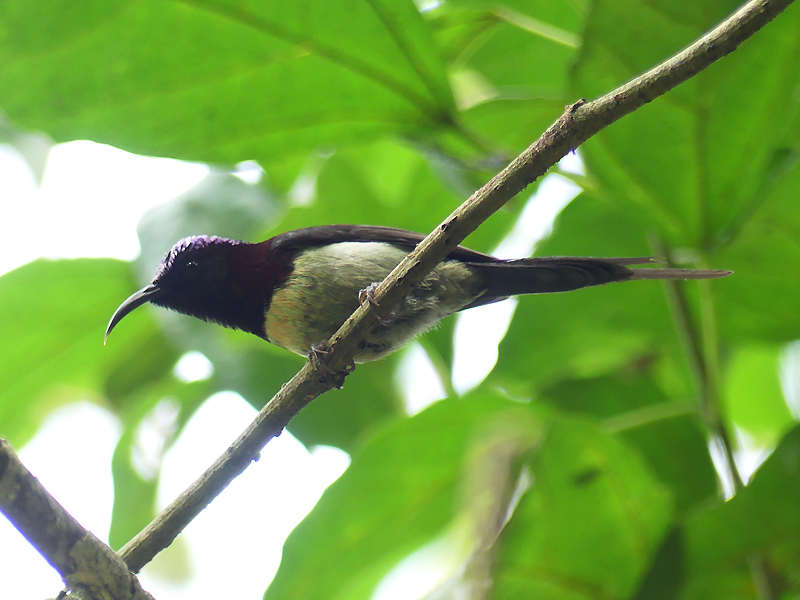 Black-throated Sunbird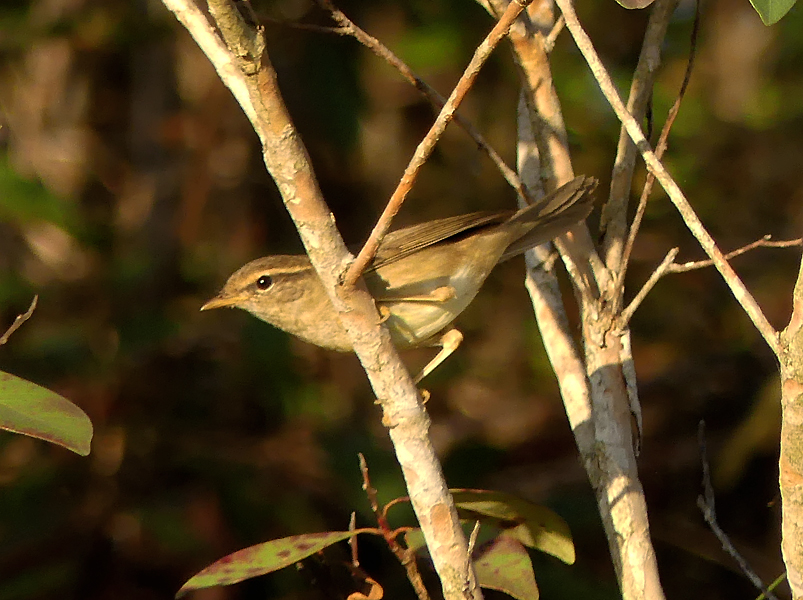 Radde's Warbler
Blue-throated Barbet
We continued our trip to Wat Praphuttabaht Noi, Pak Thale/Laem Pak Bia, Petchburi rice fields and Kaeng Krachan adding some superb birds to our list including Spoon-billed Sandpiper, Milky Stork, Pallas's Grasshopper Warbler, Great Hornbill, Siberian Blue Robin as well as photographing more Leaf Warblers – Yellow-browed, Two-barred, Sulphur-breasted and Sakhalin. However, in order to make sure this blog posting's length does not get totally out of hand it fits well to stop at the last site we birded in what can be considered Northern Thailand.
If you have any birding quests similar to this Leaf Warbler adventure please do not hesitate to contact me – nickupton@thaibirding.com